Planning to design your baby's nursery but overwhelmed by the theme and design ideas, furniture recommendations, and more? Browse through this extensive list of baby nursery essentials to set up your bub's nursery without burning a hole in your pocket. You will also find answers to some of the most frequently asked questions about purchasing baby room furniture and designing a nursery in the end.
Baby Nursery Essentials: The Most Important Items You Need to Consider
While most parents fantasize about decorating their baby's nursery, they are constantly worried about going beyond their budget constraints so that they can purchase the required baby room furniture and essentials without rushing for anything important at the last moment. Therefore, if you are expecting your newborn soon, this article will take you through essential nursery items so that you don't waste your money on things you don't really need.
Before discovering what baby nursery essentials you need, it is very important to understand the fact that a baby nursery is not mainly about design and decoration but primarily about functionality. After all, babies don't care what their room looks like.
Disclaimer: Please note that this little guide is intended to help new parents choose the right furniture, items, and accessories and is not an ultimate baby shopping checklist as it does not include baby clothes, feeding bottles, diapers, wipes, etc.
List of Essential Baby Room Furniture & Things That'll Complete Your Nursery
If you can't wait to decorate your nursery and choose the perfect baby furniture essentials, here is a list of essential nursery items you need first. After you are done planning everything and setting up the infant furniture, you can proceed to some accessories that will come in handy in your parenting journey once the baby starts transitioning from infanthood to toddlerhood.
1. Crib
A crib is undoubtedly the centerpiece of a nursery and is available in a plethora of designs, colours, and shapes to suit the needs of every parent's taste, personal preference, and space availability. Since babies spend most of their time sleeping and start rolling over their tummies and crawling in the blink of an eye, it is important to invest in a high-quality crib that meets all the recommended safety standards so that your little one is safe even when you are away.
Also Read: A Step By Step Guide on How To Choose A Crib
2. Crib Mattress & Bedding
Purchasing the right crib mattress and bedding is as important as buying the best crib. After all, the mattress gives the required back support to your child. Read our detailed guide on how to choose the best crib mattress for detailed information but in a gist, all we recommend is looking for a firm crib mattress made using certified natural materials.
Also, invest in a high-quality waterproof mattress cover that protects the crib against accidental spills and inhibits the growth of microorganisms on the surface. As for the centrepiece, make sure it is breathable, not too warm, and does not suffocate your newborn while sleeping. Most importantly, do not stuff the crib with too many soft toys or pillows to make it look cute or snuggly.
Also Read: The Complete Guide To Buying A Crib Mattress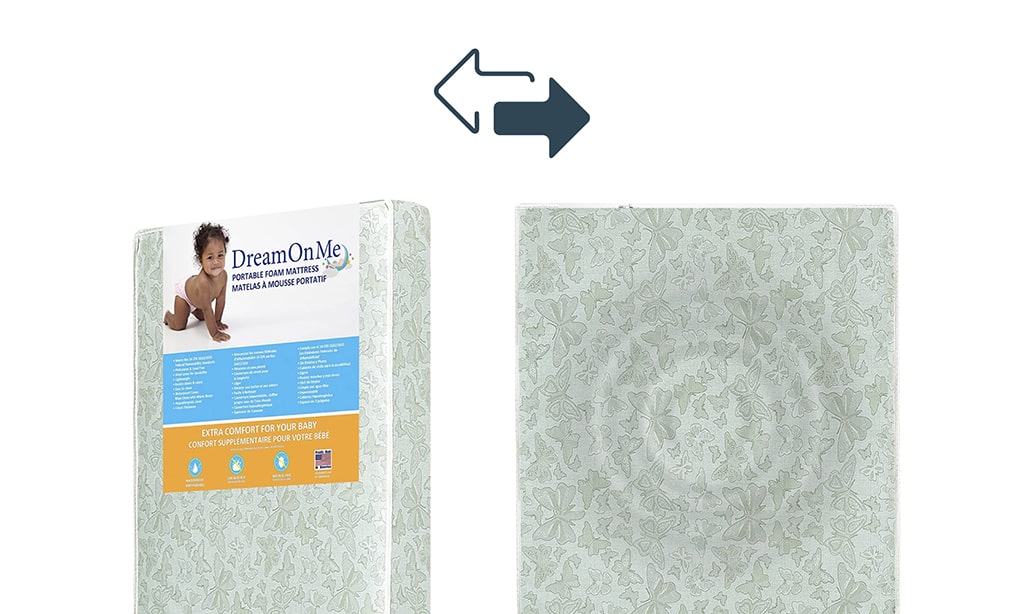 3. Nursing Chair, Footstool, and Pillow
Nursing chairs are also unmissable in a baby nursery as they help mothers sit down and feed the baby comfortably. These chairs are very convenient as they come with rocking and swivel mechanisms, and allow you to lean or put your feet up. Moreover, they are available in a wide range to help parents on different budgets pick the best one.
However, if you think you cannot purchase one due to space availability or a tight budget, you can either go for a wooden rocking chair and add a DIY seating pad to it or can simply opt for a sofa or a bean bag chair to sit and feed your newborn – whichever suits you the best. But in that case, try looking for a footstool that offers support to your feet too.
Furthermore, investing in a nursing pillow is sure to enhance your breastfeeding experience as it helps you wrap your baby around your body perfectly, providing them with a stable and relaxing position to latch and feed properly. A nursing pillow also helps reduce neck, back, and arm pain for new moms.
Evolur Harlow deluxe power glider recliner
4. Storage Cabinets and Drawers
Storage in your nursery is something you'll always need – of course, after your bub's diapers. Therefore, it is a great idea to invest in a floor-to-ceiling storage cabinet that perfectly accommodates most of the items in your nursery. You can keep the baby's clothes, bedding, toys, and more in the storage cabinets or wardrobes and stack the frequently used items such as onesies, socks, swaddle blankets, etc. in the drawers.
Evolur Aurora Double Dresser
However, if you are tight on money, you don't need to purchase expensive wooden drawers. You can simply opt for an open shelved changing table instead. All you need is a storage compartment that can quickly give you all that you want in a matter of seconds.
Jax universal changing table
5. Diaper Changing Table & Pad
The last thing you want to do in your nursery is changing your baby's diapers in the crib only to find them pee and poop on the mattress. Moreover, it is not a good idea for your back. So, investing in a diaper changing table is sure to come in handy – not just to change the baby's clothes and diapers conveniently without any accidents but also to get a huge amount of storage as well.
This is because most changing tables work as dressers allowing you to organize all the nappies, diapers, changing mats, wipes, ointments, etc. easily. The mat offers your infant contoured support and a comfortable surface to lay on.
6. Laundry Hamper
With huge stuff to store in cabinets, drawers, and racks comes a necessity to invest in a laundry hamper where you can keep your baby's dirty laundry. Available in fun designs and various shapes, hampers also act as statement pieces in nurseries.
Laundry Hamper
7. Black Out Curtains
Although natural light looks great inside any room, creating a dark environment is important to help your baby sleep better and longer. While many parents don't consider this a necessity, we absolutely think it is for the difference it makes.
Black Out Curtains
8. Nightlight
A nightlight is as important as blackout curtains as they minimally illuminate the room avoiding your baby to feel afraid of the utter darkness at night. Moreover, it provides a calming ambience in the room helping put the baby back to sleep more easily in case they get up. With nightlights, frequent nursery trips or breastfeeding at night become hassle-free for parents.
Nightlight
Items Most People Call Essentials But You Don't Really Need
If you have also scrolled through many baby nursery essentials guides, you would have noticed why we didn't mention some items that were there on many other lists. Here's what we don't recommend and why:
1. Diaper Pail
Most people call a diaper pail a must and assure new parents about their ability to control odours, we think differently. Although most good-quality diaper pails do limit odours and keep the nursery smelling fresh, they instantly make the room smell terrible when you dump a new diaper inside.
Many parents also ditch using a diaper pail for religious cleansing issues as they consider dumping dirty diapers away from the baby – which we think is not wrong either. Moreover, we think it is not a very hygienic idea to keep dirty diapers in the room all day long – no matter how hygienic they claim to be.
Diaper Pail
2. Blankets, Toys & Dolls
Although you can accessorize your nursery with some toys, they are not a must. We recommend choosing shade-loving plants instead that can enhance the air quality in the room. Moreover, blankets and stuffed dolls increase the risks of suffocation.
Blankets or Soft Toys
Some Accessories that You Can Purchase Alongside Your Nursery Setting Furniture
Once you have purchased the baby nursery essentials listed above, here are some engaging accessories that can add to your convenience and the room's overall theme if you are not on a limited budget.
1. Cot Mobile
Of course, not a necessity – but a cot mobile is sure to engage your little one when it's time to place them in their bed but all they want is some more snuggling time.
Cot Mobile
2. Humidifier
Since babies have gentle and very sensitive skin, they can feel irritated with the dry air around them and can even get a stuffy nose if the room lacks the much-needed moisture. A humidifier is sure to help in such a case as it adds the required moisture to the air helping your baby to breathe and sleep better by creating optimal atmospheric conditions around them.
Humidifier
3. Baby Monitor
What else could keep you more relaxed in your master bedroom with a baby monitor in your baby's nursery that keeps an eye on your bub all the time? Available in many technologies that offer constant audio and visual support to monitor babies at a distance, baby monitors are a blessing for new parents.
Baby Monitor
4. Sound Machine
Do you know why most newborns have problems sleeping deeply? Because they miss the sounds they heard while they were in your womb for nine months or are constantly disturbed by the noises in their new environment.
A sound machine thus exudes white noise that cancels the noises associated with traffic enhancing a baby's diurnal cycle. Many are also equipped with soothing natural sounds and heartbeat noise to encourage deep sleep making the baby feel safe in their mommy's womb.
Sound Machine
5. Side Table
Wondering why and where? Well, once you become a mom, you know how hard it is to get up to grab something important while you are feeding. After all, you don't want to disturb the baby or maybe too tired to get up. Place the side table (or the plastic storage drawers) next to your nursing chair for more ease – and thank us later.
Side table near a nursing mom
Tips on Finding the Essential Baby Nursery Items & Decorating a Nursery
Now that you know the baby nursery essentials you need to stock and set up first, here are some tips that'll help you decorate your baby's nursery,
Although it is important to pay attention to your budget, do not settle for low quality or small-sized infant furniture to save a few bucks.
Prioritize foldable or portable yet convertible baby room furniture so that you can use it for a much longer time.
Always cross-check whether the furniture for nursery and other items meet the current safety standards or not.
While it is a beautiful experience to select the baby room furniture and set up everything yourself to be involved in the baby preparations as much as possible, remember to not let the anxiety or fatigue take over your health.
While buying nursery furniture, try looking for pieces that offer more space because once you have a baby at home, every place is going to be occupied with the baby stuff.
Make sure everything you might need while changing the diaper or clothes are within the changing table itself or rushing to grab something you forgot can risk the baby rolling off or an accidental poop explosion. Hence, invest in a spacious changing table that can accommodate all the important stuff in one place.
Frequently Asked Questions about Buying Nursery Furniture & Essentials
Here are our answers to some of the most commonly asked questions about nursery setting furniture and other essential items that will make your parenting experience more convenient.
What do you really need for a nursery?
Here is a list of the most essential baby nursery items that you need to set up your baby's nursery.
Crib
Crib mattress and bedding
Nursing Chair, Footstool and Pillow
Storage Cabinets and Drawers
Diaper Changing Table & Pad
Laundry Hamper
Black Out Curtains
Nightlight
When should I start preparing my nursery?
Most parents choose to prepare their nursery once the expecting mommies reach the third trimester of their pregnancy so that everything is ready if their baby decides to arrive before time. You can, however, start preparing even earlier if you are concerned about the availability or shipments of products in your locality.
How do you make a baby nursery?
Styling and setting up a nursery is easy if you know what essentials you need and plan everything beforehand. To make your baby nursery, here is some advice from us:
Research the available newborn sleeping options and decide which one would you like to opt for.
Decide a theme or keep everything gender-neutral if you are expecting twins or plan to have more babies soon.
Purchase the baby furniture essentials including your baby's clothes and necessary items before you reach the 37th week of the pregnancy.
Consider DIY storage solutions instead of investing in extravagantly pricey items.
Baby proof your home against all sorts of toxic materials, get the required things fixed if any, and ensure that the room does not have furniture or anything that can harm your baby once they start crawling.
Make sure the door hinges are properly oiled so that they don't creak.
Does a baby boy furniture vary from that of a girl's?
No. A baby boy furniture is not at all different from a baby girl's furniture for nursery. Only the theme colors and accessories change if you are decorating a baby boy nursery.  Although furniture remains the same, you can consider the baby's gender while deciding the nursery colour palette, statement pieces, etc. Many parents who have close aged babies or have twins choose to go for a gender neutral nursery theme.
Wrapping Up
We hope we helped you understand the baby room furniture you need the most to set up a highly functional nursery for your little angel. These baby nursery essentials do not specifically need a large room if you are short on space as they can be easily adjusted in a dedicated corner of your bedroom.
Most importantly, remember that it is completely fine to only purchase the essentials and differentiate between your needs and wants if you are short on money or space. Many parents who don't even have any budget limitations still choose to purchase only the essential items as they believe in buying logically and not emotionally.
Eventually, all that matters is your baby's health, safety, and endless surprises that await you. Moreover, once you have the most important things you need while your newborn arrives at your home, you can gradually purchase other items as and when required.