With many types of strollers available out there, choosing the perfect one can be a daunting task. Apart from what type of stroller is ideal for your bub, ensuring your baby's safety and comfort are equally important. This article will take you through all you need, to pick the best stroller for your little bundle of joy.
Baby Stroller: Baby Gear That'll Make Your Life Easier
A stroller is a wonderful baby gear that keeps your little one secure and comfortable on the go – of course, while ensuring your convenience. But how do you know what types of strollers to shortlist your ideal one from?
Read through this article to learn about the different types of strollers available on the market so that you can find the right one for your tiny tot!
Different Types of Strollers
Usually, there are seven main types of strollers you will come across while purchasing one.
1. Full-Sized Strollers
A full-sized stroller is a standard model with a sturdy frame, durable wheels and usually some additional features such as a canopy, removable tray, cup holder, storage pocket, etc. However, it is large and bulky and not very ideal for parents who travel frequently.
2. Umbrella Strollers
Also called lightweight strollers, umbrella strollers are highly portable, easy to fold and perfect for parents who travel a lot – especially by air or train.
3. Jogging Strollers
As clear by their name, jogging strollers are meant to take babies along while jogging. Ideal for active parents, these strollers are highly durable and feature additional safety features, sturdy wheels, and better suspension to withstand bumps and rocks on rough terrains.
4. Double Strollers
Double strollers are meant for twins or two close-aged babies. These strollers are further available in two designs viz. tandem, where one baby sits behind the other and side-by-side seating.
5. Infant Car Seat Strollers
If you want to invest in one stroller that'll make a world of a difference in your daily life with a newborn – without stacking in too many baby gears, an infant car seat stroller is ideal for you. This type of stroller, though expensive, can be conveniently used as a car seat carrier for babies right from birth and transform into a full-sized stroller in the blink of an eye.
6. Travel System Strollers
Travel system strollers are usually available in a combo of an infant car seat and a full-sized stroller. These strollers allow moving your sleeping baby from the car to the stroller without disturbing them.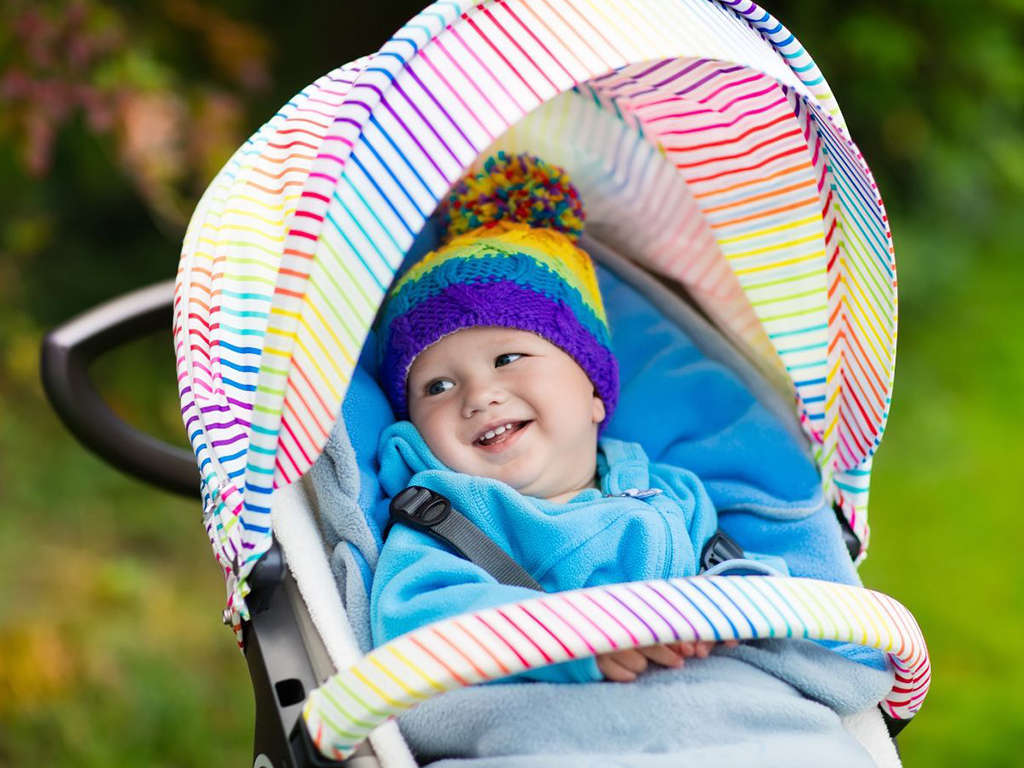 7. Convertible Strollers
As specified by their name, convertible strollers convert and are available in two formats. Some are available as prams for infants and can later be converted into a stroller for the toddler stage. Others can transform from a single stroller to a double one if you are planning to have two babies relatively close in age.
When Do You Need a Stroller?
Most parents consider a stroller as essential as it makes walking, running or traveling with their baby super-convenient. However, it should be used once your baby has a steady neck and sits up properly. This is usually around six months of age. Also, if you need a stroller that can accommodate your baby right from birth, you should invest in an infant car seat or a pram as it has a flat seat recline.
Things to Consider While Choosing the Best Stroller for Toddler
To narrow down your search for one of the top strollers, here are some important factors you must consider after determining what type of stroller you need:
Sturdy build quality
Restraint system with a crotch strap and a safety belt with a five-point safety harness
Types of handles – normal or reversible
Seat reclining facilities
Stable wheels
Weight limit
Ease of assembling or disassembling
Portability
Budget
How to Choose the Right Stroller for Your Family?
Here are a few main factors that you can consider to pick the right stroller as per your needs, budget, lifestyle and preferences.
Determine the purpose of your usage to pick the right stroller. You can go for a basic full-sized stroller for walking across the street or consider a jogging stroller if you live in an area with rough terrain or need one for your jogs.
Understand how frequently you will need it to pick the right model as per your requirement.
Some parents need strollers with newborns while others don't. So, choose the right type depending on your usage and requirement.
Depending upon how long you will need one, pick the best stroller that can accommodate your baby's weight until the age you intend to use it.
Moreover, figure out the weight, size and ease of foldability of the stroller to understand if it is easy to carry for you or not.
Understand your budget and choose the best stroller that can fit your budget constraints. But make sure to not leave a bestselling stroller just for saving a few bucks.
Last but not least, consider your family size before sealing the deal. If you are expecting twins or planning to have another baby soon, we recommend considering a double stroller instead.
How to Ensure Your Stroller is Safe?
Although you must buy a high-quality stroller that meets the basic safety standards recommended by the CPSC and ASTM, there are a few additional safety features you must look for to ensure your bub's extra safety.
1. Prefer a Five-Point Safety Harness
Strollers come in two variants viz. three-point harness and five-point harness. A three-point harness has "Y" shape straps to secure the baby along the shoulders and between the legs. On the other hand, a five-point harness features additional hip straps to enhance your little one's safety along with the two straps that are routed over the baby's shoulders and between their legs.
2. Inspect the Hinges & Edges
Portable baby products have many hinges and edges but you must ensure they are completely safe and do not have any protrusions or sharp edges. Carefully examine that any openings within the hinges are small enough to restrain small extremities from getting inside their inner workings.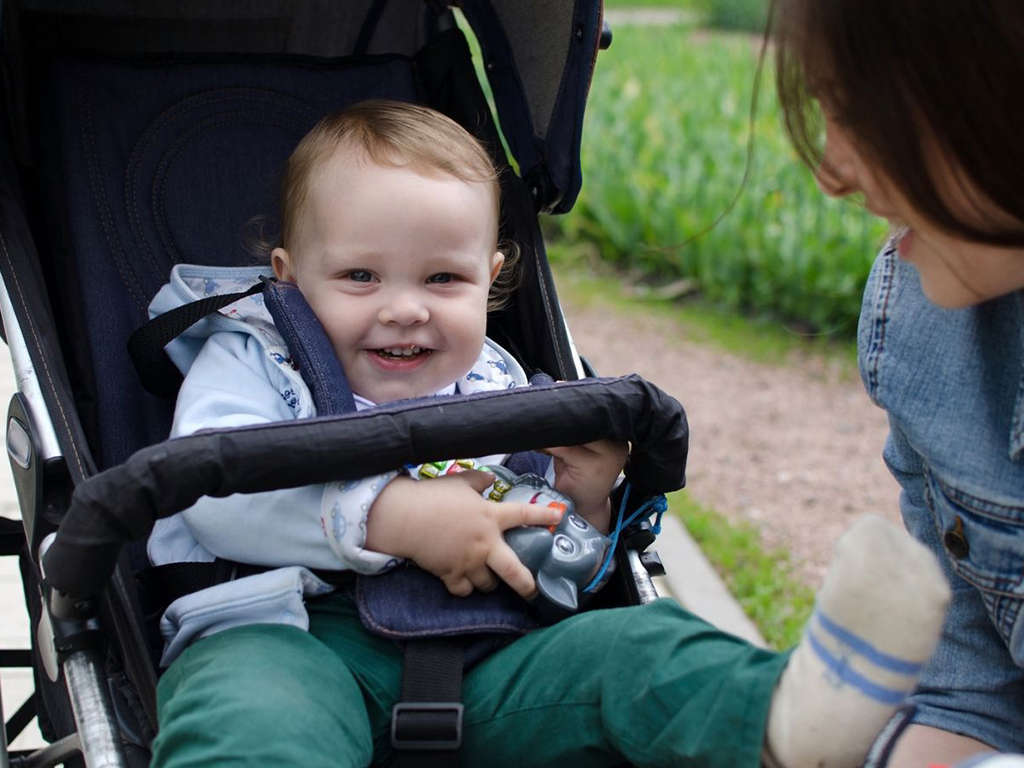 3. Check the Brakes
Some strollers come with one brake while others feature two. However, it is better to find a model that features an effective brake system that locks two wheels.
4. Only Settle for Multi Reclining Positions
Moreover, prefer the best infant stroller that offers adjustable reclining positions to convert it into an upright or flat position as per your baby's needs. Choose a model with a padded seat to provide appropriate support to your baby's back and head – that too with at least three-position reclining.
5. Prefer a Single Footrest
Some strollers feature two separate footrests while others offer a wide, single footrest. It is important to pick a model that features a single footrest to ensure your baby's tiny feet don't get trapped in any case.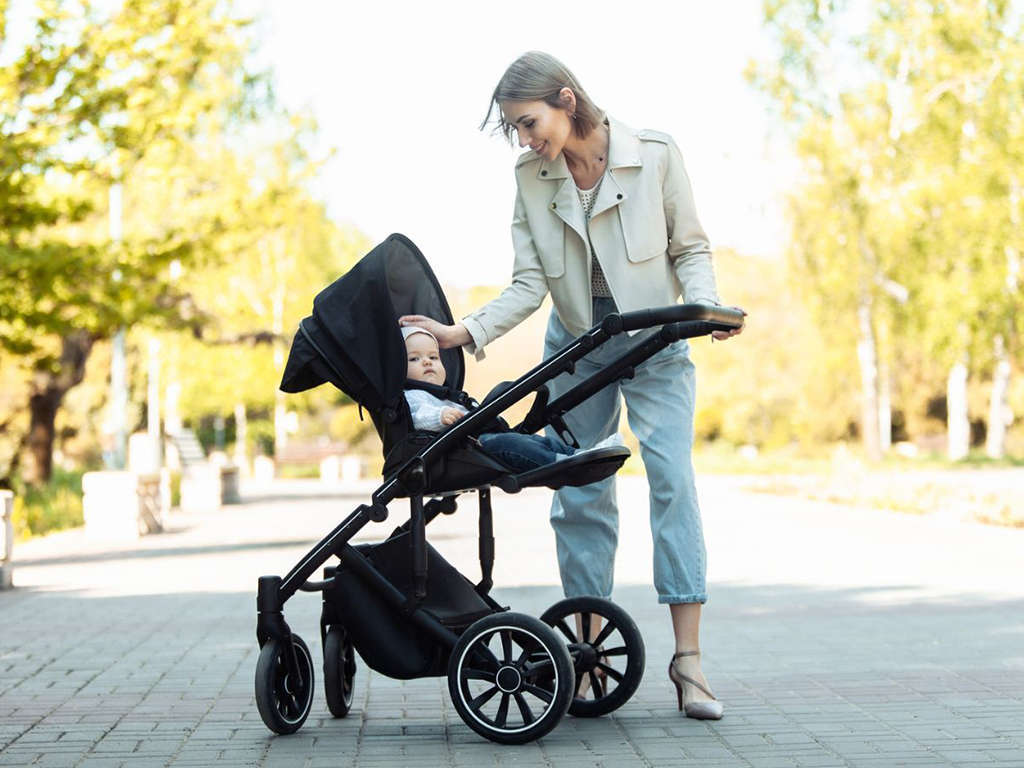 Three Best Baby Strollers to Consider in 2023
Based on the top stroller reviews, here are our top three strollers to consider for your little one.
If you are looking for the best stroller for a toddler without burning a hole in your pocket, the Dream On Me Coast Rider Stroller is undoubtedly a great choice to consider. Available in four stylish finishes, the Coast Rider Stroller is very lightweight, folds for easy storage and transportation and comes with a padded, removable seat back.
It is sure to be your best if you are looking for something easy to carry on a plane while traveling with your baby. Disney-approved and certified by CPSC and ASTM, this stroller has been an award winner at the JPMA Innovation Awards 2020 and the National Parenting Products Award 2021.
Special Features:
Adjustable handle and push bar
Sturdy aluminium frame
T-bar with guard rail support
Compatible with attachable canopy
High-quality waterproof fabric
Storage latch with velcro strapped connector provided
Folds with one hand
3 conversion options
Product featured: Dream On Me Coast Rider Stroller
If you are looking for the most flexible and functional stroller with additional features, the Evolur Cruise Rider Stroller is a perfect choice. Available in three finishes, the stroller features a lightweight yet sturdy aluminium frame. The stroller folds inward like a book in seconds and can be effortlessly converted into a Scooter & Rider.
Easy to maneuver, this stroller is also backed with a high-density, durable handle & bumper grip, front wheels with suspension and a one-touch link brake. The stroller meets ASTM and CPSC safety standards and is tested for lead and other toxic elements.
Special Features:
Easy to clean
Allows you to switch between positions with just one hand
Different convertibility options
Easy to recline
Highly breathable
Padded headrest and extendable backrest
Plush seat cover
5-point safety harness
Meets Federal flammability standards
One-touch link brake
Front wheels with suspension
Very lightweight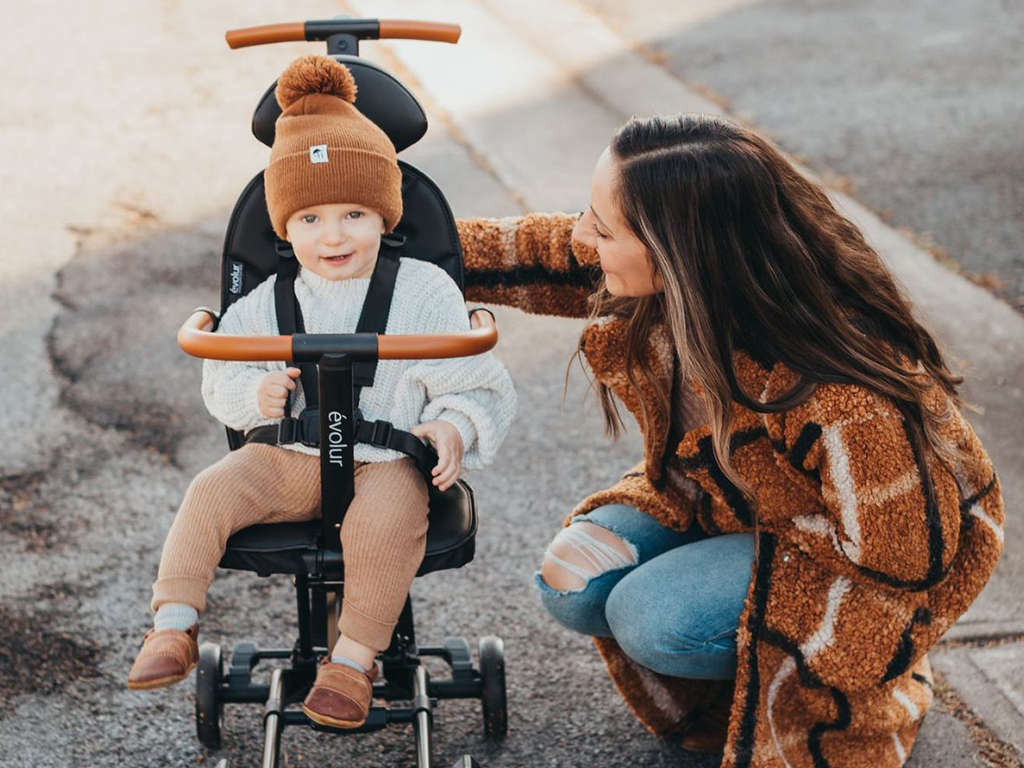 Product featured: Evolur Cruise Rider Stroller
Available in two stylish finishes, the Dream on Me Track Tandem Stroller is perfect for twins or two close-aged babies. The stroller features a lightweight yet sturdy aluminium frame with high-end anodizing treatment and a 5-point safety harness to keep your bubs extra safe on the go.
The stroller offers reversible seats to let your babies be front-facing, parent-facing or face each other. Moreover, the front seat offers a one-position seat recline while the rear seat can recline to three positions.
Special Features:
Large oversized canopy
Peek-a-boo window
Parent tray on the front
Large storage basket below
Lockable wheels
Handy foot brake
Dual front swivels
Storage latch auto locks
Folds flat and is compact for easy storage
Front seat with adjustable footrest
Product featured: Dream On Me Track Tandem Stroller
Dream On Me and Evolur have continued to intrigue their customers with their enticing range of the best baby strollers and other baby gear. Explore an even wider range of our strollers to find more options under your budget or as per your specific needs.
Frequently Asked Questions About Purchasing the Best Stroller
Here are our answers to some of the most commonly asked questions about purchasing the best infant stroller
Is a pram and stroller the same thing?
A pram is designed for newborns to let them lie down comfortably and sleep on the go. However, a stroller is designed for older babies with a steady neck and toddlers to let them sit easily.
Which brand is best for a stroller?
According to the top stroller reviews, Dream on Me, Evolur, Chicco, Graco, and Nuna are the top five brands you can consider for buying a new stroller for your baby.
What is a stroller travel system?
A travel system stroller refers to a stroller model that typically features an infant car seat, a car seat base, and the main stroller for letting your baby sit upright.
What age is a stroller suitable for?
Strollers can be used once your baby has a steady neck and can sit well without straining their back. This usually happens around 5 to 6 months of age.
How long do strollers last?
Although the American Academy of Pediatrics (AAP) doesn't have any specific guidelines for when you can stop using a stroller, you can start transitioning your tot out of their stroller at around three years of age.
How long do kids use strollers?
There is no official stroller age limit set by the AAP but you should only use the stroller until it can accommodate your baby as per its maximum weight range.
Wrapping Up
After looking at the various types of strollers out there, you've probably realized that the market is pretty flooded with countless stroller options. We hope you found this guide useful and are ready to buy the best baby stroller for your little bundle of joy.
Knowing what bells and whistles different types of strollers offer are quite helpful for parents to select the best baby stroller. Always read as many stroller reviews as possible and pick one of the top strollers certified as per the safety standards set by CPSC and ASTM.