The first time you lay eyes on his chubby fingers, his sweet little toes, his tiny eyes and his pink lips, we know it will change you forever. You dream of creating a wonderful space for him to grow and thrive in – a space where he will take his first steps and where he will grow from being mama's little boy to a confident and independent young man.
While the ideas presented below are extremely popular for a baby boy nursery, there is nothing stopping us from adapting these for a stunning girl nursery.
So, read on for some fabulous inspiration and be prepared to be WOW'ed by some of the most beautiful baby boy nurseries!
"Your son will hold your hand for a little while but your heart for a lifetime."
1. Bringing the outdoors in
Outdoor themed nurseries have been extremely popular over the last few years and we love how versatile this theme is.
We all dream of our children reaching for the stars, so how about creating a nursery that inspires them to do just that?
We love actress Renee Herlocker's outer space themed nursery featuring the Evolur Santa Fe 5-in-1 Convertible Crib. With a gorgeous moon backdrop, solar system rug, constellation canopy and other elements of outer space, this nursery has a futuristic and playful vibe about it.
Many of our Evolur parents are jet setters and have travelled the world. So, it is quite natural for them to want to expose their children to the joys of travel early on. Baby Graham's beautiful travel themed space, featuring the Evolur Windsor (Flat Top) 5-in-1 Convertible Crib, now available only in a full panel version, gives us some serious nursery goals. Vintage airplanes hanging near the crib, a world map, a Dr.Seuss inspired globe lend this nursery a chic yet retro look.
Lovers of the great outdoors could always look to incorporating their favorite nature elements into their baby's nursery. Done up in grays, light browns and creams, we love the sophisticated vibe of this Santa Fe nursery featuring a gorgeous mountain background. If rustic is the route you want to take, take a page from mom Benedetta Christina's deer-themed nursery for her little baby boy.
"You are loved for the boy you are, the man you will become and the son you will always be."
2. A woof, a meow, a roar and even a whistle
Kids display an intuitive attraction and empathy towards animals so it is little surprise that nurseries with animal motifs have been one of the most popular themes for a baby boy nursery for some time now. Animal themed nurseries have evolved from the cutesy, babyish theme they once were into more sophisticated versions that work well even as your baby grows up into a bright eyed toddler.
Case in point is celebrity mom Ali Fedotowsky's wildlife themed nursery for her baby boy Owen. Done up mostly in whites and featuring the Evolur Parker 5-in-1 Convertible Crib in White and the Napoli dresser and bookcase (Now discontinued. The Universal Hutch/Bookcase, however, works well with most of our nursery collections), the nursery features animal art in modern frames and, of course, who can miss what Molly, Ali's daughter, calls the surprise – the big giraffe soft toy!
Actress Amy Davidson dived deep to create a sweet underwater themed nursery with whale motifs and the Evolur Cheyenne 5-in-1 Convertible Crib, now available only in a full panel model, for her son.
While actress Brianne Davis dreamt up a sophisticated animal themed nursery pairing the Evolur Santa Fe Nursery Collection in Storm Gray with deep navy blue walls, actress Christina Lakin kept it airy and light with a playful animal rug and the modern Evolur Maddox Nursery Collection.
Also, check out the sweet animal artwork TV host Jenn Brown picked for her son's nursery.
How could we possibly talk about animal-themed nurseries without featuring a nursery revolving around man's best friend! Which is why we love Mario and Courtney Lopez's nursery for their 3rd child – inspired by their French Bulldog, Julio. This is what we might call puppy love!
Hold him a little longer, rock him a little more. Read him another story, you've already read him four. Let him sleep on your shoulder, rejoice in his happy smile, he is only a little boy for such a little while.
3. The traditional blue nursery
Except that in the hands of our fashion-forward Evolur moms, it's anything but traditional! A blue color palette nursery for a little baby boy is still a popular theme but we love the unusual colors that parents are now pairing it with. We think a blue and gray combination is a match made in heaven. Add a bit of gold for a whole lot of class and sophistication.
If a bright, playful nursery is what you want for your little fella, then consider adding pops of bright orange. For a coastal vibe and an airy feel, go for a blue and white palette. The Cape May 5-in-1 Convertible Crib and the Belmar Nursery Collection in White work wonderfully for a beach themed nursery.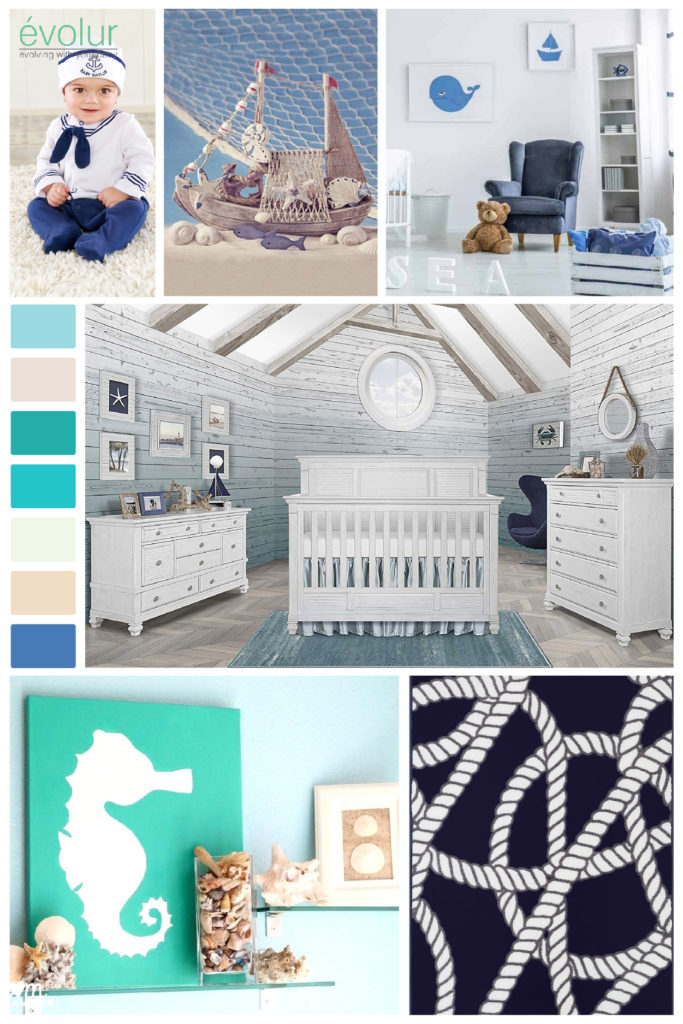 Your special little man deserves a truly wonderful space to thrive in and we do hope that this has set the wheels of creativity in motion. At Evolur, we are committed to providing you with the safest and best quality baby furniture that helps you create the nursery of your dreams. Explore the entire range of premium and beautifully crafted nursery furniture, mattresses and strollers here.
And for more nursery inspiration, browse through our blog.