As usual, part 2 of our coverage of Baby Dominic's Parker Nursery features a mini-interview with the wonderfully talented mom, Tijana Jones.
What was your inspiration for the nursery design and décor?
When we found out that we are expecting our first son, we had to switch from pink and girly mindset that we are accustomed to due to our two daughters and turn towards more manly looks. Our inspiration came from the Evolur crib and bedding we purchased. We perceive white color as clean and gentle, navy as masculine and powerful, grey as calming and orange as playful and adventurous.
What drew you to évolur over other nursery brands?
What drew us to Evolur brand are looks and functionality. We shopped at many different price points, anything from inexpensive to very expensive nursery furniture, and no furniture compared to Evolur furniture's looks. We love the purity and clean feeling of white cribs, yet we had trouble finding white boy cribs that weren't plain and that had a statement. Evolur Parker crib and line is bold, stylish, modern yet classic and so much more!!!The crib is very well made, and seems like it will last many years as it is convertible, and the attention to details is outstanding. The same with the Evolur Parker dresser. A lot of nursery dressers have shallow drawers, making them not so convenient after the baby is a bit older. Evolur Parker dresser has plenty of drawer space, and the drawers are also deep, making them very versatile for larger clothing items.
Did the room pose any design challenges?
The biggest challenges in our son's nursery were previous yellowish walls and cream carpet. They didn't match any aspect of the new nursery color scheme, so we had to redo all of that first which was a lot of work.
Did you and your spouse agree on style, or did you blend styles and how?
We agreed that we want white furniture and bold nursery. While we couldn't agree on many pieces of nursery furniture at first,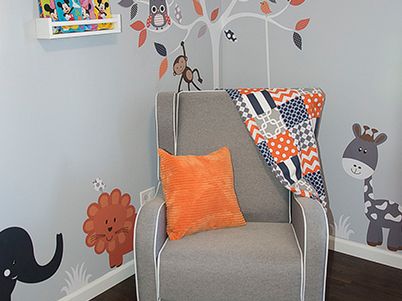 we both loved Evolur Parker furniture line. After we purchased the crib and the dresser, selecting accessories that would complement both was easy, and we agreed on mostly everything.
What does this color scheme mean to you?
This color scheme will hopefully represent our son well. White for purity and gentleness, navy for boldness, grey for being grounded and orange for playfulness and adventure.
What accessories did you choose and why?
We chose custom made bedding by GiggleSixBaby from Etsy. The bedding encompasses all of our nursery colors and modern design, and compliments the crib's luxurious feeling. The wall mural is made by Little Bird Wall Decals from Etsy. They customize the colors of their wall murals and will try to match the colors of any nursery if requested. The wall decals were easy to put up and added the whimsical feel. We also chose a big plush tiger sold on Amazon by Viahart, as a perfect bold addition. For book storage, we used Ikea spice storage racks that we repainted white. The plush rocker and reclining chair is made by Angel Line and purchased from Amazon, and last but not least, we chose a navy white rug that would tie the room together. The navy white plush rug is Little Love by Nojo, also purchased from Amazon.
What is your favorite piece or design element in the nursery?
Our favorite element is Evolur Parker Crib. It is the center of the whole room. Our favorite design element is the striped accent wall that we painted, as it is a labor of love and patience, and is also fun.
Have you thought of how you will use the nursery pieces down the road and can you tell us?
Yes, we selected Evolur nursery pieces not only because they are great looking, but because we plan to use them when our son is older too. We will convert the crib to the full size bed when he is older, and since the dresser has large drawers, it will be able to accommodate bigger kids clothes as well. Our furniture is mostly white with blue accents, making almost any colors and themes complimentary.
What one word comes to mind when you step into the nursery?
The very first word that comes to mind is "Wow"!!!We cannot believe that we created and decorated the nursery that feels so good to be in and we couldn't have done it without Evolur and all the other makers of our nursery pieces and accessories. We hope our son will always know how very loved he is by his family and that he will feel great in his room!!!