It's not often that you come across a rustic, hunting-themed nursery that sports a light color palette and has a chic and clean design aesthetic. But, that is exactly what mom Benedetta set out to do and we absolutely love the end result. Baby Santino's hunting-themed nursery is light and airy and pleasing to the senses!
Benedetta chose the Evolur Windsor (Flat Top)/Catalina Nursery Collection in Cloud for her baby boy's nursery and kept the color palette sophisticated and cozy with cream, taupe and gray tones. She chose a Deer theme to reflect her family's love for hunting and we have to have to say we find it completely 'Endeering'. The Evolur Windsor has been the focal point of many a stylish nursery but this is the first time it's been paired with deer-themed nursery decor. With its clean lines and minimal and subtle design elements, it fits right in with Benedetta's vision for a welcoming nursery for her baby boy.
In terms of layout, Benedetta placed the furniture in a way to give the nursery an open and spacious feel. The Evolur Windsor 5-in-1 Convertible Crib is kept against a full wall with a vintage rocking chair and a sweet little bookcase filled with Baby Santino's favorite books placed conveniently nearby. The Windsor is fitted with a deer and fawn crib sheet while the wall behind the crib features rustic wood framed scriptures and a handsome deer bust.
A beautifully painted fawn/deer artwork, that is a gift from little Santino's godmother, finds a special place on the bookshelf. We can completely imagine little Santino drifting off to sleep even as he lays in mommy and daddy's arms, being gently rocked while listening to his favorite bedtime stories.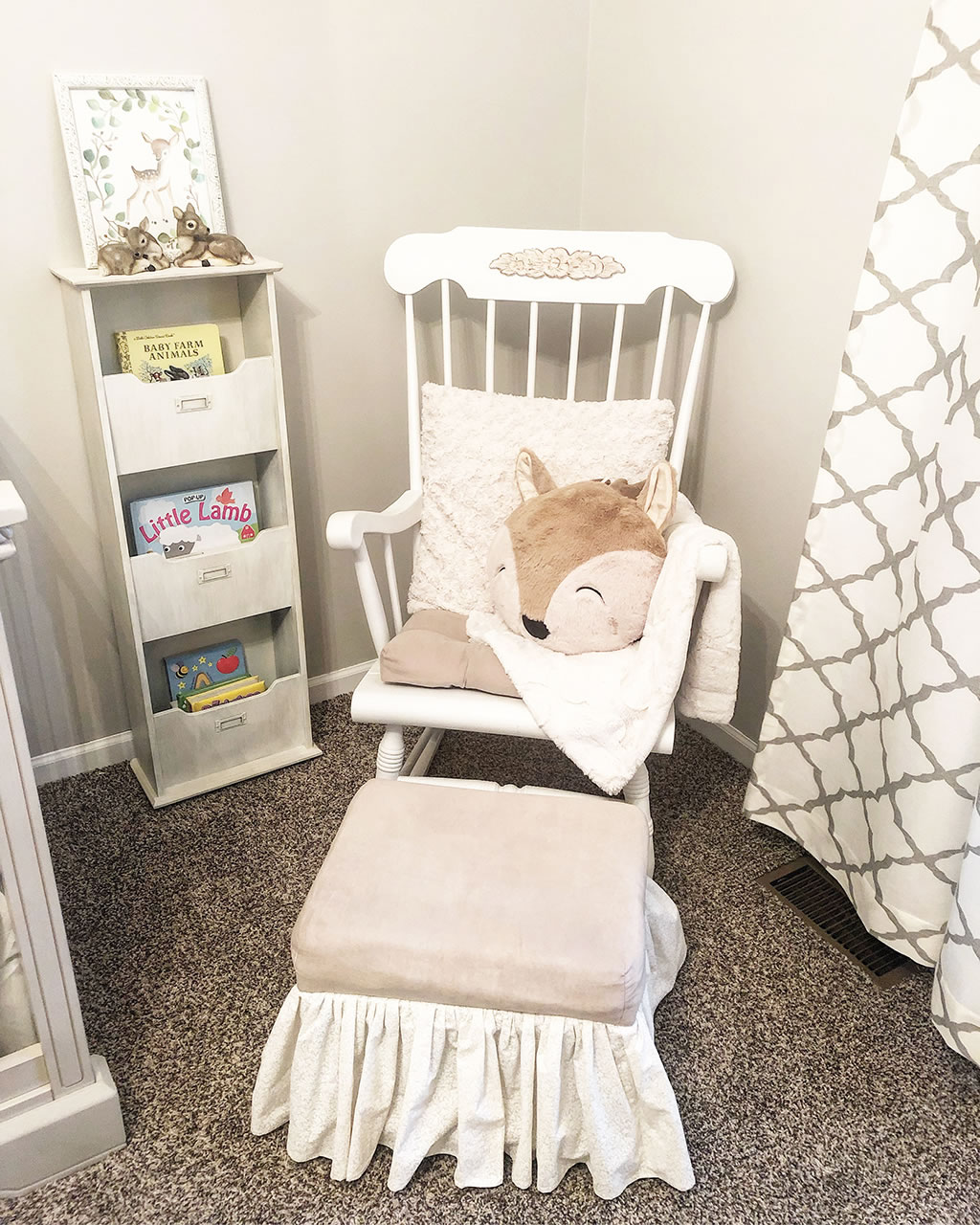 The Evolur Windsor Double Dresser and Tall Chest are placed on the opposite wall and are decorated with accents that have a sentimental and personal touch. An heirloom mirror and custom made baby name sign adorn the wall over the Double Dresser. A tiny pair of sandals that belonged to Benedetta's husband from when he was a baby adds a sweet touch to the decor. The deer theme runs through the nursery with a beautiful chalk-painted deer and deer artwork giving the entire space a soft feel.
With a mix of old and new, Baby Santino's hunting themed nursery is all heart and soul. I guess you need a mother's touch to make what is traditionally a rough and tough theme into one that exudes love and tenderness. Not that Benedetta would have it any other way. After all, it is for the one who melted mama's heart – Handsome lil guy Santino Andrea!
Curious about how mom Benedetta went about decorating this one-of-a-kind rustic nursery? Read through her Q & A session with us –
What was your inspiration for the nursery design and décor?
My inspiration for our baby boys nursery came from the fact that my husband and I come from a family of many hunters. I knew if I had a boy I would want to incorporate deer, I just had to figure out how to do it in a chic way and I didn't want to go the camouflage/hunting rout.
What drew you to évolur over other nursery brands?
I just loved the colors and designs that Evolur offered and I immediately knew how I would set up the nursery. I first heard about Evolur Baby from the Buy Buy Baby website and fell in love with every collection they made right away. I decided if I had a boy I would get the Windsor bedroom set and if I had a girl I'd go with the Julienne collection, both in the color cloud.
Did you and your spouse agree on style, or did you blend styles and how?
Luckily my husband has always let me do whatever I want as far as decorating goes so he was all about whatever I chose, and of course, he loved the deer theme.
What does this color scheme mean to you?
I chose taupe, grey, and cream as my base colors because I wanted the room to look sleek and clean while still being appropriate for a baby boy. I added some minor pops of sage green by including a deer throw pillow from Tj Maxx and a hand-painted picture that was custom done for me by the baby's godmother.
What accessories did you choose and why?
The accessories I used on the dresser are all gifts and hand me downs, including the little sandals. I started to obsess over anything I could find with deer on it and to my surprise, I found quite a few things. Among some of my favorite accessories are the sheets by Lambs and Ivy (Buy Buy Baby), they're off white with a deer and fawn along with leaves and they're the perfect colors for the room. I also found this adorable deer throw blanket that I have draped over the railing. It is by Levtex baby and can be found at Buy Buy Baby. It is neutral and so soft, I plan on using this throw for baby's monthly pictures.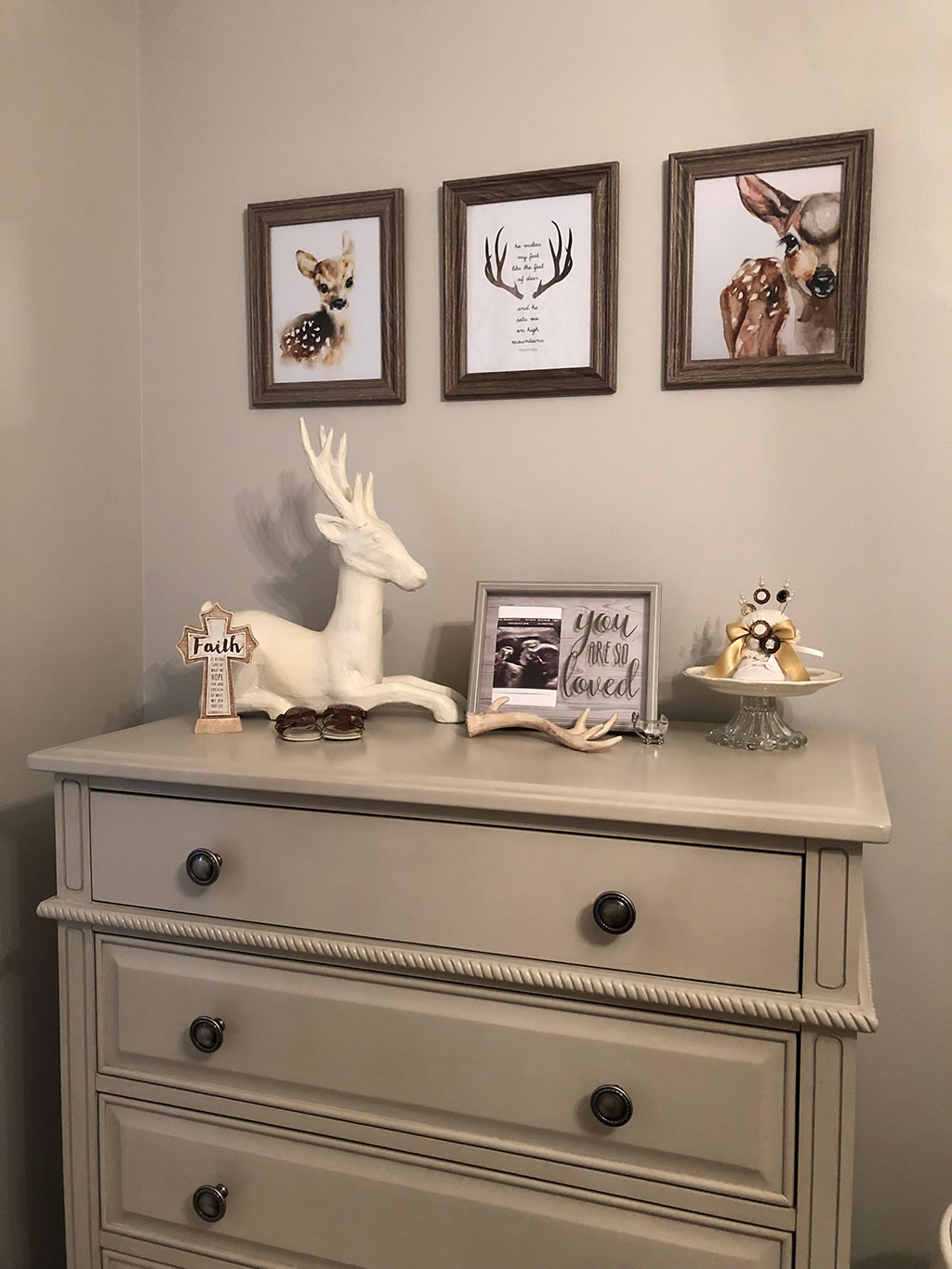 What is your favorite piece or design element in the nursery?
Being my second child, I wanted this room to be as special as his sister's room but personalized for him. I love the light and airy feel the room puts out there while still feeling cozy.
Have you thought of how you will use the nursery pieces down the road and can you tell us?
The conversion kit turns the crib into a full-size bed which was one of the main factors on why we chose this set. We are so happy with it and look forward to our son growing with this bedroom set over the years.
Elements of the nursery
Evolur Windsor Collection in Cloud finish.
Rocking chair and side tables are vintage furniture that has been chalk painted.
Wood framed scriptures above the crib – Hobby Lobby
White resin deer head – Target
Deer throw and deer plush pillow – Buy Buy Baby.
Deer pillow in the basket and basket – Tj Maxx.
Baby name sign was custom made for me by a friend for our gender reveal.
Driftwood lamp and driftwood frames – Walmart
Mirror is a vintage family heirloom chalk painted by me.
Chair was a custom vintage gift from my mother for our first borns nursery.
Book shelf is from Tj Maxx and chalk painted by me.
Pillows and throws – HomeGoods and Buy Buy Baby.
Foot stool was made for me by my grandmother
Fawn painting was water painted for me by baby's godmother.
Chalk painted deer and cross – Walmart
Lamb and Ivy Deer sheets – Buy Buy Baby