With endless travel crib options available out there, purchasing the best portable crib can be overwhelming. Moreover, it's difficult to find the best travel crib for a toddler that meets all your needs. This article will help you understand the things to consider while buying a travel-friendly crib. You can find our top three picks and answers to some FAQs about the same in the end.
Portable Crib: A Must-Have for Travel Enthusiast Parents
Jetting off to a much-awaited getaway or hanging at your parents' place for the weekend with your little one? Although the baby's overall routine is sure to change, the one thing that doesn't change is your baby's need to sleep comfortably in their bed.
Getting around with your baby is much easier when you have a portable crib. After all, it gives your bub a familiar sleeping environment thus helping them get a good night's sleep even in their new environment.
Although many hotels will supply you with a travel crib if you check in with your baby, using your own portable traveler crib sets aside all the concerns of safety, hygiene, and comfort by putting the baby to sleep in their own bed. But how compact should a traveling crib for a baby be? Should it fit on the plane? How should you buy the best one?
Read through this detailed buying guide to pick the best portable crib for your baby as per your travel needs and preferences.
What is a Travel Crib?
A travel crib is a compact, lightweight, easily transportable, and quick to assemble sleeping surface designed for babies accompanying traveling parents. Also called a portable or a mini crib, it widely varies in shapes, sizes, designs, and styles to cater to the needs of all types of parents. These cribs are easy to set up, fold down or store when not in use.
Dream on Me Travel Light Playard
Do You Need a Travel Crib?
Before finding out the best portable crib for your baby, it is important to understand whether or not you need it in the first place. Although you can find travel cribs in various accommodations including hotels, resorts, apartments, and hostels, you must understand your need to purchase the same.
If you are an avid traveler or often visit your parents' place where you need a specific spot for the baby to sleep undisturbed, you should invest in a travel crib. However, if you travel for vacations once in a while and already have a spare toddler bed at your parents' place, you don't really need to purchase one. Some parents also prefer opting for a pack 'n play instead of a travel crib for more convenience.
How to Choose the Right Portable Travel Crib?
Before you head out to buy the best lightweight travel crib for your baby, there are some important things to consider which we have mentioned below.
Safety
Keeping your baby safe while in a travel crib involves more than just making the crib a snug-free zone. You must look at the detailed description of your shortlisted portable crib to make sure:
The crib meets all the safety standards as specified either by the ASTM (American Society for Testing and Materials) and/or the CPSC (Consumer Product Safety Commission).
All the safety measures are properly listed.
The crib walls are sturdy and ensure the baby doesn't fall out even if they crawl.
The sides are breathable and made up of thick fabric mesh.
There is enough space for your baby to sleep comfortably without any risks of suffocation.
The mattress is firm and at least one inch thick.
The crib meets your baby's age, size, and weight range.
Comfort
Comfort is another important factor to consider while purchasing a portable crib. Check the crib for:
Proper ventilation and breathability
Enough space for your child to sleep properly
Firmness and thickness of the mattress pad along with uniform airflow
Ease of Assembling or Dismantling
Setting up baby cribs can be a time-consuming process and you certainly don't want to waste your time assembling (or dismantling) a complicated crib on your vacation.
The travel crib must be easy to assemble or takedown.
This makes packing up much easier even when you are running late.
Moreover, the last thing you want to do on your vacation is to spend hours reading detailed instruction manuals and figuring out how to set the crib up.
Even if your travel crib is extremely easy to set up, we recommend trying it out at home at least once.
Size and Weight for Packing
Size and weight not only matter to know if your baby can fit in but also to make transportation easier and hassle-free.
Find the size and weight guidelines as per and check if your crib isn't too large or bulky. If your travel crib is still heavier or larger than the permitted weight or dimensions for flying, you can also consider a pack ' play.
Even if you are not traveling by plane, try to look for a compact and lightweight yet sturdy crib that's easy to carry around.
Age Range
Some mini cribs are only meant for newborns, some are specifically designed for toddlers and the rest might be used right from infanthood to toddlers up to three years of age. Depending upon your baby's age, your requirement, and travel frequency, you must pick the right portable crib.
Price
Since budget plays a huge role in influencing almost every purchase we make, you must not compromise with the baby's safety or comfort just to save a few bucks. However, travel cribs come in a vast range and so do their price range. Considering your preferences and additional features you feel are important or worth skipping, choose the best travel crib that fits your budget.
Travel Bag
We recommend trying to look for a portable crib that comes with a mattress pad, gives you plenty of storage, and folds into a travel  with zippers for easy access.
Design
Baby travel cribs come in a variety of shapes and designs. Hence, you must consider your ideal design as per your needs and preferences. No matter what shape or type you go for, try considering a compact and lightweight design that is not only easy to travel with but can also fit in small-spaced rooms.
Extra Features
Some other features to consider while buying a travel crib include the warranty and additional accessories such as standard-sized crib sheet, extra storage pockets, canopy, toy rail, patch repair kit, diaper caddy, wheels, changing station, mosquito net, etc.
Extra Advice & Some Safety Considerations When Buying a Traveling Crib for Baby
If you are a parent who's frequently on the go, a portable traveler crib may be the answer to avoid your next family adventure feel daunting. Here are some additional tips, advice, and safety tips from us that'll help you choose the right travel bed for your baby:
If you plan to put your baby to sleep in a crib but do not want to travel with extra luggage or do not travel frequently, it is a great idea to contact your hotel to see if they can confirm to provide you with one. Once they confirm, you must share your preferences with them and cross-check the option they have to offer so that you are sure about the baby's safety.
If your hotel confirms the crib, don't forget to carry your own crib fitted sheets.
If your baby hasn't yet arrived and you are compiling a baby shower registry, consider adding a travel crib to your list if you travel frequently. Moreover, make sure to list your safety concerns, preferences, etc. to help your guests pick the right one for you.
Before sealing the deal, always make sure to check with your airline policies for any size restrictions before flying with a travel-friendly crib.
Stop using a portable crib if your child weighs more than 30 lbs and/or is taller than 34 inches.
Always ensure the travel crib is designed in compliance with the standard safety rules as supervised by the U.S. Consumer Product Safety Commission (CPSC).
Even if your portable crib claims to meet all the safety standards, do not leave your baby unattended under any circumstances.
Is a Travel Crib, Portable Crib & Travel Pack and Play the Same?
Although travel cribs, portable cribs, and travel Pack 'n Plays  all are travel-ready options – much smaller than standard-sized cribs, a pack and play varies in its convertibility to work as a sleeper or bassinet that can be used for both newborns and toddlers, a playard with a sturdy aluminum frame, and a diaper changing station. Also, you can easily fold it in the carry bag provided for easy portability.
However, travel cribs are also easy to set up and fold down. Usually, they weigh less than Pack 'n Plays and only offer a sleeping surface to your baby. Furthermore, portable or travel cribs have a thicker mattress pad than pack 'n plays and are more comfortable options for babies.
If you were to consider our suggestion, we'd recommend a portable crib for normal traveling and a Pack 'n Play if you are planning to go camping with your baby.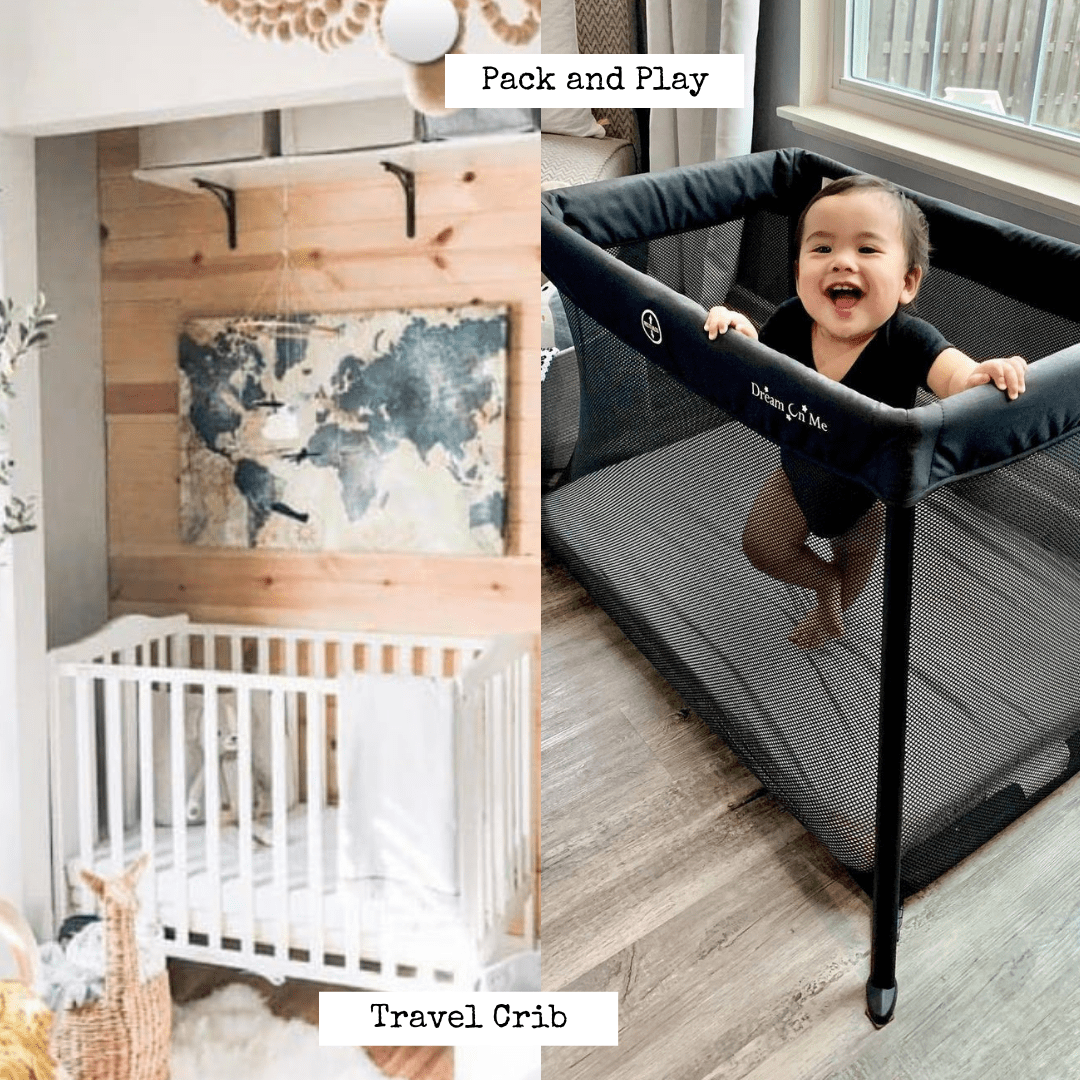 List of Best Travel Crib Options for 2021 with Reviews
Your trip is planned, the tickets are booked and now it's time to start figuring out what's the best travel crib for a toddler. Well, here are the three best lightweight travel crib options from Dream On Me that you can consider for your little angel.
All these options listed below are certified to meet or exceed all safety standards set by the CPSC and ASTM. Considering parents looking for different types of travel cribs, we  below.
The Dream On Me Travel Light Playard is designed for parents who are interested in purchasing an easily foldable Pack 'n Play. Featuring a sturdy, heavy-duty frame, this lightweight and breathable playard comes with its own durable travel bag. Furthermore, it comes with a soft and comfortable mattress pad and is perfect for both short and long trips with infants as well as toddlers.
Price
$ 89.99
Colors Available
Black, Blue, Plum, and White
Unique Features
Simple to set up and take down
Soft, comfortable mattress pad
Breathable mesh fabric
Lightweight frame
Sturdy and safe
Packable and portable
Comes with a travel bag
Easy assembly, no tools required
Specs
Dimensions: 40.5 L x 27.0 W x 26.0 H
Weight: 10.6 lbs
Dream on me travel light playard
If you prefer sleeping near your baby and are specifically looking for a highly functional and portable baby bed for your newborn, the Dream On Me Lotus Bassinet & Bedside Sleeper is sure to be a worthy pick.
Perfect for nursing moms, this bassinet comes with four adjustable height positions that allow you to move it up or down in line with the height of your bed. The bassinet is constructed with highly breathable mesh panels on both sides and features a sturdy frame for your bub's extra safety. However, since it is a bassinet, its use is only limited up to a few months.
Price
$ 98.99
Colors Available
Berry Pink, Blue, Brown, Grey, Ivory, Orange
Unique Features
Easily folds in a carry bag
Comes with its own carry bag
Optional mosquito net canopy
Breathable mesh sides
Heavy-duty metal frame
Unfolds easily
Lightweight and portable
Retractable storage basket
Provides four adjustable heights
Comes with a one-inch mattress pad
Certified to meet or exceed all safety standards set by the CPSC and ASTM
Specs
Dimensions: 37 L x 22.5 W x 26 H
Weight: 16.75 Pounds
For parents who are particularly looking for a standard shape crib but a portable and foldable mini version, the Dream On Me 2-in-1 Stationary Side Crib is a great option. Made from solid pine wood, this crib is easy to assemble and comes with all tools required.
Convenient to carry on the go, this multi-functional crib is not just meant for traveling but also a great fit for homes with limited space. Moreover, the crib holds the Greenguard Gold Certification to assure you that it has been tested for harmful chemicals and VOCs to keep your baby safe.
The crib can also be used as a playpen and can be moved from room to room with ease. However, this crib is not applicable for air travel but can perfectly fit in a recreational vehicle. We recommend travelling with the "Dream On Me Travel Light Playard" for flights.
Price
$ 143.00 onwards (Price may vary as per the colors and availability)
Colors Available
Cool Grey. Dusty Pink, Espresso, Natural, White
Unique Features
Lightweight and sturdy
Portable frame for easy traveling
Unique hinge system that allows you to quickly fold it flat for traveling or compact storage
Two height-adjustable mattress setting
Stationary rail design for added security
Heavy-duty, locking, commercial size wheels
Specs
Dimensions: 40 L x 26 B x 38 H
Weight: 30.5 Pounds
Dream On Me 2 in 1 Portable Folding Stationary Side Crib
Frequently Asked Questions about Purchasing the Best Travel Crib
Here are our answers to some of the most commonly asked questions about purchasing travel cribs.
What age is a travel crib meant for?
Travel cribs are generally intended to accommodate infants to toddlers up to three years of age.
What is the best portable crib?
The best travel crib is the one that can meet all your needs and put your baby into a relaxing, deep sleep in a new environment. If you are looking for a bassinet to travel with, the "Dream On Me Lotus Bassinet & Bedside Sleeper" is a great option. However, here are the top two baby cribs for toddlers:
Dream On Me Travel Light Playard – Ideal for air travel
Dream On Me 2-in-1 Portable Folding Stationary Side Crib – Ideal for road travel
What should babies sleep in when traveling?
While traveling, babies should sleep either in a travel crib or a pack 'n play to give them a familiar feel and make them more comfortable.
Can a baby sleep in a playpen instead of a crib?
Yes. A playpen is a great travel-friendly baby sleep option but it is only recommended for the time you are away from home. It cannot completely replace a standard-sized crib as its disadvantages outweigh its advantages if considered as a permanent sleep option for babies.
Are portable/foldable cribs safe?
Yes. If you pick a sturdy foldable, travel-friendly crib for your little one that meets all the safety standards, it is a completely safe choice for infants.
Should I purchase an infant travel crib?
Although you can specifically purchase an infant travel crib for your newborn, we recommend looking for a crib that can accommodate newborns as well as toddlers to be a worthy investment. After all, babies grow out of their newborn sleeping options very fast.
Which is the best pack and play for travel?
The best pack and play for travel for you is the one that suits you perfectly. Look for the top options for travel pack and play and consider the ones that fit your budget, travel needs, baby's age or weight, sleeping option, size requirement, and ease of use.
The Bottom Line
The right travel crib can make all the difference in your ease while traveling with your baby. Hence, we recommend understanding what your style of travel is before buying one. Although it can be hard to anticipate what type of portable crib you would need and what specifications you can consider or skip, we hope this quick guide helped you make the big decision awaiting you.
If you don't travel frequently enough but are still planning to buy a travel crib, we recommend looking for a convertible portable crib that can be a valuable purchase in the long run. No matter which crib you finalize, always prioritize your baby's comfort and safety more than anything else.
If you purchase the right travel crib for your baby, you can rest assured about your peace of mind, convenience, and fun while traveling. After all, a baby's deep sleep means a great sleep for parents too. In case you decide to purchase one of the travel cribs shared above, we strongly recommend cross-checking the details to make an informed decision.