A few weeks ago, we promised you that we'd be able to give you a more comprehensive viewing of Amy Davidson's Nautical Inspired Nursery. Boy, do we have a treat for you! In this 3-part series, we have photos, videos and an interview.
Without further ado then, here is Amy herself – giving us a little insight into her new life as Mom to baby Lennox and in his charming, bubbly, beachy nursery.
Interview with Amy Davidson for évolur
What was your inspiration for the nursery design and décor?
"My nursery is definitely inspired by my husband and the fact that he is aboat captain. Ever since we've been together, the ocean and its meaning has become incredibly important to me. I just love anchors! My husband custom-made me beautiful anchor earrings with diamonds in them for Valentine's Day one year. So, when it came time to decide the theme for Lennox's nursery, it was a no-brainer. Nautical, it was! We wanted something clean and boyish without looking too much like a baby's room. I just fell in love with the Cheyenne collection and the steel gray color from evolur. That was our starting point, and we completed the theme around our furniture.
What drew you to évolur over other nursery brands?
What drew me to evolur vs. other furniture lines is that the furniture is incredibly well-made and very chic. I wanted something that would last for years for my son and something that could grow with him. I love that his crib will turn into a toddler bed and then into a full-size bed. The steel gray is neutral enough that I think he will love it for years to come!
Did the room pose any design challenges?
The room did pose design challenges. We have very high ceilings, which is wonderful, but made it difficult to decide what we wanted on our largest wall. Like I said, I didn't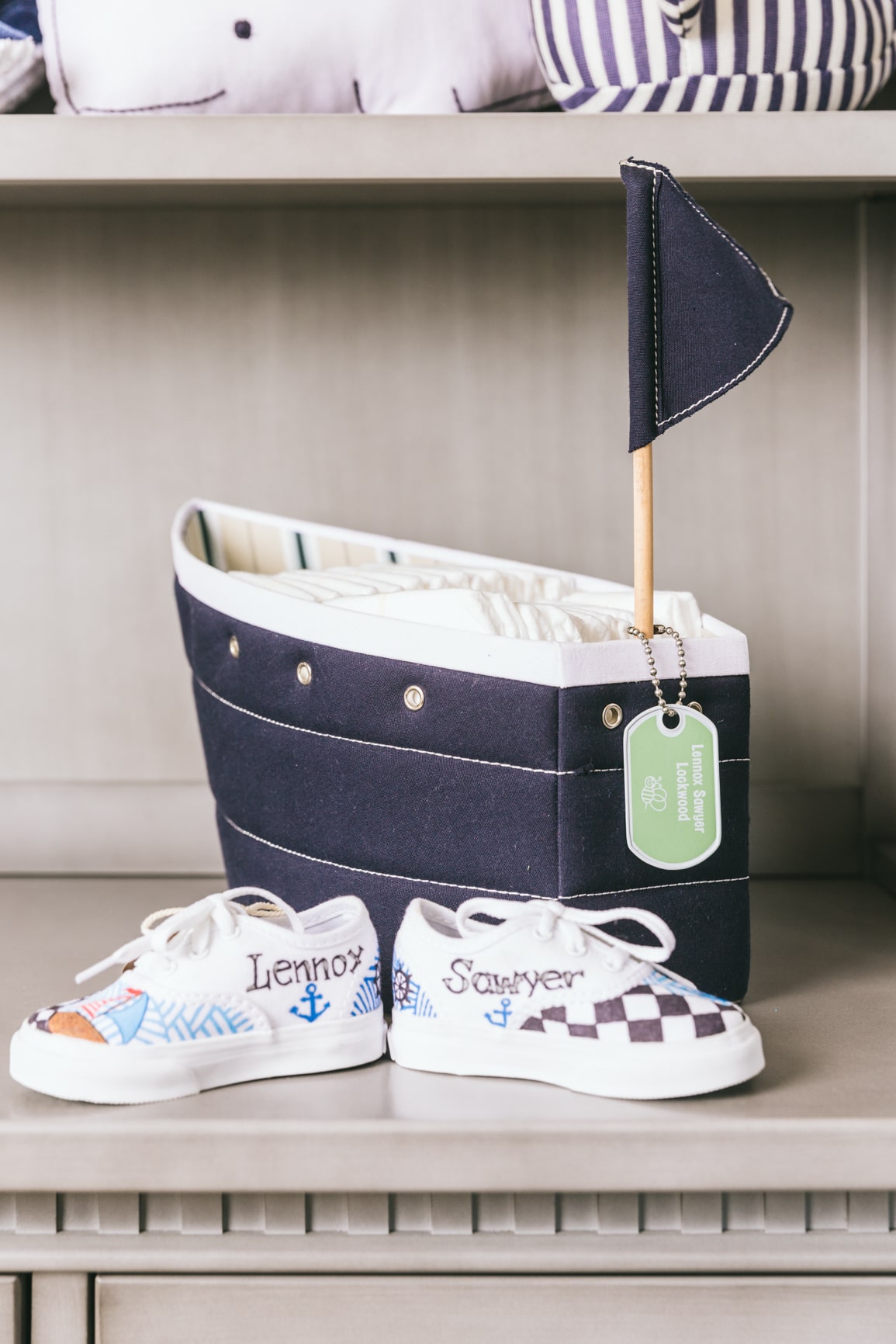 want it to look too much like a baby, so I found some unique whales that I wanted to put on the wall and then we added bubbles for some fun! Then we were left with one other full-size wall and one wall that has a large window where the door also opens up onto it. So, getting all of our gorgeous furniture into his room was a little bit challenging. But it all worked out perfectly!
Did you and your spouse agree on style, or did you blend styles and how?
Kacy is really good about letting me "kind of" run the show! LOL. But, we did a really good job of collaborating on Lennox's room and coming up with a design and style that we both loved.
What is your favorite piece or design element in the nursery?
I truly love my sons crib. I love the sheet set that evolur provided us and how the red and the steel gray look together. I also love it because my little boy loves it so much! And, he sleeps incredibly well in it! That means mommy and daddy sleep, too!
Are there any sentimental pieces you incorporated into the room?
There are two incredibly sentimental pieces in my baby's room. I have my dad's baby shoes on Lennox's hutch. We also have the outfit and the beanie that Lennox wore in the hospital and came home in. We put the outfit and beanie on his curious George monkey. The photos of those two together just melt my heart! It was my mom's idea to have a keep sake of the clothes that meant something to us. So, putting them on George was something we had to do.
What one word comes to mind when you step into the nursery?
The one word that comes to mind when I step into my sons nursery is positivity. When you walk into the room. it feels so incredibly good inside. It's one of my favorite rooms in our home. I love rocking Lennox to sleep and cuddling him. Having that energy in his room was my number one priority and we truly accomplished that!"
**********
Stay tuned for more!
Photographs courtesy Eddie Spantman at Spantman Photography