'Be Brave' says the crate that houses an assortment of soft toys and lies near baby Victory Allia's crib. Get to know mom Candace's tough journey to motherhood, which included infertility issues and multiple IVF procedures, and you will understand exactly why this piece is so much more than just a decor accent. The crate, used by Candace during her procedures, is a silent yet constant reminder of the strength and hope that she displayed during those difficult times.
Having gone through trying times, it was natural for Candace and her husband to be overjoyed on finding out that they would soon be welcoming a little baby into their lives. Filled with inspirational quotes and positive affirmations, they created a welcoming nursery for Baby Victory. Done up in a gray and pink color palette, the nursery features Evolur's Julienne Nursery Collection, picked by Candace for its rich, chic feel. The nursery itself has a clean yet luxurious aura about it.
The Evolur Julienne 5-in-1 Convertible Crib in Antique Gray Mist complements the walls of the nursery painted in a soft and feminine pink. A beautiful monogram of baby Victory Allia's initials hang atop the Julienne crib. Placed opposite to the crib is the Julienne Double Dresser with all of little Victory's diaper and clothing essentials neatly organised in its spacious drawers. Sweet and heartfelt sayings and decor accents find place on the wall above the dresser. A chic gray color glider is placed in a cosy spot near the dresser – the perfect spot for cuddles.
We, at Evolur, have always believed in providing parents with the highest quality nursery furniture that has been thoughtfully and beautifully designed to help create the nursery of their dreams. We take particular pride in how our Evolur parents make every nursery unique and special by adding small, personal touches that reflect who they are and what their dreams for their little ones are. Which is why we absolutely love the two photographs that find a special place in little Victory's nursery – one of Candace cradling her pregnant belly with affection and gratitude and the other of her husband enveloping their little miracle in his arms. That and the pineapple motifs, a symbol of infertility, found around the room that are a sweet yet powerful reminder of this family's journey.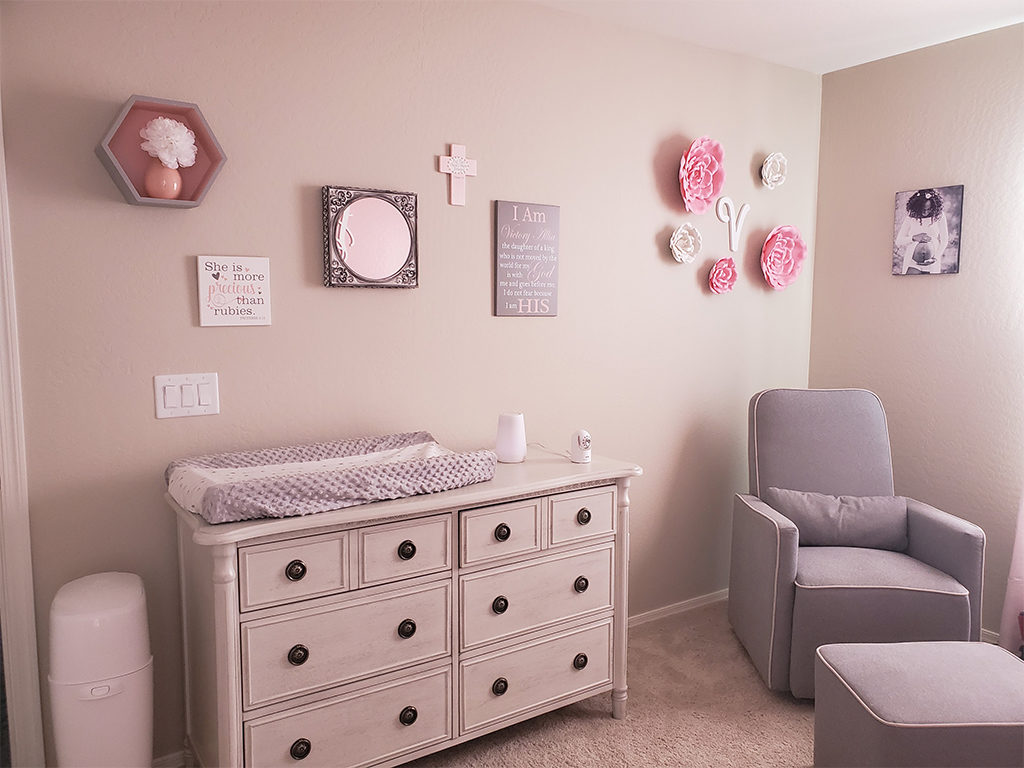 Welcome to the Evolur family, Candace. We salute your strength and resilience. We wish you and your family a lifetime of happiness and precious moments in this charming space that you and your husband have created with so much love!
Read on to find out how Candace put together this wonderful pink and gray Julienne nursery for her baby girl. To know more about her journey towards parenthood, hop over to www.youtube.com/fruitfulmyfertilityjourney.
What was your inspiration for the nursery design and décor?
I wanted our daughter's nursery to be both beautiful and inspirational. I filled her nursery with handmade positive affirmations and reminders of just how special she is to us.
What drew you to évolur over other nursery brands?
Evolur furniture had such a rich look to it! I loved all of the details etched in the wood, as well as the beautiful colors available. Once I received the furniture and set up our daughters nursery I fell in love with it even more because of the quality. I loved the functionality of the crib and that it can convert and be used for our daughter as she grows older.
Did you and your spouse agree on style, or did you blend styles and how?
My husband has a more simplistic style, while I was more drawn to a more of a chic look. We both wanted to make sure the furniture we got was able to be converted so that it would grow with our daughter.
What does this color scheme mean to you?
Our nursery is pink and gray. We knew we wanted pink but it took a while to decide on the accent color. After looking for some inspiration online, both my husband and I loved the thought of pairing gray with the pink. It feels very girly and also very modern. The Antique Grey Mist color we chose for our nursery paired perfectly with the pink color!
What accessories did you choose and why?
We chose lots of handmade pictures for her wall as well as other pretty accents to create a very fun look. Also, after battling years of infertility, we wanted to include reminders of how hard we worked to have our daughter. We chose the Always be brave crate that was used during my IVF cycle to store her stuffed animals in and a pineapple lamp as pineapples are a symbol of infertility. Monogram gives her room a personalized feeling. We also included a photo frame with a picture of our daughter as an embryo, hand-painted pictures with her name and positive affirmations.
What is your favorite piece or design element in the nursery?
My favorite piece in the nursery is the "always be brave" crate which is a daily reminder of how blessed we are to have our daughter!
Have you thought of how you will use the nursery pieces down the road and can you tell us?
We can't wait to purchase the converter kits so that we can use our beautiful nursery pieces for years to come!
Is this your first baby? Name?
Yes, we were blessed after 10 years of infertility with our daughter, Victory Allia
Something interesting that happened before, during or after the pregnancy?
We endured several fertility treatments before we found success and got pregnant after 10 years of marriage! Our pregnancy journey was featured on the show 9 months with Courteney Cox.
What one word comes to mind when you step into the nursery?
Grateful. I am so grateful to be a mom and to have had the opportunity to design a nursery which my daughter can grow up in knowing just how loved she is.
Accessories 
Floating shelf/flower and Vase – Hobby Lobby
Hand Painted pictures – Etsy
Mirror – At Home store
Cross- Hobby Lobby
Nightlight and sound machine – Hatch Baby – Amazon
Baby Monitor – Infant Optics – Amazon
Glider – DaVinci Olive Upholstered Swivel Glider
Always Be Brave crate – Ross
Monogram – Etsy
Pineapple lamp – Target
You are so loved picture frame – Ross Stores
For more nursery ideas and inspiration, click here.
@myfruitfuljourney
www.youtube.com/fruitfulmyfertilityjourney
https://youtu.be/3Vla9aCKDIQ