Find out essential advice on crib safety, as well as tips on choosing a safe crib to ensure your infant bed is safe at all times. Also, read detailed information on crib mattress safety for standard cribs and find our answers to some FAQs about the same.
Shopping for a Crib: Worth Every Minute Spent on Safety & Research
While most parents begin searching for the best crib as per their budget, desired crib features, shape and design to complement their nursery theme, crib safety should be their most important concern. Also, there aren't many alternatives to a crib when it comes to offering a safe sleep environment to babies who have outgrown their bassinets.
Hence, it is even more important to pick a safe crib that is certified to meet the safety standards as per the federal regulations. If you are preparing for your baby and just added a crib to your registry , you must familiarize yourself with the latest crib safety standards to buy the best one.
Even if you purchase the least expensive crib that is certified to meet the minimum government requirements, it is safe to use as long as you assemble it perfectly as per the instruction manual. However, buying a safe crib requires answers to many more questions.
How do you know what certifications and safety regulations you need to cross-check before you seal the deal? What must be the crib slat thickness, width, gap, etc. in ideal cribs for babies? What size, shape or design should the standard cribs have?
That said, we are here to help you understand all you need to know about standards for a safe crib. From fitting to crib mattress type, height, sleep safety tips, and everything in between, we've got you covered!
Why Crib and Sleep Safety Is Important?
It is important to choose a safe crib for your tot to protect them from risks of Sudden Infant Death Syndrome (SIDS), entrapment, strangulation, choking, and suffocation. The crib must be well built without any loose fittings or sharp hardware that can potentially injure your child. However, baby crib safety is not only limited to choosing the right crib. It involves safe sleeping practices too.
Even the most certified cribs for babies can prove to be harmful if parents don't choose the right mattress, leave their babies unattended before they fall asleep, stuff the crib with soft toys, blankets, etc. or are not concerned about the right position while sleeping.
How to Choose a Safe Crib?
Talking so much about crib safety, let us first understand the crucial factors you need to consider while purchasing the ideal crib for your little bundle of joy.
1. Stationary Sides
One of the biggest things you must check while buying a crib is a model with stationary sides. This ensures the crib is completely safe for the baby without any chances of climbing out or falling off.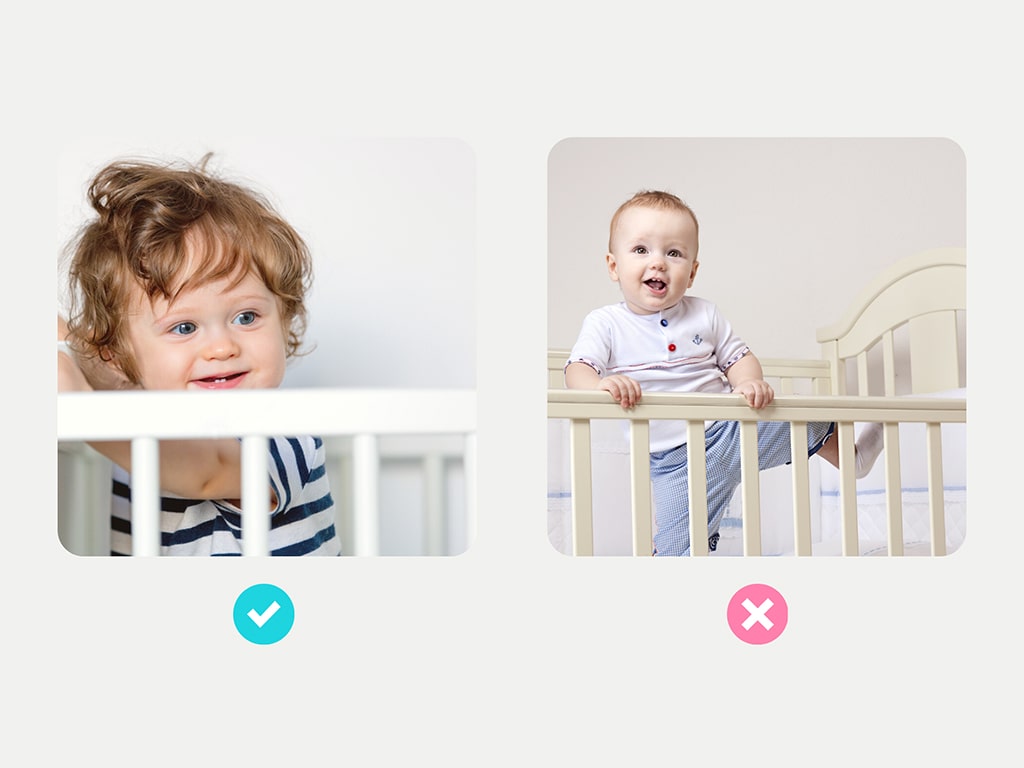 2. No Drop Side Rails
Although it is illegal to sell or donate drop-side cribs anymore, never buy or accept one if you come across it. Cribs with single-drop or double-drop sides were made to let parents conveniently slide the sides down and easily access the baby. However, such cribs have been blamed for the injuries of hundreds and deaths of dozens of babies over the last decade.
The safety issue that happens in a drop-side rail crib is that the drop-gate creates a gap between the parent of the drop-side and the crib mattress. This has caused instances wherein babies became trapped and suffocated in the gap.
3. Appropriate Slat Width
Another most important thing to check in your crib is the crib bar spacing. There should be a maximum of 2 3/8 inches (6 centimeters) distance between the slats of the cribs so that babies do not get wedged between them. You can consider this width as identical to the width of a soda can. Furthermore, no crib slat should be cracked or missing.
4. Sturdy Construction With No Missing or Broken Hardware
The crib must be well-built with firmly fitting and secure hardware. As a precautionary measure, you must check the screws, bolts, and other construction materials every week. This is because once your baby starts becoming more mobile, they can loosen these structures.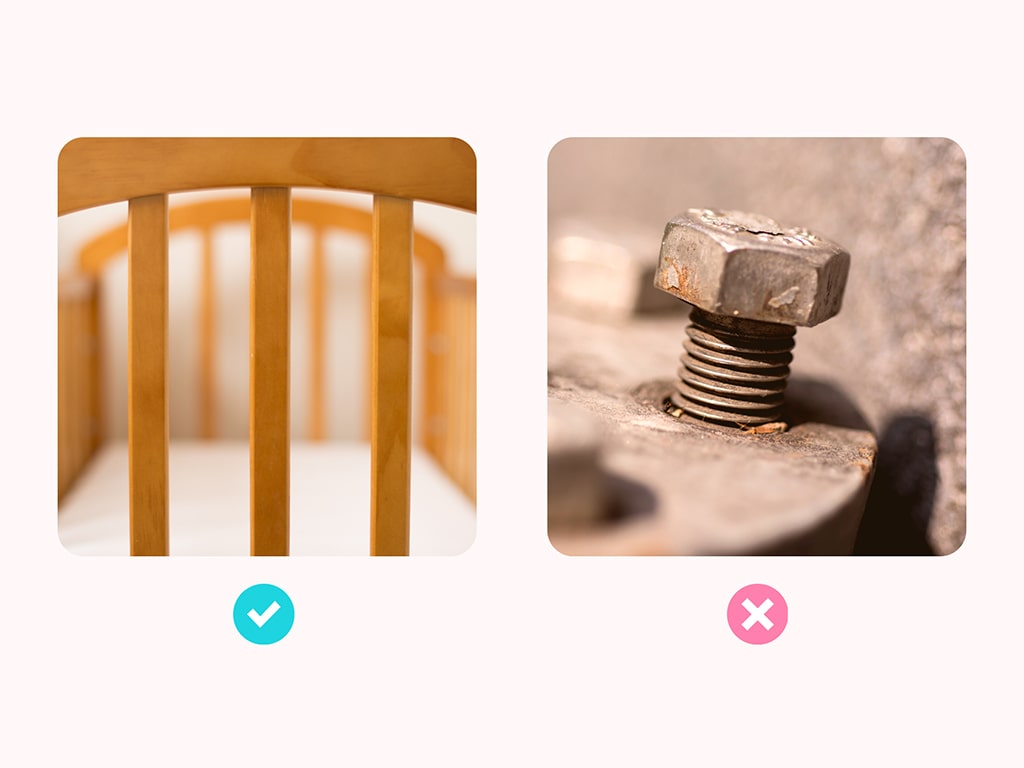 5. No Headboard & Footboard Cutouts
Most importantly, you must ensure that there are no headboard & footboard cutouts wherein your baby's head, arms, or legs can get stuck. Although some parents might look for attractive cribs, they must look for a JPMA or CPSC certified model that uses a solid or decorative headboard and footboard with no cutouts.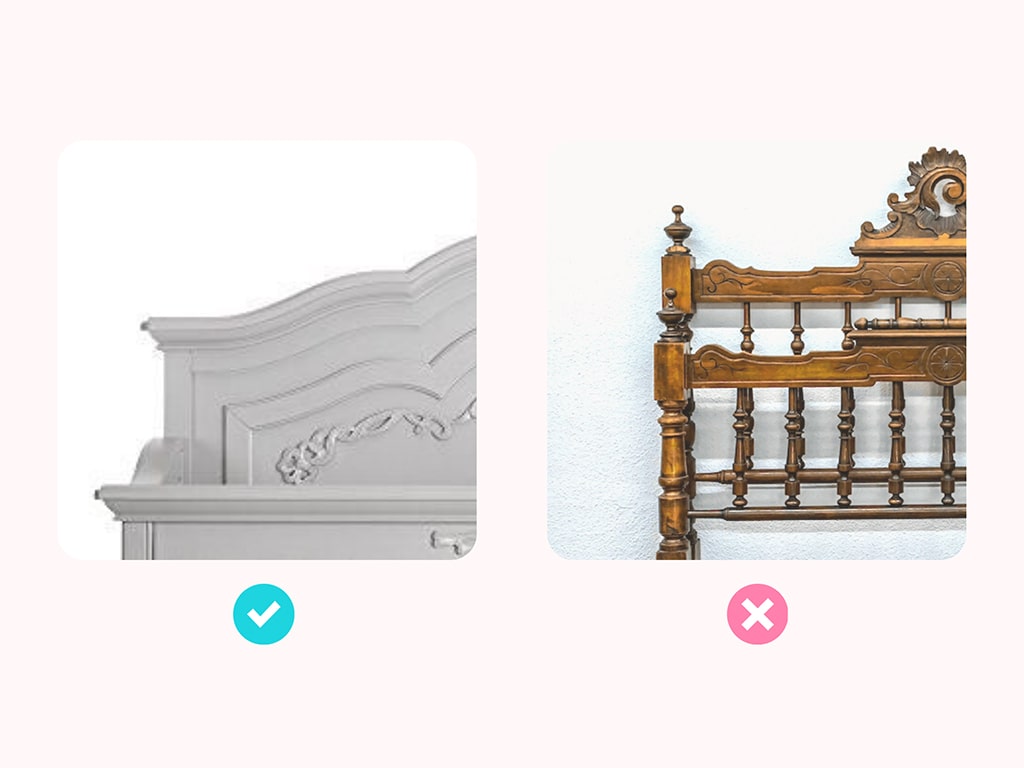 6. Baby Safe Non-Toxic Paint
As soon as babies start teething, they start chewing the crib rails to soothe their gums. Hence, the crib must be painted with lead-free paint or else it could cause lead poisoning.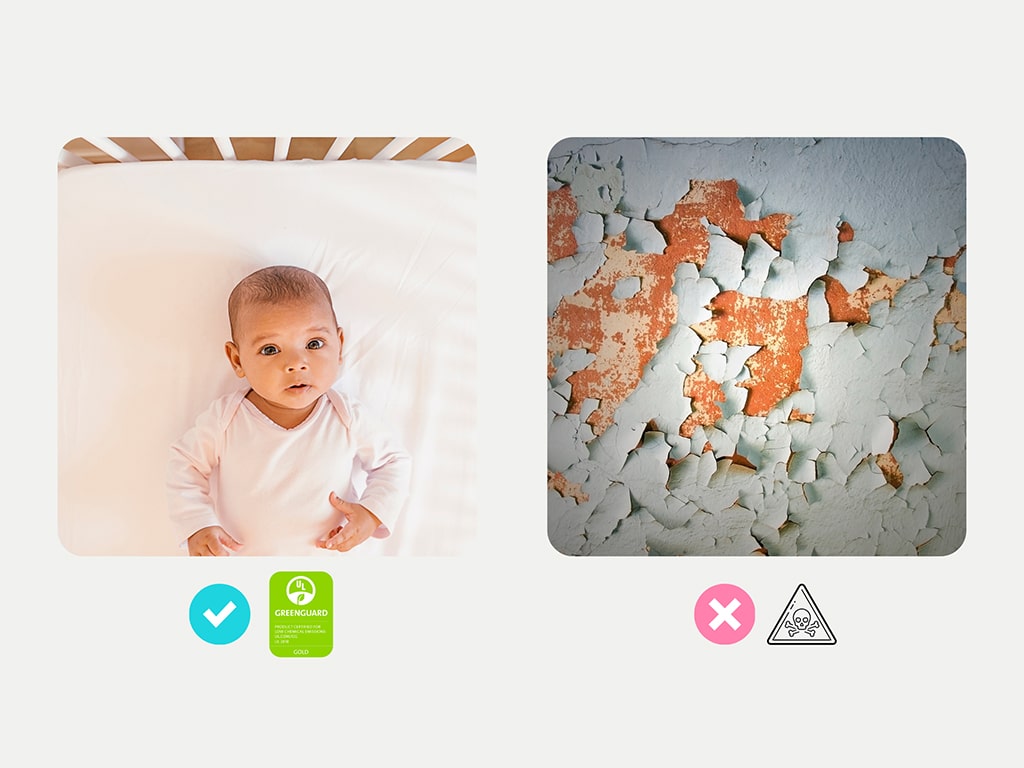 7. No Sharp Edges or Corner Posts
No matter what shape or design your crib has, it must be free of sharp edges and exposed hardware that could scratch or injure your baby. Moreover, the crib must also not have any corner posts sticking out as they could catch the baby's clothing and lead to strangulation. However, if the crib has corner posts, they must be over 16 inches to avoid strangulation hazards.
8. Snugly Fit, Firm Mattress
Furthermore, you must buy a certified and firm crib mattress. The best crib mattress fits inside the crib snugly. You must check that there is not more than two fingers of space between the mattress and the crib sides.
9. Three Levels Mattress Adjustability
To ensure your child doesn't fall out of the crib, you must purchase a crib that allows at least three mattress height settings so that you can lower the crib  as your baby grows.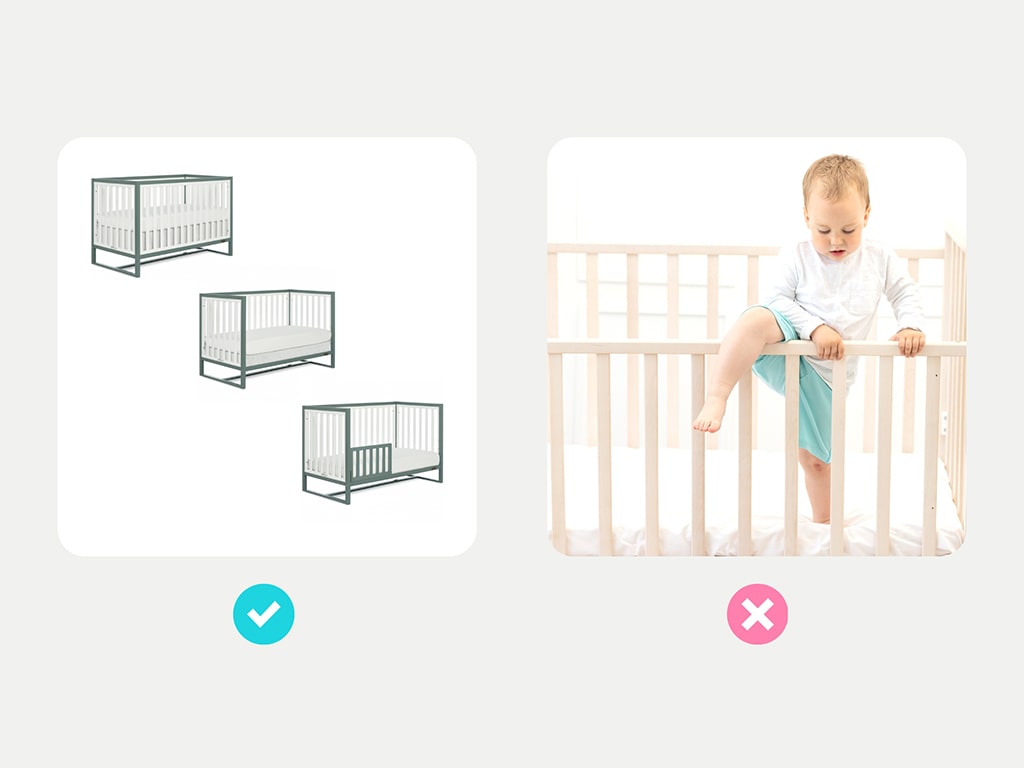 10. Heavy Duty Caster Wheels
Since most cribs come with wheels for easy portability from one room to another, you must look for heavy-duty locking caster wheels for enhanced stability. However, if the model you have been eyeing doesn't have swivel wheels or casters that don't lock, it is completely okay to settle for it as you can disassemble the crib and move it to the other room if you want. Always remember – a little inconvenience is worth your baby's utmost safety.
Essential Crib Safety Standards to Look for
If you have found a crib model that looks great and accommodates all the important factors listed above, here are the major certifications you must look for to ensure the crib is safe for use:
1. Consumer Product Safety Commission (CPSC)
All the cribs sold in the United States must be compliant with regulations as laid out by the CPSC. The Consumer Product Safety Commission standards focus on the structural safety of a crib. Hence, the commission has set strict regulations to ensure that the material used to make cribs on the market today is durable and completely safe for your baby.
2. American Society for Testing and Materials (ASTM)
Secondly, the crib you want to buy must be certified by the American Society for Testing and Materials (ASTM) so that you are assured of no potentially harmful chemicals present inside the wood finish, composites, and glue. Compliance with the ASTM standards is a federal requirement for all the cribs available in the market.
3. Juvenile Product Manufacturers Association (JPMA)
Additionally, it is better to choose a crib that has also been certified by JPMA as it guarantees to meet the highest safety requirements. Foundationally built on ASTM standards, the JPMA certification signifies that the crib meets all retail requirements as per the federal and state laws, including the ASTM standards.
4. Greenguard Gold Certification
Greenguard Gold Certification assures that the crib has been tested while manufacturing to possess negligibly low yet permissible amounts of volatile organic compounds (VOCs). This ensures your baby breathes in good indoor air quality with low risks of pollution and chemical exposure. Although not mandatory, finding Greenguard Gold certification is better and ensures enhanced safety for your baby in crib.
How to Ensure Your Crib Mattress is Safe?
Not just cribs but crib mattresses must meet the federal government regulations too. Hence, we recommend buying a crib mattress right along with the crib to ensure it fits the crib perfectly. Here is an important checklist of things you must look for while purchasing a crib mattress.
You must only buy a firm mattress that has been specifically designed for a crib. Soft mattresses lack required back support and can lead to sleep-related accidents including SIDS.
Breathability is as important as finding a firm crib mattress as it reduces the risk of suffocation for sleeping babies by allowing air to flow freely and regulate the temperature throughout the night.
If you are purchasing a standard sized crib, the mattress should be at least 27 ¼ x 51 ⅝ inches and must not be thicker than six inches (15 centimeters).
Most importantly, the crib mattress must fit the crib frame tightly with no more than two fingers gap between the mattress and the sides of the crib.
Look for a mattress that comes with a waterproof cover and if it doesn't, buy a reliable waterproof cover for the mattress separately.
Depending upon your budget and preferences, only consider buying a foam, spring or fiber crib mattress.
Although each type of crib mattress has its pros and cons, it is better to buy a foam core mattress as it is lightweight, more economically priced and makes changing sheets easier.
If you are considering a coil or innerspring mattress for better support and durability, look for a mattress that has been constructed out of at least 150 interwoven heavy-duty coils.
Last but not least, if you are leaning towards buying a natural and eco-friendly crib mattress, look for coconut fiber-based mattresses rather than natural latex.
Important Certifications to Look for in a Crib Mattress
While buying a crib mattress, these are some of the main testing and certifying bodies that you must look for.
1. Greenguard Gold Certification
If your mattress possesses the Greenguard Gold certification, you can be assured of its safety and use with your little one. A Greenguard Gold certification tests the crib mattress for thousands of chemical emissions to keep the baby healthy in good indoor air quality.
2. JPMA Certification
The JPMA certification ensures that the crib mattress has been tested by an independent facility and meets or exceeds the safety standards set by the ASTM.
3. CertiPUR-US Certification
If you want to buy a foam crib mattress, you must additionally look for the CertiPUR-US seal to ensure the mattress has been tested for volatile organic compounds, ozone depleters and other heavy metals.
4. Global Organic Textile Standard (GOTS)
If your crib mattress claims to be "organic", a GOTS certification ensures the same as such mattresses are tested to contain a minimum of 70% organic fibers.
How To Check If Your Crib Is Safe?
All cribs that were manufactured after June 28th, 2011 are certified to meet the safety standards set by the CPSC. However, it is a great idea to cross-check your crib for the features, safety guidelines, and certifications listed above.
Also, do not use a crib that has been used for more than 10 years – even if it still looks great and meets all the strict safety guidelines. Always remember that your responsibilities as a parent do not end until you find the right crib.
Following safe sleep practices is equally important to ensure your baby's safety at night. A crib is just a physical structure wherein you put your baby to sleep. However, how you put them to bed, wearing what, in which position, etc. matters even more.
Effective Tips & Baby Sleep Safety Guidelines For Maximizing Crib Safety
Since your baby will spend most of their time in their crib, here are some useful safety tips and recommended sleep guidelines you can follow to prevent injuries in the crib.
First of all, read the manufacturer's instructions carefully before assembling the crib and make sure to test it with something heavier than your baby's weight before you put them inside.
Moreover, choose a firm mattress that fits your crib perfectly without any gaps in the corner.
The snug crib mattress must be covered by a baby-safe fitted sheet.
For the first six months or a year, it is better to share your room with the baby. This way, you will be able to keep a close eye on them until they learn how to sleep independently.
Always place your little one to sleep on their back to prevent the risks of SIDS.
Consider giving a pacifier to your baby during daytime naps and bedtime as sucking on a pacifier requires forward positioning of the tongue thus reducing the risk of oropharyngeal obstruction and SIDS.
However, the type of pacifier you choose also plays a huge role in enhancing your baby's safety during sleep. These days, many pacifiers come with various decorative elements attached to them. You must ensure you don't use use such pacifiers during the baby's nap time or when you are not around as the ornamental elements can potentially harm babies.
In case you cannot resist buying a cute, decorative pacifier, it is better to look for a model that comes with detachable elements so that you can take them off when you put the baby to sleep.
Keep all items out of reach of the baby in crib – including the crib mobile.
Make sure the crib is free of stuffed toys, pillows, blankets, and lovies. This means that the crib must be completely empty when you put your baby in there.
Since a loose blanket can increase the risk of accidental suffocation until your baby is at least 12 months old, it is rather recommended to dress your tot in a wearable blanket or onesie.
In case any hardware in the crib needs replacement, obtain them from the manufacturer rather than substituting the original parts with anything you find from a hardware store.
Sleep Safety Checklist for New Parents
Frequently Asked Questions About Baby Cribs Safety
Here are our answers to some of the most commonly asked questions about crib safety standards.
What is a newborn crib called?
Many people look for newborn baby cribs but can't find them because the standard crib size is too large for babies right after birth. Instead, newborns should be put to sleep in a co-sleeper or bassinet. For traveling parents, pack n plays  are also great options to consider.
Can I use an old crib for my baby?
Although there is no harm in reusing baby nursery essentials or other items for close-aged babies, crib safety is a big priority and must not be overlooked. If you want to reuse a crib or have an old crib lying around that is still wrapped in the original packaging, you must only use it if it meets today's rigorous safety standards. You can verify the safety features of an old crib through its model number or serial number provided by the manufacturer.
Are all drop side cribs unsafe?
Yes. All drop-side cribs are unsafe as these rails create a gap between the mattress and the crib side. This increases the chances of the baby's head getting stuck between the gap ultimately leading to suffocation or even death.
How do you know if a crib meets safety standards?
If your crib has been manufactured after 2011, it is certified to meet the safety standards set by the federal government.
How far should the crib be from the wall?
Your crib must be placed one foot away from all walls, furniture, windows, drapes, and pull cords. Hence, the best place to position the crib in the nursery is near the door of the room so that you can quickly reach your bub in case of an emergency.
How long should you keep your baby in a crib?
While there is no specific or recommended age for it, toddlers around 3 years of age should gradually be transitioned to a toddler bed. However, the most important factor to consider is your baby's height. Once your toddler is 35 inches tall, it is the right time to make the move. If your crib is a convertible one, you can easily transform it into a toddler bed with the required hardware and brush off the hassles of buying a new toddler bed or seeing your toddler throw tantrums while being graduated to a new bed.
Can you use a crib for a newborn?
No. You cannot use a full-sized crib as a newborn baby crib as it is way too large for a tiny human right after birth. Most parents choose to put their baby to sleep in a standard-sized crib at around four months. However, you can consider mini-cribs or portable cribs for infants if you don't want to buy a bassinet.
These versatile cribs fit in the rooms easily and are very convenient to travel with. Moreover, mini-cribs are equipped with an adaptable three-position mattress support system to lower the height as your baby grows. Most importantly, if you purchase a folding crib, you can also use it as a playpen that can be folded and stored easily whenever you want.
Wrapping Up
As per the latest crib safety standards, you must purchase a Consumer Product Safety Commission (CPSC) certified safe crib with stationary sides. Even if you have designed a luxury nursery, we recommend keeping the crib basic and standard-sized. Additionally, you can also look for some convenient features such as convertibility to a toddler bed or storage drawer under the mattress support structure.
Always remember it is equally important to be careful and precautious about the crib assembly, placement, and your baby's sleep routine just like its manufacturing. The crib must be placed away from windows, drapes or blinds – without any sleep positioner or bumper pads inside. The perfect balance of choosing a certified crib and following safe sleep practices ensures your baby's comfort and safety at all times.