On the 23rd of June this year, two very special little angels marked a major milestone in their very young lives.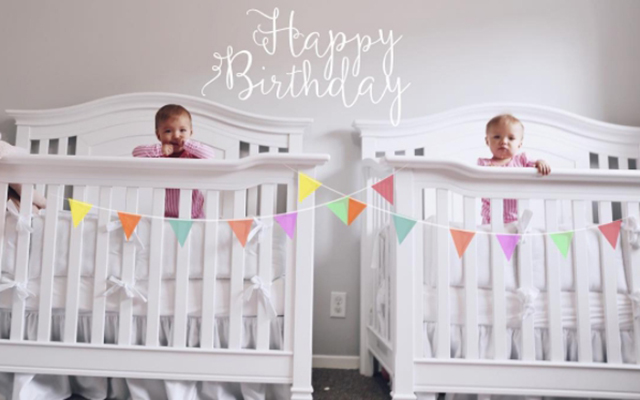 Many, many happy returns of the day Taytum and Oakley Fisher!
Every single time we look at Taytum and Oakley, this old English tune comes to mind. Cecil Frances Alexander wrote them in the 1800s, no doubt as a prayer.  This post is not about this song, of course. Nor is it about the author of this song. This post is about two bright and beautiful twins – Taytum & Oakley. Two bright little stars who have captured our collective imaginations, not just with their incredible charm, but also with their extraordinary rise to stardom.
We first encountered these adorable twins when their mom and dad chose our very own évolur Fairbanks crib for their nursery. We, as have been thousands of you, have been following them on social media since – watching them grow. It has been a year. And what a year it has been!
Born in June 2016, in LA, California, to Madison and Kyler Fisher, and with their birth featured in their mom Madison Bontempo's prolific Instagram account,  Taytum and Oakley have gathered over a million followers on Instagram alone. They've had a busy year. While mostly doing what babies do – eat, play, sleep, these little ones also have a budding career in modelling and film. We have no doubt that it will be a spectacular one. Here are some pictures from Madison's collection.
PS: Kyler's Instagram account features these little angels too!
Taytum and Oakley did their first commercial at 3 months old and have since booked roles in commercials and films on a fairly good trot. We wish them all the success and happiness in the world. We'll leave you today with a small selection of pictures from their Instagram account.