Want to ignite your baby's curiosity to explore the world by setting up an adventure themed nursery? You are in the right place. In this article, we have shared some unique ideas for an outdoor themed nursery to help your little bub learn to embrace the creations of nature and become a nature-lover from a young age.
Why Opt for an Adventure Themed Nursery?
Decorating a nursery according to a specific theme helps fuel your baby's imagination about the same. While some parents might choose to set up a floral or a space-themed nursery, many love to go for a mountain themed nursery or an outdoor themed nursery. If you belong to the latter category, an adventure themed nursery is sure to nurture your baby's mental health by connecting them to nature in the early years of life.
By setting up a nature themed nursery that promotes adventure, you can arouse wanderlust in your baby which is great for his overall development. Perfect for parents who're looking for a gender-neutral nursery decor idea, an adventure theme is very versatile to experiment with, lending itself to a bevy of different colors, styles, elements, etc.
Furthermore, you don't need to clutter the space with too many elements to set up such a nursery. Being minimalist helps convey the idea too if you choose a few but the best nursery decor ideas. This list consists of plenty of ideas to cater to the choices of all types of parents.
10 Adorable Adventure Themed Nursery Decor Ideas Perfect for Your Little Explorer
If you cannot wait to provide an adventurous spirit to your baby in the initial years of life, here is a collection of 10 unique nursery ideas that can never go out of style.
1. Natural Wood Colored Crib with Adventure-Themed Bedding
A natural wood-colored crib with a weathered look helps bring a bit of the outdoors in and set the mood for the nursery's theme. Choosing the right crib also helps bring all the other elements to come together. Moreover, you can also experiment with the bedding to bring an adventurous vibe in. From the crib sheet to the pillow, comforter, and more, you can choose from multiple adventure-inspired crib bedding. Sleeping on such a crib will take your child into a magical world of imagination.
Dream On Me Synergy 5 in 1 Convertible Crib
2. Mountains Inspired Wallpaper
Wallpapers play a huge role in setting up a theme for the nursery. If you are more inspired towards a mountain themed nursery, you can opt for scenic wallpapers or ones that use motifs with adventurous elements. You can go a long way to curate your dream nursery by choosing the best wallpaper that complements the theme.
Dream On Me Chelsea 5 in 1 Convertible Crib
3. Camp Play House Tent
If you are looking for a camping themed nursery, an indoor playhouse tent is another great idea. Firstly, tents are great to make a child physically more active thus enhancing the development of motor skills. Furthermore, they let your baby's imagination set free to visualize their own home and come up with interesting stories.
Sweetpea Baby Rose Wood 4-in-1 Convertible Crib
4. Outdoor Musical Crib Mobile
Another unique thing you can do to bring an adventure theme to your nursery is by selecting a unique musical crib mobile with interesting adventurous elements. You can find your ideal crib mobile from plant crib mobiles, floral mobiles, jungle-inspired mobiles, beach-inspired mobiles, etc. Crib mobiles not only add an element of beauty to the nursery but also promote visual stimulation and prevent boredom in kids.
Evolur Aurora 5-in-1 Convertible Crib
5. Animal Figure Toys Set
An animal figure set is another cool idea for an adventure-inspired nursery. It not only introduces your bub to wild creations but also arouses interest for jungle safari, camping, zoo visiting, etc. Furthermore, it makes your baby stronger and more confident by imagining animals as his best friends.
Evolur Maddox 4-in-1 Convertible Crib
6. 3D Globe
How can we forget a 3D globe model while talking about adventure? Not only does it make a statement in the nursery but also teaches your child multiple concepts about the Earth, geography, and traveling.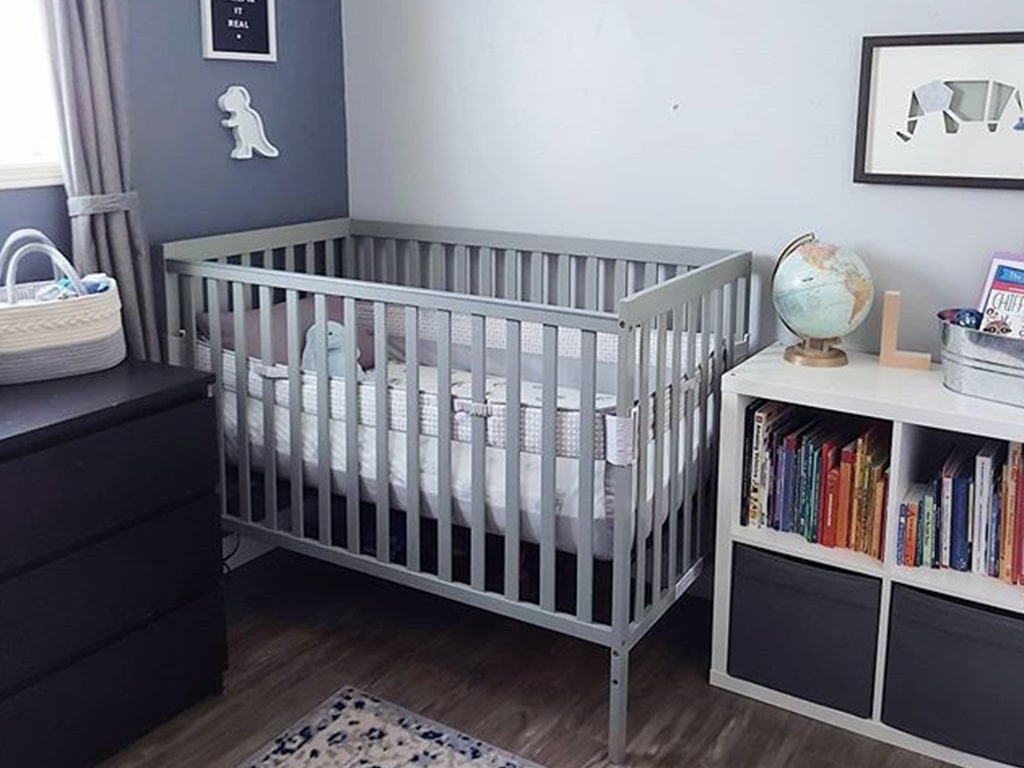 Dream On Me Synergy 5 in 1 Convertible Crib
7. Shade Loving Plants
You can also set up a nature themed nursery by decorating the room with indoor plants. Babies who grow up amidst greenery have a higher interest in traveling and exploring nature.
Evolur Waverly 5-in-1 Convertible Crib
8. LED Campfire Night Light
Talk about decorating a nursery and forgetting about the lamp – impossible! You can set up a camping themed nursery by getting a campfire lamp made up of small plastic logs and a fake yet realistic flame. We are pretty sure this idea is going to be a super hit!
Sweetpea Baby Redwood 4-in-1 Convertible Crib
9. Nautical Wall Art
If you are more inclined towards nautical elements for promoting water adventures, why not choose some relevant wall art and framing them on the wall? You can find wall arts like sea anchor, fish, beach views, ships, corals, etc.
Evolur Santa Fe – Double Dresser
10. Ocean Themed Rug
Last but not least, you can bring together all the elements with an ocean-themed rug. Regardless of the space availability, nursery rugs are available in a myriad of sizes, shapes, and designs.
Evolur Cheyenne 5-in-1 Full Panel Convertible Crib
Wrapping Up
We hope we helped with your search for the best decor ideas for an adventure themed nursery. This theme not only exposes your child to the natural beauty and adventures of the world but also helps them become more grateful, considerate, and expressive. We recommend setting up elements of all types to make your nursery as adventurous as possible.
From mountains to beaches, and jungles, try nesting one element of all sorts without making the nursery look messed-up. Follow color themes and choose the right location for each element. Don't miss symmetry and other crucial designing principles. This way, your adventure-inspired nursery will awe-inspire everyone! Which of these ideas intrigued you the most?