If you are expecting a new addition to your family, you are probably dreaming of creating a special space for your baby and are researching options and figuring out how to choose a crib. A crib usually forms the center point of a nursery and is the safest place for a baby to be during the first few years of life. With many options available, the process of how to choose a crib can get confusing and even a bit overwhelming.
There are a variety of factors to consider before choosing a crib. We have listed some of the most important criteria to look at while buying a crib for your baby's nursery
1. Types Of Cribs:
The market is filled with different crib types that vary in size and functionality. What you choose really depends on your needs, your budget and the space available.
a. Standard Size Crib – They are full-size cribs that provide a lot of room for your baby to grow into. They are perfect when you have a reasonably large area designated for your baby – a separate nursery or if you are sharing a spacious bedroom. The crib should have multiple mattress settings so that you can lower the mattress height as your baby starts to grow and pull up to a standing position.
Pros: Standard sized cribs provide more long-term value than bassinets & bedside sleepers and can be used until a baby is around 1.5 to 2 years old. They also offer enough space for a baby to grow into, which means that you can rest easy once you set it up and until your toddler is ready to sleep in his/her own toddler bed.
Cons: Standard size cribs take up more space than a compact bassinet and cost more than bassinets and playards. Standard sized cribs also provide less portability once set up than smaller and lighter sleep solutions such as bassinets and playards.
Who should get it – Standard sized cribs are perfect for those who have enough space for a spacious crib or families expecting to grow.
b. Convertible Cribs – With long term convertibility options, convertible cribs are fast becoming one of the most popular choices for a baby's nursery. These cribs are a lot like standard-sized cribs in their dimension, and they have the added feature of 3-in-1, 4-in-1, 5-in-1, or even 7-in-1 convertibility. They can be converted into day beds, toddler beds, and even full-size beds depending on the options available
Convertible cribs grow with your baby and provide long term value
Pros: Convertible cribs provide long term value and adapt to the needs of your growing child. If you choose to invest in a 5-in-1 convertible crib, you are set until your baby crosses young adulthood.
Cons: Most convertible cribs have a higher price tag. Be aware that for most convertible cribs, you will have to buy extra parts (toddler rail, conversion kits) to convert the crib into a toddler bed or full-size bed.
Who should get it – Those looking for a long term solution and don't want to go about hunting for a sleeping solution every two years.
c. Mini Cribs – Mini cribs are a lot like convertible cribs except that they are smaller in size and occupy a smaller footprint. Most mini cribs have multiple mattress height settings that can be adjusted according to your preference. Many of these cribs convert into a mini daybed and twin size bed, so you could potentially use it for a lot longer. All you will need is a Universal Twin Size Rail and Bed frame.
Mini cribs are great for co-sharing and provide long term value
Pros: It's compact and is great for a loft nursery or for a co-sharing space. They are an excellent in-between option to consider for those who find bassinets too small and cribs too big and/or expensive.
Cons: Mini cribs are smaller than standard-sized convertible cribs, so it is possible that your baby could outgrow it before being ready to move on to a toddler bed.
Who should get it – Mini cribs are perfect for those who live in apartments or are looking to convert a small space into a nursery. They are also popular amongst parents looking to co-share their bedroom with the baby and with moms expecting multiples.
d. Portable/Folding Cribs – Portable cribs can be standard sized or smaller, like mini cribs. What differentiates them from regular or mini cribs is that they have wheels, fold easily, and can be stored flat. Many of these cribs offer multiple mattress height positions and come with a 1-1.5 inch mattress pad. A few of these cribs even provide some form of convertibility – they can be converted into a diaper changing station or playpen. The wheels are usually designed to have a locking mechanism that helps keep the crib stationary when needed.
Low on space? Consider a portable/folding crib
Pros: They are perfect for travel or when you need a crib with portability. Ideal for families on the move or when you are visiting grandparents. They are well suited for smaller spaces or when you need flexibility in the placement of the crib.
Cons: Unlike convertible cribs, portable/folding cribs don't provide long-term value, and parents will have to buy a toddler bed or look for an alternative sleeping arrangement once the baby outgrows the crib. Also, care will have to be taken that the wheels have a good quality locking mechanism, and the folding mechanism is robust and does not collapse. For this reason, we recommend that parents read reviews of different brands and choose one that is rated high and trusted by many.
Who should get it – Portable cribs are excellent choices for those living in apartments and smaller spaces and need flexibility and easy storage capability. They are also a good option for daycare centers and grandparents as they can be easily stored away when not required.
e. Multi-Functional/Multi-Purpose Cribs – Parents who prefer to invest in a single piece of nursery furniture. provide a sleeping space for baby and storage for their needs. Since the changing area is attached, diaper changing (which happens a lot during the first year) becomes easy and convenient.
Multi-functional cribs are an all-in-one nursery solution
Pros: While multi-functional cribs' dimensions are larger than a standalone crib, these cribs are an all in one nursery solution and help keep the baby's essentials organized. The crib could be full-size or mini size with an attached changing area and closed drawers or open shelves under. And once the baby outgrows the crib, it can be converted into a day, toddler, or full-size bed, and the changing unit can be repurposed as a nightstand.
Cons: Since they have the biggest footprint of any crib, these need a fair amount of space, so if you are looking to furnish a small room, these might not be the best option. Some of the attached changing areas may be small, so it's best to check the crib's dimensions, changing area, and storage shelves separately to make sure that it meets your requirements.
Who should get it – Parents who prefer to invest in a single piece of nursery furniture provide a sleeping space for baby and storage for their needs. Since the changing area is attached, diaper changing (which happens a lot during the first year) becomes easy and convenient.
f. Round Cribs – 
Oval or round cribs, while not as popular as regular, rectangular cribs, are an excellent option to consider if you have a smaller space. These cribs have a smaller footprint and undoubtedly add beauty to a nursery. While not as spacious as a full-size crib, round and oval cribs provide ample space for your baby to grow.
Round cribs are compact and MAGICAL!
Pros – They allow parents to get creative with the nursery – in crib placement and design. A smaller footprint means it can be considered for a co-sharing space.
Cons: Since they are not a very popular option, finding a mattress and mattress sheets might be a little tricky. Also, they can be quite expensive.
Who should get it – Parents who absolutely love the dreamy, fairytale aesthetic that round and oval cribs provide!
g. Bassinets/Cradles/Bedside Sleepers – 
Bassinets, cradles, and bedside sleepers are smaller and lightweight sleeping options that work well for the first four to five months after the baby's birth. They can be used until the baby rolls over and starts to push up on their hands and knees. They are portable and can be used anywhere in the house and are ideal for travel too. While cradles provide gentle rocking movements, bedside sleepers can be positioned right next to a bed allowing moms to nurse without getting out of bed.
Bassinets and bedside sleepers are a useful buy for the first few months after baby's birth
Pros: They are quite affordable and allow parents to have their baby close by. They are easy to set up, portable, and easy to travel with.
Cons: They are only a short-term sleeping solution, and your baby will have to be moved to a bigger crib once they outgrow the bassinet or cradle.
Who should get it – Bassinets are particularly useful for nursing moms or moms who are recovering from a tough pregnancy and/or delivery. This is also a good choice for parents who want the baby close by during those early months.
h. Playards –
Playards are lightweight and portable play and sleep options that typically have an aluminium frame and mesh sides. Many playards come with a mattress pad or padded floor.
Pros – Easy to set up and pack up, compact and lightweight, making it perfect for travel
Cons – Not as durable as a crib and cannot be used as the primary sleeping surface for your baby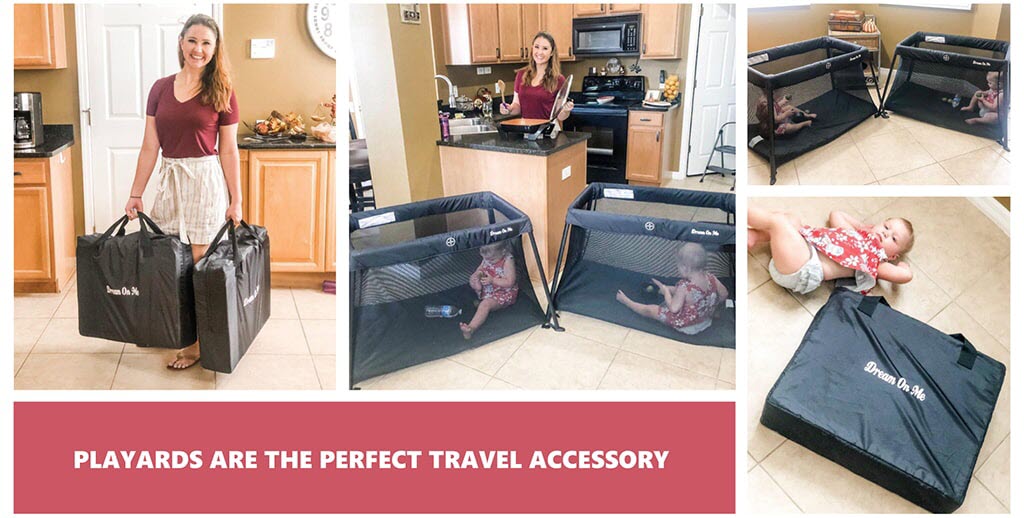 Playards are the perfect travel accessory
2. Safety Certifications:
Cribs sold in the U.S. have to meet and pass some stringent safety regulations. As of 2011, all cribs manufactured are required to meet the standards put forth by the U.S. Consumer Product Safety Commission (CPSC).
While some certifications and regulations are compulsory, some are voluntary. The two most important certifications to look out for are the JPMA seal and the Greenguard Gold seal.
JPMA or Juvenile Products Manufacturers Association is a leading and trusted independent organization that is viewed as an authority on safety and quality baby and children's products. The JPMA Certification seal indicates that the product meets or exceeds ASTM standards, federal and state law, and some retail requirements.
A Greenguard Gold certification, on the other hand, certifies that a product has been tested for thousands of chemicals and VOCs and helps in providing a safe and healthy environment for your baby and family.
While parents should still take the time to do their homework, knowing that a brand has one or both of these certifications provides a certain amount of confidence and peace of mind.
The JPMA and Greenguard certifications are widely trusted
3. Height Of The Crib:
Though there isn't a huge variation in the height of cribs, this becomes an important factor to consider if you are short or tall. Given the number of times you will have to lift your baby in and out of the crib, it's best to find one that works best for you. There are low-profile cribs that sit low to the floor or have a scooped footboard that makes lifting your baby easy on your back.
4. Mattress Height Settings:
Most cribs have two to four height settings. This refers to the different heights the mattress can be raised or lowered to in the crib. This is important because once your baby starts to get mobile, the mattress should be set at a low enough height to prevent a fall. Put your mattress support at its highest setting when your baby is a newborn and start lowering it as he/she starts to roll over and push up on his hands and knees.
Adjustable height settings allows you to move the mattress height up or down based on baby's developmental stage
5. Other Parameters to Consider While Buying A Crib:
Slats: The slats of a crib should be no more than 2-3/8″ apart. Anything more, and there is a chance of the baby's arms or legs getting stuck in the gap.
Corner posts: The height of corner posts should not exceed 1/16th of an inch. Anything higher and there is a danger of your child's clothing getting caught in it.
The minimum distance between the top of the lowest mattress height and the top of the crib side rails should be 26 inches.
Paint: Ensure that the brand you have chosen only uses non-toxic, baby safe paints on its nursery products.
Crib mattress: Mattresses should be bought along or as soon as a decision is made on which crib to buy. Crib mattresses should fit snugly in the crib and be no more than 6 inches thick. Read our guide on how to select a crib mattress here.
Make sure the mattress is a good fit with the crib
Mattress sheet: Along with getting a good fitting mattress, it's important to get a few soft fitted sheets that fit perfectly over the crib mattress. These and a few waterproof pads that prevent any accidents from seeping into the mattress.
Side rail – Cribs with a drop-side no longer meet safety requirements. Buy only cribs that have fixed, stationary side rails.
Check the CPSC website to see if the crib you have chosen has been recalled.
Safety checklist while setting up your nursery
All cribs come with assembly instructions. It's essential to follow them so that the crib is set up the right way. Make sure the crib is steady and seems sturdy.
Crib bumpers are not necessary and can pose a suffocation or strangulation risk.
When it comes to accessorizing a crib, Bare is best! However, tempting it may be, the crib and mattress should be devoid of any extras – pillows, soft toys, blankets should be avoided.
Place cribs away from windows and make sure no loose strings or cords are hanging over the crib.
Vacuum the underside of a crib regularly to avoid the collection of dust
Make sure the nursery or room where the crib is kept has adequate ventilation.
While we recommend buying a new crib, if you must purchase a second hand one, make sure that it meets current safety standards.
Frequently Asked Questions
When should I buy a crib?
Most parents start researching cribs during the second trimester and purchase it during the end of the second trimester or sometime during the third trimester. We strongly advise setting up the crib and nursery (at least the most essential parts) by the 7th or eighth month.
For how long can I use a crib?
Generally, a crib can be used until your baby is 1.5 to 2 years old. For some children, it's longer and there is no harm in using the crib as long as it is spacious enough and safe for your child.
The American Academy of Pediatrics recommends making the transition from crib to toddler bed when your child is 35 inches (89 centimeters) tall, because at that point they're big enough to climb over the crib railings — even with the mattress in the lowest position.
How much should I spend on a crib?
Many parents have a budget in mind when they start looking at cribs. Cribs can range from just a little over $100 to $1000. While the quality of wood and the craftsmanship might differ, all cribs have to pass safety standards set by the U.S. Consumer Product Safety Commission, no matter what the price. What crib you choose depends on many factors, including but not limited to the vision you have for your baby's nursery, the design aesthetics you prefer, convertibility, and value for money.
Can newborns sleep in a crib right away?
Yes, a crib is a perfectly safe space for a newborn to sleep. However, if you are not comfortable with your baby sleeping in a crib or in a separate room (if the crib is a different room), you could always consider having baby sleep in a bassinet or bedside sleeper. These are good for babies upto 5 months and provide a lightweight, portable and safe sleep environment during the early months.
We do hope this article provided pointers on how to choose a crib for your baby's nursery. We would love to hear your comments and suggestions so do drop a line!
Check out some of the most beautiful nurseries created by our DOM Family moms. To explore the Dream On Me range of affordable cribs and nursery furniture, click here. To browse through the Evolur range of premium nursery collections, click here.