One look at Baby Kaylee Mae's big, 'light-up-the-room' smile and you will know that this little wildflower is growing and blooming beautifully in her gray and pink Evolur Santa Fe nursery. Calm grays, soft pinks and delicate florals helped create the most soothing nursery we have laid eyes upon. The Evolur Santa Fe Nursery Collection in Storm Gray is an obvious choice when you want a gray-themed nursery and pairing it with pinks is a great way to infuse feminine charm to an otherwise neutral color scheme.
Mom Tabatha placed the Evolur Santa Fe 5-in-1 Convertible Crib against a light gray wall decorated with delicate floral motifs. The Santa Fe Double Dresser, placed near the crib, serves, not only as a compact and spacious storage solution, but also as a diaper changing station. Pretty, rustic accents hang above the double dresser adding character to the room. A rocking chair in calming gray sits opposite the dresser providing Tabatha a comfortable space to cuddle up with her baby girl, Kaylee Mae. The Santa Fe Nightstand, placed next to the rocking chair, makes for a convenient spot to place a night lamp or some burping supplies. A faux fur rug adds the necessary amount of coziness to the space. Curtains in the softest pink and cream drape the windows lending the entire room a feminine touch.
All in all, a wonderful space for little Kaylee Mae to blossom in, and for her family to make memories.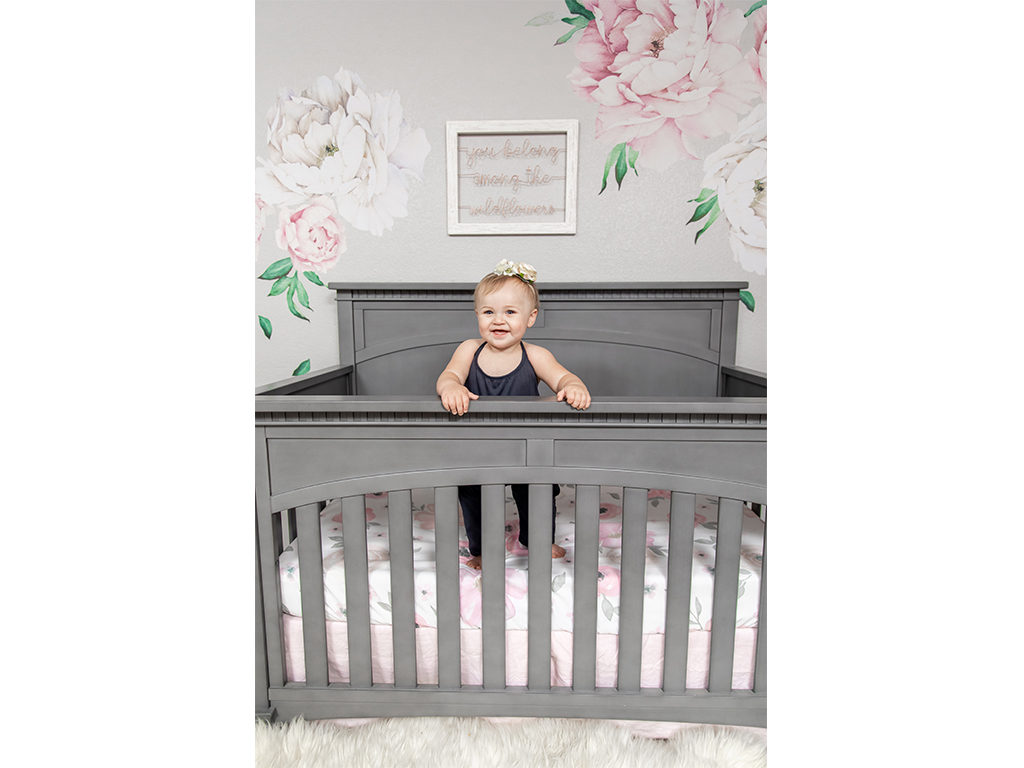 Find out how mom Tabatha went about creating this dream gray and pink Santa Fe nursery –
What was your inspiration for the nursery design and décor?
When I found out that we were expecting a girl, such excitement consumed me. Not just excitement for the cute mommy and me outfits we would wear and the pretty bows and fun hairstyles, but to raise a joyful, carefree, confident, independent woman…a wildflower!
So I started with the sign I found on Etsy, "You belong among the wildflowers" and decided to continue with a floral theme. I fell in love with peony flowers, so I focused on those, even though they aren't technically a wildflower. I'm teaching my girl to carve her own path, starting with her nursery!
What drew you to évolur over other nursery brands?
I actually picked out the nursery furniture before we even found out the gender. As soon as I found out I was pregnant, my dad insisted that I pick out a pristine bedroom set with a convertible crib to grow with our baby throughout childhood. I just knew I needed to find a modern style gray crib! I did lots of research, and found the Evolur Santa Fe 5 in 1 Convertible crib. It was the perfect combination of a sleek modern design and well made and durable! So we bought the whole set and laid out the room according to how it would all fit best.
Why did you pick Evolur?
Great style, awesome reviews, and love the conversion options for crib! Plus reasonably priced!
Have you thought of how you will use the nursery pieces down the road and can you tell us?
We will convert the crib as she grows and continue to use all the furniture pieces for her room. We may change the theme as she is old enough to decide what she likes herself. But until then, I'll soak up all this decor, and just slightly change it up to keep it interesting!
What is your favorite piece or design element in the nursery?
The floral wall. Any time I walk in and see it, it makes me smile inside!
Did the room pose any design challenges?
The nursery room was very challenging with all of the pieces. Our master bedroom was converted from 2 bedrooms into one, and we basically split it back in half but with no dividing wall. So we had to strategically place everything between 3 rather than 4 walls. There was so much I wanted to include in such a small space!
What does this color scheme mean to you?
I wanted the nursery to have a very soft, calm and relaxing vibe. So I chose soft neutral tones and soft pink colors.
What one word comes to mind when you step into the nursery?
Serene.
What accessories did you choose and why?
Peony wall decals (by Simole Shapes) – I love the soft whimsical look of the peonies.
"You belong among the wildflowers" sign – (Etsy, Rustandglam) – I love the simplicity of the sign and it became the focal piece of the nursery
Personalized headband holder – (Etsy, GraceJewelsDesign) I wanted a simple way to organize all the headbands I would (and have) bought her!
Sheepskin rug (Costco) – I wanted a simple but soft and fluffy rug that we could cuddle up together on and read or just play and laugh!
"Little lady" sign (Hobby Lobby)
Peony hoop wreath (Etsy, AdornbyNCM)
Framed "K" by chic nursery letter – (Etsy, Sealoveandsalt) – I am a sucker for shabby chic stuff!
Gray arrow – Amazon
Sheets and changing tray cover: Sweet Jojo Designs (Amazon)
Quilt and crib skirt – Pottery barn
Lamp – Target
"All of God's Grace in one tiny face" sign – Hobby Lobby
Curtains – Amazon
Discover new nursery ideas and be inspired to create your dream nursery here.