So, you've just found out that you are expecting a baby girl and your imagination is working overtime – thinking of all the wonderful things you can do for her – right from dressing her up in the cutest outfits to creating a dream nursery to welcome her. Pinterest is your best friend and your browsing history is filled with research on everything from baby cribs to nursery decor.
Well, it's not every day that you get a chance to create a magical girl nursery for your little princess. So, go on, dream on. 
To help you get started, we have 6 ideas that will inspire you to create the most dreamy baby girl nursery ever –
1. A Nursery fit for a Princess (but of course!)
Trends come and go but this is one theme that we don't see going out of style ever. Glamorous, luxurious, and royal, princess themed nurseries continue to be one of the top picks for moms designing a baby girl nursery.
Princess-themed nurseries are royal, luxurious and the perfect way to welcome her little highness!
So, what does it take to create a beautiful princess themed nursery? For starters, a royal crib. A crib forms the centerpiece of a nursery and more so, for a princess themed one. The form, the details, and the finish all add to the aura and in some cases, the direction a nursery takes. Storage furniture plays a part too – how royal would it be to have an armoire to store all of Her Royal Highness's dainty dresses and pretty bows!
Because every princess needs an armoire!
Once you have the nursery furniture figured out, it's time to decorate. Choose a color palette that speaks to you! While pinks and off whites are the most popular choices, you could also go with purple, blue or even peach.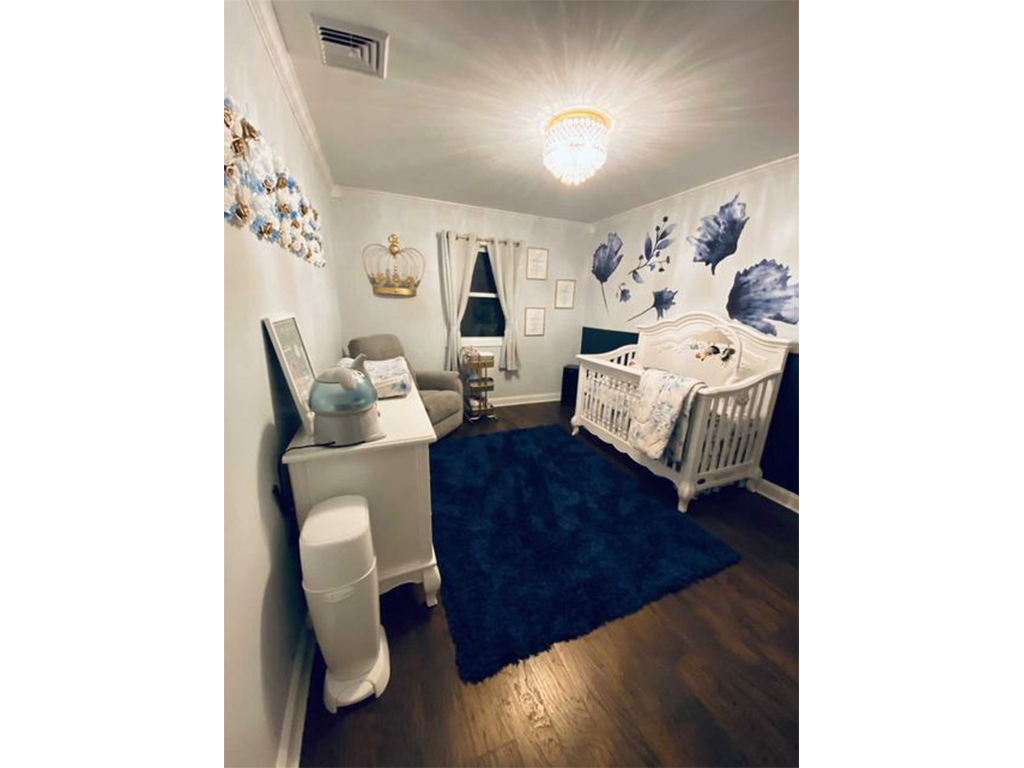 Think beyond pinks and creams for a princess nursery
Add decor elements that delight – a comfortable rocking chair with a plush rug under your feet, wall decor with hints of gold, a personalized name sign, a wooden horse or velvet drapes. These will amp up that feeling of luxury. But if you want to go all-out ROYAL, there is nothing that beats a crown on top of a crib with cascading drapes and a chandelier to light up the nursery.  
A crown is the perfect finishing touch to a royal, princess nursery
2. The Quintessential pink nursery
We know! The notion that pink is for girls and blue is for boys is passé. But there is something so appealing about creating a pink-themed nursery for a sweet baby girl. A timeless color palette for a girl nursery, a nursery in a pink color palette is all about sweetness and tenderness. It's like being enveloped in a big, love-filled hug.
Pink walls add softness to a nursery space
But what we like best is how versatile pink is and how well it pairs with other colors. Looking for a classic pink nursery? Pair it with soft creams. Want a more contemporary take on the classic pink nursery? Pair it with cool grays. And for a more luxurious look, how about adding a hint of gold?
And if you aren't a big fan of pink but still want a sweet, girly girl nursery, try peach or rose gold. They are feminine and sophisticated.
Peach is a great alternative to the the traditional pink baby girl nursery
When it comes to nursery furniture, white and gray furniture pair really well with a pink color scheme. Want to create a light, airy feel? Go with white nursery furniture that has simple, clean lines and color the walls a soft shade of pink and add a glider in a dusky pink hue for a subtle pop of color. Gray complements pink beautifully and has been one of the most trending color combinations for the last couple of years and we don't see its popularity waning any time soon.
Pink and gray is a popular baby girl nursery combination
3. Of roses, lilacs, and lilies
How would you like for your little one to grow up in a field of flowers? Floral themed nurseries are all the rage – think bold, floral wallpapers and gorgeous paper flower nursery decorations. Of course, a floral nursery is beautiful but we love that it signifies so much more – a blossoming of sorts, happiness, and love.
Floral nurseries can be fresh, whimsical, romantic and just so inviting!
Floral themes are timeless and can be adapted to suit your individual taste. Floral motifs work well with a bohemian theme to create a nursery that is colorful and eclectic. For a floral farmhouse nursery, pair floral elements with wood elements – rustic and cozy. For a subtle, floral feel, skip the floral curtains and rugs and opt for floral decor accents such as a floral crib mobile, a customized floral monogram, or floral artwork with watercolors.
A floral monogram or a crib mobile are sweet ways to incorporate flower elements into a baby girl nursery
And you can work with a variety of color palettes for your floral themed nursery. Not too crazy about pinks? Consider purples and lavenders or a more soothing pastel color palette. For a more edgy and dramatic look, you could even play around with darker shades, like blacks and whites or even deep shades of red.
Think beyond pinks and purples
Get creative with how you want to incorporate floral elements – Frame a mirror with flowering vines and creepers, pick linens with flower motifs or decorate the walls with flower decals. With the most beautiful wallpapers now available in the market,  you could pick one with soft, subtle prints or make a statement with bold floral prints.
Floral decals and wallpapers are great ways to make a statement!
4. Modern, gender-neutral nursery
As popular as princess and floral themed nurseries have been, there is one other nursery style that has been gaining favor over the last few years. And that is the idea of designing a modern, gender-neutral nursery for a baby girl. The reasons for parents favoring this trend are many – a liking for contemporary and minimal aesthetics, wanting to raise their child in a more gender-neutral environment  (really, who made up the rule that pink was for girls and blue was for boys!) and a long term mindset (easy to change things around as your family grows).
White is the go-to palette for a modern nursery
A white color palette has emerged as a clear favorite for modern nurseries though we think a gray palette works really well too. Pick a crib or nursery furniture with simple, clean lines, and then add decor accents and elements. One of the best things about a gender-neutral nursery is that you can get really creative with themes. Just came back from a beach vacation? Dream up an ocean-themed nursery. Love the outdoors and want your baby to grow up with a sense of adventure? Create an adventure-themed nursery with mountains and lakes or incorporate a world map and vintage airplanes in your little girl's space. Have a rocking horse from childhood? Make it part of the nursery and create a baby animal or pony themed nursery.
How cute is celebrity mom Christy Carlson's cat-themed nursery!
While monochromes are a natural choice for a contemporary nursery, you don't have to shy away from color. How about adding an accent wall or rug with geometric or abstract shapes and pops of color? Play with hues, patterns and textures. Or add a sleek glider in a soothing finish.
Deep green curtains add a pop of color to an all-white nursery
If you want to incorporate some girl elements in a subtle way, you can do so with your decor – with a modern chandelier, adding pops of peach or soft pink, or by hanging wall decor with a hint of gold. For a boho twist, add decor elements with natural textures – Rattan baskets, cane lamps, some foliage will add warmth and color to the nursery.
Accents made of natural fabrics and materials add warmth to the space
More modern nursery inspiration
5. Eclectic nursery
Calling all lovers of color, pattern, and texture! Are you unafraid of pairing bold colors with intricate patterns with unusual textures? Then, creative mama, this is the nursery for you.
Cribs with a natural wood finish or white finish work the best though gray cribs are also becoming increasingly popular. That doesn't mean you should rule out nursery furniture with bold colors. Pair a neutral-colored crib with a dresser in blue or green hues. Talk about going the quirky route!
Wall papers are a great way to make a statement and the market is filled with the most unique designs – be it the African savannah, cactus prints, or oversized floral designs. Believe us when we say, there is a wallpaper design for everyone! Next, lay out a rich, patterned carpet – maybe one with geometric shapes or an Aztec-inspired rug. Add a comfortable glider or rocker and pair that with a colorful pouf. Adding vibrant wall decor accents is another way to spruce up a nursery and allows you plenty of ways to get experimentative. And you could periodically change the look and feel of the nursery by swapping them for other pieces.
Patterned carpet can add a burst of color and texture to the nursery
There is no rule book for creating the perfect eclectic nursery because it is all about what catches your eye and how you put together. So really, go on..it's time to unleash your imagination.
Experimentation is the name of the game when you are creating an eclectic girl nursery
More eclectic nursery inspiration
6. Farmhouse nursery
Relaxed yet sophisticated, farmhouse nurseries are all about balancing the old with the new. What you get is a clean, modern-looking space that oozes charm. 
Pair up nursery furniture in a weathered finish (always a great way to add character to a space!) with a neutral color scheme to keep things simple. Get experimentative with how you decorate the space. Objects made from natural materials are an integral part of a country chic theme. Decorate your baby girl's nursery with a rattan basket or a wicker lamp. Not only do they add warmth, they add a pop of natural color too. How about using a reclaimed barn board as an accent wall? Exposed brick walls or wood paneling also add oodles of farmhouse magic to the nursery.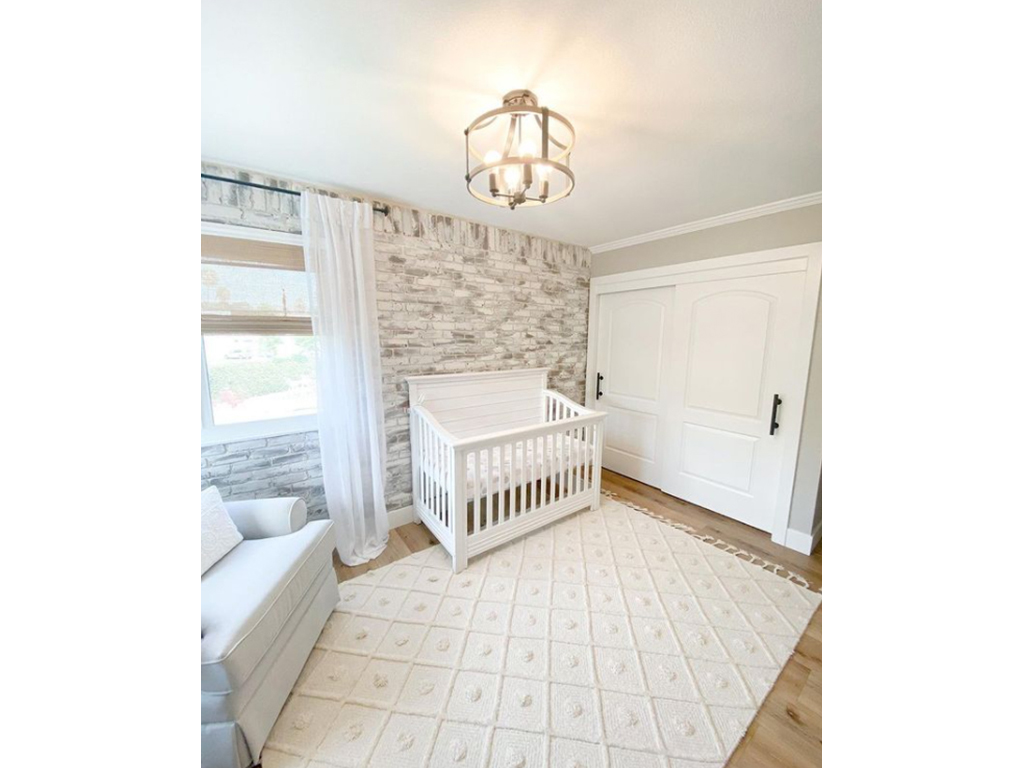 Textural contrasts from the brick wall and carpet balance out the neutral color palette
Want to inject a bit of whimsy? Hang a macrame swing or place a full size mirror with a distressed finish in a corner or decorate the place with unique finds or heirloom pieces. Rustic name signs are all the rage now and make for the perfect wall decor. Throw a plush blanket on the glider and place a textured carpet underneath.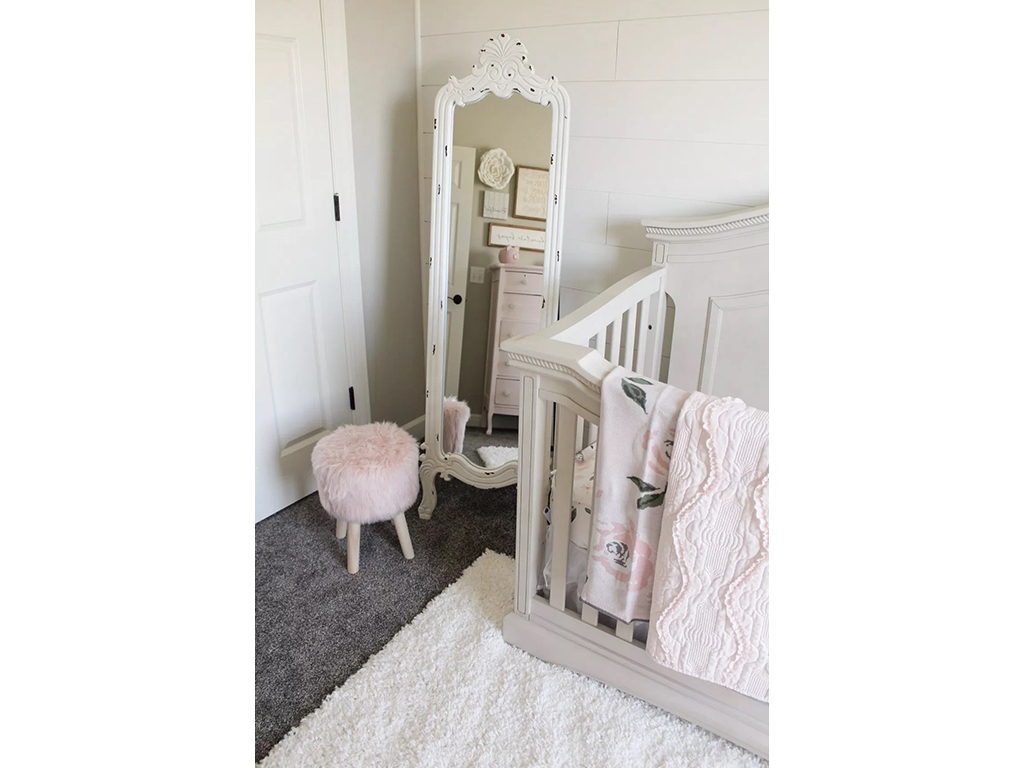 Add antique pieces or furniture with a rustic look or a weathered look.
All that is left to do is sit back and relax!
More farmhouse nursery inspiration
We certainly hope these stunning nursery images inspire you to create a unique and truly special space for your baby girl. Browse the Evolur range of cribs, dressers, and nursery collections for more ideas to create that perfect girl nursery for your little one!