Love the idea of a space themed nursery but confused about what decor accents to go for? You are in the right place. Check out our list of 16 space themed nursery ideas to spruce up your nursery in the most unique way.
Why Opt for a Space Themed Nursery?
If you are a parent fascinated by astronomy or want to foster an interest in science and technology in your child from an early age, you can never go wrong with a space themed room. Furthermore, a space themed nursery is a perfect option for parents looking for a gender-neutral nursery for twins or planning another baby soon.
Space themed rooms for babies have a unique and heavenly aura. From celestial bodies to galaxies, constellations to orbits, there are a host of style specifics that fall under this category. Regardless of the gender and with so many design and color options, a space themed nursery is highly versatile and perfect for anyone.
The best thing about space themed kids rooms is that you can keep them simple yet full of details. Whether you are specifically looking for a space themed boy's room or a girl's room, we have plenty of ideas listed below to help end your search. So, no matter what style you are looking for, we have curated this list of ideas to cater to the taste of each type of parent.
16 Space Themed Nursery Ideas You Are Sure To Fall In Love With
So, if you cannot wait to boost scientific curiosity in your child in the initial years of his or her life, there are plenty of options to choose from. Here are the top 16 space themed nursery ideas that you can incorporate easily.

1. White or Grey Crib
The child's crib is one of the first elements you can play with to adopt a space-theme in your nursery. Although a celestial blue crib would look extremely striking, finding it can be difficult. So, opt for a white or grey crib and play around with other elements and ideas listed below. If you love the idea of a blue crib but cannot find one, you don't need to spend extravagant money on that. You can simply color it Celestial Blue and even paint small stars on the corners for more galaxy vibes.
2. Star Window Curtains
If you're simply inspired by space and universe accents but are short on room area or only want to decorate a certain corner, you can have a subtle adornment by putting in some dark starry curtains. These curtains are sure to be the centerpiece of your nursery without doing too much.
3. Solar System Ceiling Light Chandelier
Chandeliers are oh-so-in right now. Another mind-blowing idea that you can undoubtedly go for is by installing a solar system ceiling light chandelier in your nursery. And voila! Your nursery is instantly transformed without cluttering too many elements.
4. Spacecraft Wallpaper
How about opting for a spacecraft-themed wallpaper on the wall behind the crib? We are already sure that this one-of-a-kind wall design will give wings to your bub for space exploration.
5. Space-Related 3D Models
You can also revamp your room into a space themed nursery by simply putting some unique space-related 3D models on the shelves. This idea is definitely great if you are particularly looking for a space themed boys room.
6. Celestial Body Cushions
For minimalist parents wanting to incorporate a space theme in their nursery, celestial body cushions are a perfect choice. These snug cushions are sure to bring in the right amount of 'space' vibes to your nursery while setting the whole mood. But remember to keep them away while the baby sleeps.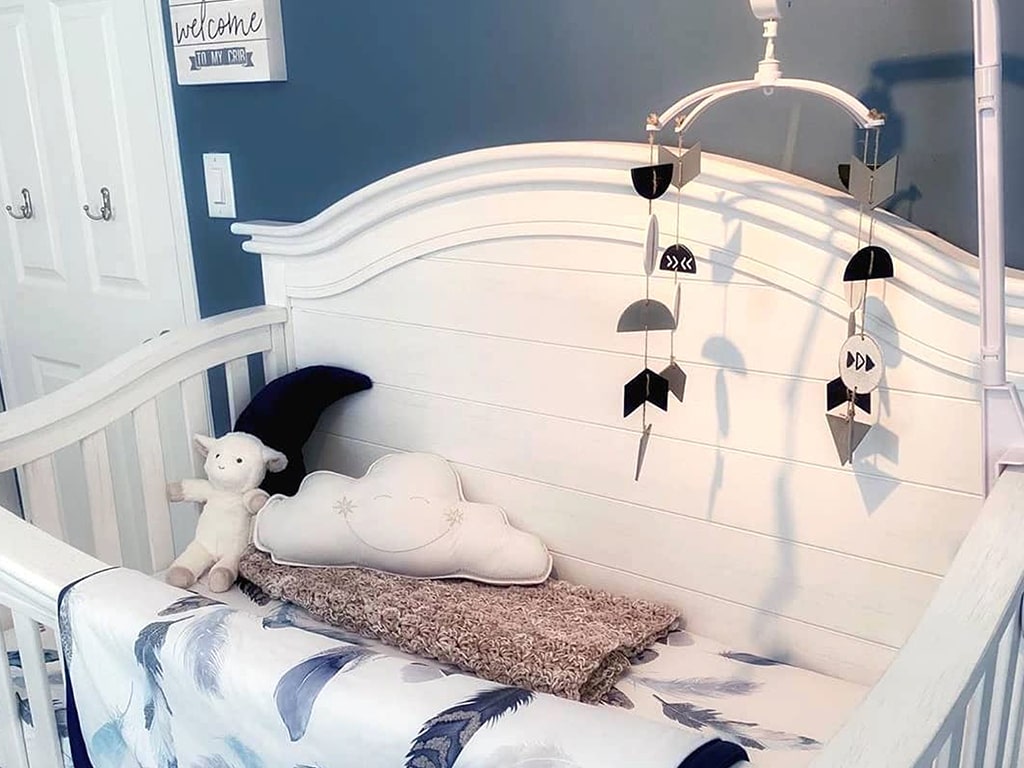 7. Telescope
How about bringing a telescope and making it the statement piece of your nursery? Not just a showpiece, this little object is sure to nurture your child's creative brain once he turns a little older and starts observing the night sky.
8. Space-Themed Carpet or Rug
If you are not short on space, a space-themed carpet will set the mood for a space-inspired nursery. In case there is limited space, you can opt for a rug. You can easily find many carpets or rugs online featuring star patterns, solar-system, and more.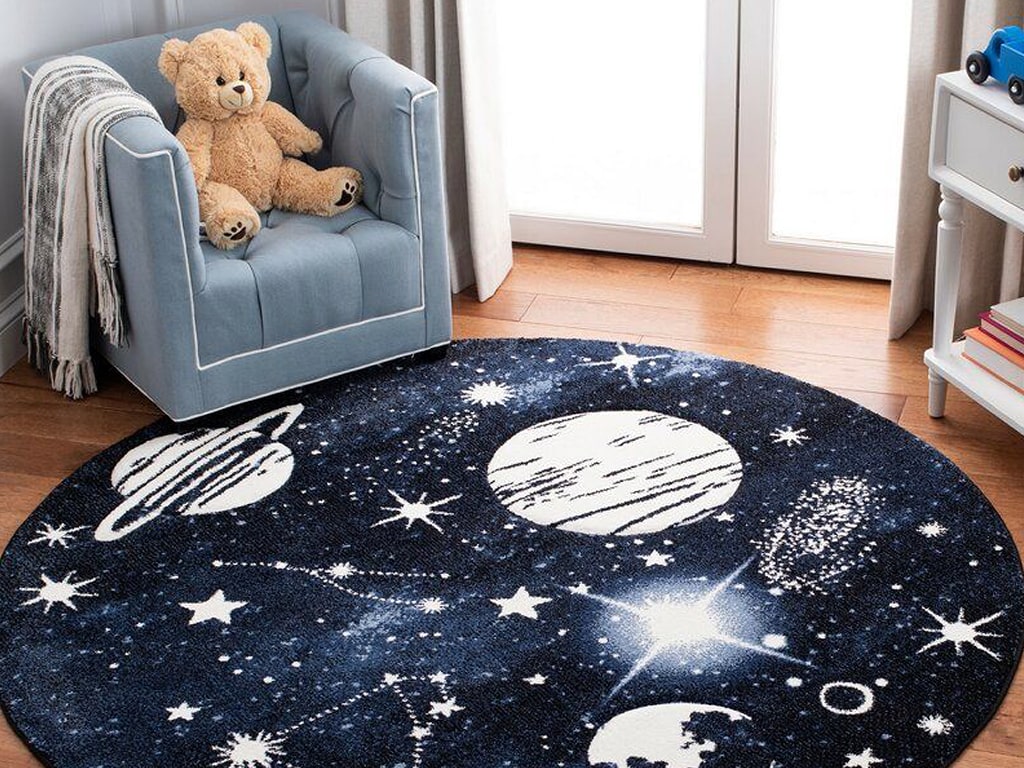 9. Painted Door
In the case of smaller nurseries where space-themed wallpapers might make the room look cluttered, painting the door is a perfect choice. So, when you enter the room, you don't see anything extra but when the room is closed, you get outer-space vibes.
10. Celestial Ceramic Drawer Knobs
Another cool idea is to keep the furniture and wall simple but get more creative in accessorizing the nursery by installing celestial ceramic drawer knobs instead of the regular ones.
11. Galaxy Optical Night Lamp
Your nursery isn't complete without a lamp, right? How about picking up an LED lamp that creates an optical illusion of the galaxy instead of a regular one. This lamp is sure to calm the baby while exuding astronomic vibes all the way through.
12. Moon-Shaped Dream Catcher
Another unique idea that is sure to enhance your space-themed room is to hang a moon-shaped dream catcher. You can find plenty of options online to choose from as per your size or color requirement.
13. Photo Frames
If you don't want to opt for a dark-colored room or a specific wallpaper, you can simply go for a white-colored nursery theme with posters and photo frames related to space on one wall.
14. Space-Themed Bedding
One of the best things that you can undoubtedly opt for is choosing space-themed bedding. From mattress covers to sheets, comforter, pillows, and blankets, you can get plenty of bedding to rock this theme. But don't go overboard. Keep one thing theme-specific while keeping the rest simple to draw attention to your statement piece.
15. Rotating Crib Mobile
Talking about the nursery, how can we forget the crib mobile? Either opt for one with the planets and the sun to demonstrate the solar system or simply go for a crib mobile with stars and moons all over. If you can choose a glowing LED rotating crib mobile, you wouldn't even need to do too much to bring your theme altogether.
16. Galaxy Ceiling Fan
Last but not least, how about choosing a galaxy ceiling fan or even paint one if you cannot find it? Your baby will be spending a lot of time lying down and looking at the ceiling, so being innovative with the ceiling fan is certainly not a bad idea!
Wrapping Up
We hope we helped you find some inspiration for a space themed kids room. A nursery that looks like it's set up in space is just something extra cute. If you haven't still figured out your perfect nursery inspiration, why not bundle some adorable spaceship themed room ideas shared above to create your own unique nursery and inspire new parents-to-be.