Wondering why you need to adjust crib mattress height, when and how? Specifically looking for detailed, authentic advice on when to lower crib mattress? We've got you covered! From sharing the recommended crib mattress height regulations as per various stages of your little one's growth milestones and the right way to lower the crib mattress, we have enlisted tried and tested tips on when to lower crib.
Crib Mattress Height Adjustment: How Important Is It?
While preparing for a baby and making their registry, most new parents often get so busy choosing the best crib mattress and other nursery essentials for their babies that they completely ignore educating themselves about the crib mattress height.
According to a 1990–2008 study published in the journal "Pediatrics", an average of nearly 10,000 injuries of 0 to 2 years old babies sleeping in bassinets, cribs, or  take place each year. Moreover, 80% of them involve cribs and most of them are not actually related to the firmness of the crib mattress at all.
Furthermore, the study also concludes that approximately 66% of those injuries involve toddlers falling off their cribs. These statistics are enough to prove how crucial it is to pay attention to lowering crib mattress at the right time to ensure your baby's safety. Hence, focusing on the right crib mattress firmness is not enough.
As basic as it might look, your baby's standard-sized crib is one of the most versatile sleep accessories in the nursery. After all, it allows you to raise or lower crib mattress to put your tot to bed or get him out easily. However, leaving the mattress too high can pose risks of your baby injuring themselves.
Hence, depending on your baby's age, and physical development, crib height adjustment as per the recommendations of the American Academy of Pediatrics (AAP) is highly important.
Crib Mattress Height Regulations & Sleep Safety Guidelines You Must Know
Despite strict federal regulations and guidelines and thousands of articles posted online, crib falls and injuries are extremely common in the US. This is why the AAP has set up detailed height regulations and sleep safety guidelines for babies shorter than 35 inches tall to minimize such incidents. However, once your baby is taller than 35", it is time to transition them to a toddler bed.
Here are some sleep safety guidelines to follow if you put your baby to sleep in a crib:
Choose a 5.5 inches to 6 inches thick crib mattress made using organic material to keep your baby safe.
The crib mattress must be firm and when placed in the center of the crib, the mattress should not have more than a half-inch gap at any point.
Always use fitted crib sheets made of baby-safe fabric to avoid risks of entanglement, allergies, or suffocation.
Put your baby to sleep on their back and always ensure they don't sleep on their tummy – until they are four months old to prevent the risks of Sudden Infant Death Syndrome (SIDS).
Make the crib a safe zone by putting away soft objects, stuffed toys, blankets, quilts, pillows, etc. as these items could potentially increase the risk of entrapment, suffocation, or strangulation.
Even if you follow all crib safety guidelines, it is recommended to share the room (and not the bed) with your baby for the first six months of their lives until a year.
Crib Height Recommendations – Why Lower Crib Mattress?
Talking about standard-sized cribs measuring 51 3/8″ – 52 5/8″ L x 27 3/8″ – 28 5/8″, the minimum distance between the top of the crib side rails and the top of the lowest support is 26 inches. Since most certified crib mattresses are 5 to 6 inches thick, the actual distance between the top of the crib mattress and the top of the rails is somewhere between 20 to 21 inches.
The main goal of this distance is to prevent your child from climbing out of their crib while they are standing. However, you do not need the lowest crib height when you have an immobile newborn at home. After all, it could make it difficult for your postpartum body to lift the baby and put them back after nursing.
A newborn crib height can be the highest as your baby cannot make any movement at that time. However, as soon as your baby starts rolling over or sitting, you must consider crib height adjustment straightaway.
Baby Ages and Development Stages: When to Lower Crib Mattress?
As a general rule of thumb, you need to lower crib mattress as your little one grows and becomes more mobile. As soon as your baby can sit up, they will learn to pull themselves up to a standing position in the blink of an eye. This whole trial to get up or come out can flip your bub over the crib rails if the mattress is set up too high.
Hence, lowering the crib plays a huge role in enhancing the safety of your little one. Although every child's development and milestones vary, these guidelines from the American Academy of Pediatrics are risk-free to follow.
Newborns Until 5 Months of Age – The Highest Level
Generally, normal babies cannot sit up without support or pull themselves into a sitting position until five months. Hence, when your tot is under 5 months of age, you should ideally select the highest level of the crib for your convenience in the early days of your parenthood. The highest setting will further ensure you can easily pick up your baby or put them down in the crib whenever required.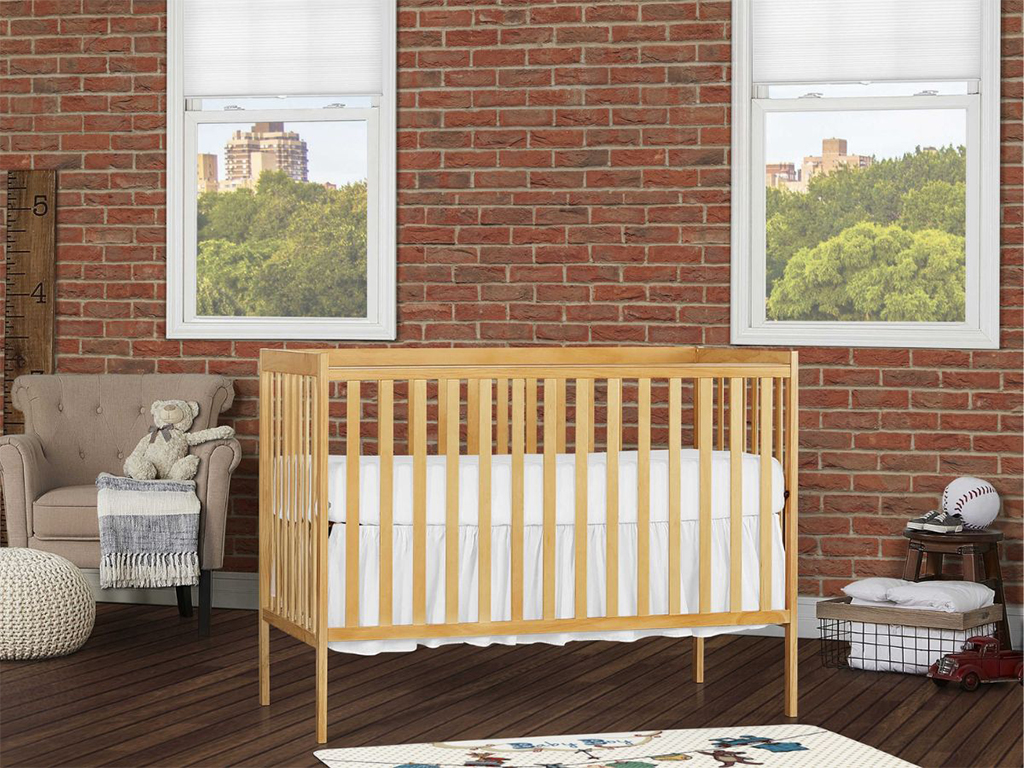 Infants (5 to 8 Months Old) – The Middle Level
Once your baby can sit up between 5 to 8 months of age, you should lower the crib mattress down one notch or halfway – depending on what type of crib you own. During this stage, your baby's motor skills will start developing and hence, they will try hard to put themselves up or even stand with the support of the rails. Hence, it is the recommended time to lower the mattress to the middle level as soon as your baby learns to sit up or roll about.
Older Babies & Toddlers – The Lowest Level
Once your little one can easily pull themselves to a standing position between 8 months and beyond, it is high time you lower the mattress at the lowest level to reduce any chances of falls or injury. At this stage, it is also highly crucial to remove crib bumpers or wedges, if you have any. However, we don't recommend using them at any point. Crib bumpers, also known as bumper pads, pose huge strangulation or choking hazards for babies.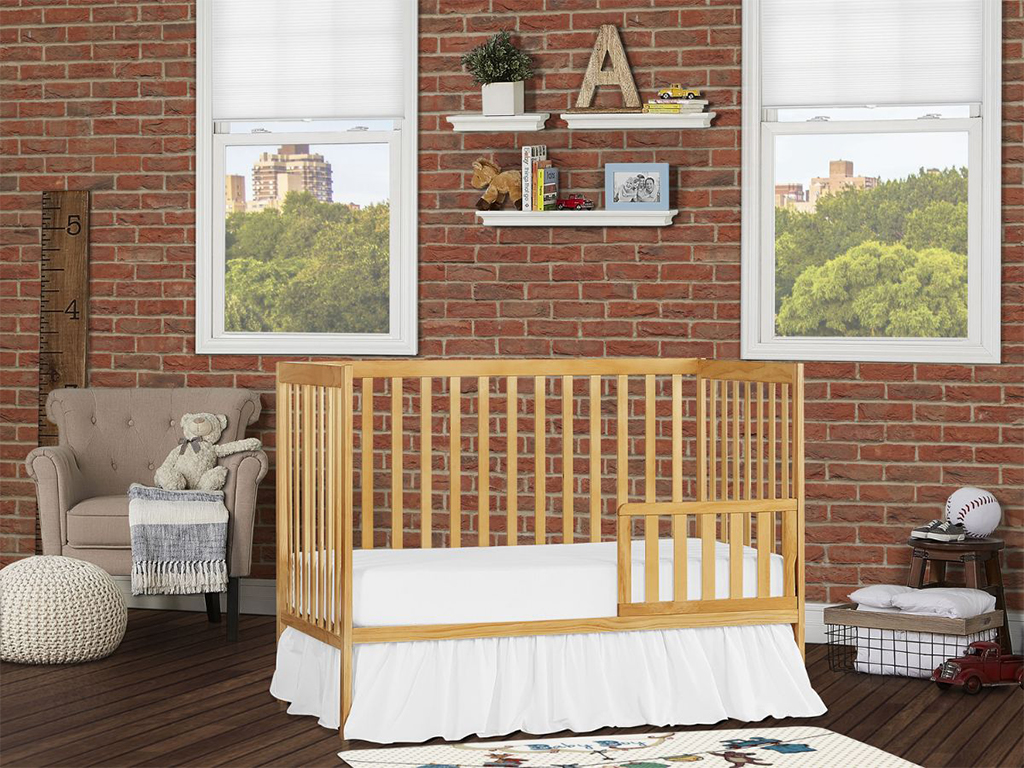 Crib Mattress Height – Ages & Stages Guide
Below 5 Months
Highest Level
5 to 8 Months
Middle Level
8 to 12 Months
Lowest Level
Babies Measuring Taller Than 35 Inches
Toddler Bed
How to Lower Crib Mattress?
Although slightly more complex than raising, lowering a crib mattress can still be easily done by yourself. However, you must carefully read the instruction manual that came along with the crib (or online) before getting started. Here is a breakdown of how to lower crib mattress without requiring any professional to do the same for you:
1. Determine the Height Level
Depending upon your baby's age or development stage, decide which height level you want the crib to be.
2. Take the Bedding Off
Now, take off the crib sheet, mattress protector, and pillows or blankets, if any.
3. Unscrew & Make Adjustments
Unscrew the foot screws and slowly lower the mattress to the desired level. Once you are adjusting the mattress near the foot screws, attach the screws back into the crib. Later, unscrew the head screws, lower the mattress, screw them back firmly, and ensure that the mattress is stable.
4. Cross-Check for Enhanced Safety
Once the mattress is lowered and properly stable, put something inside the crib that is slightly heavier than your baby's weight to be extra sure of the adjustment.
5. Put the Bedding Back
Now that you are sure of the mattress height adjustment, put the mattress protector and the crib sheet back.
Is it Safe to Lower Crib Mattress to the Floor?
As soon as the side of the crib measures less than 3/4th the height of a standing baby, most parents choose to lower the mattress to the floor – before instantly transitioning their baby to a toddler bed. If your crib allows converting into a floor crib, you can drop the mattress to the floor until there is no gap between the top of the mattress and the bottom of the crib railing.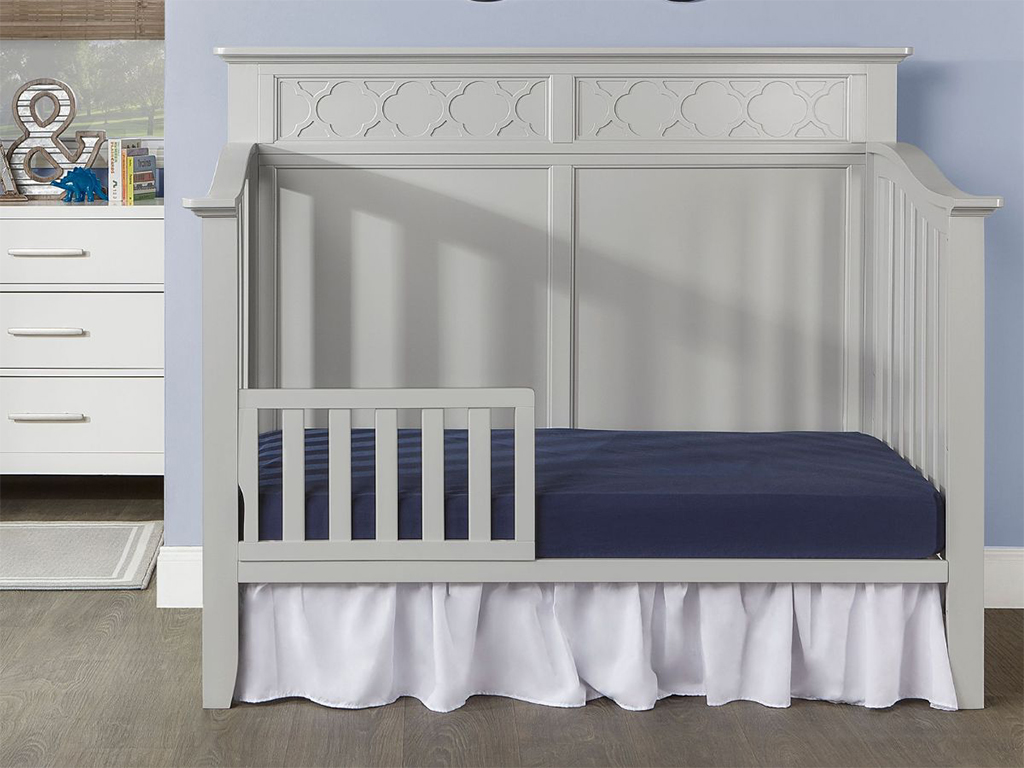 Product featured: Sweetpea Baby Fairview 4-in-1 Convertible Crib in Silver Grey Pearl
When to Transition Your Baby to Toddler Bed?
Lowering the crib mattress to the floor is just a safe and considerable option until your child is gradually introduced to their toddler bed. However, this doesn't mean you can leave them in the crib with the "crib mattress on the floor" situation for months. As soon as your bub reaches around 35 inches in height, the AAP recommends transitioning them to their toddler bed.
Also, this is the right time to replace the mattress as crib mattresses are quite firm and can be quite stiff for toddlers. If you have a convertible crib that is designed to change into a toddler bed once the right time comes, there is no hassle of transitioning them to a new bed and changing their sleep environment. If you have a basic crib, you can slowly transition your toddler to their new bed with some effective tips.
Frequently Asked Questions About Lowering Crib Mattress
Here are our answers to some of the most commonly asked questions about crib height adjustment.
What level should a crib mattress be?
Although a newborn crib height can be at the highest level, the crib height should be set to the middle level for infants between 5 to 8 months and at the lowest level for older babies and toddlers.
What to do if the baby falls out of the crib?
Although it is really scary to see your baby fall off their crib, in case something like that happens, do not panic and try to remain as calm as possible. If your baby appears to be normal but traumatized, gently pick them up, calm them down and try to comfort them in the best way possible.
However, if they have got a serious head injury, are bleeding or have lost consciousness, rush to the hospital or call the local emergency services immediately. Until appropriate medical care is available, try to control the bleeding using a clean towel and apply pressure on the wound gently.
When can babies pull themselves up?
Older babies can independently pull themselves up to a standing position between 8 and 12 months. This is why it is crucial to lower the crib mattress to the lowest setting possible at this stage.
Wrapping Up
Always remember that precaution is the best way to avoid baby injuries and hence, it is highly important to lower crib mattress at the right time. As long as your baby is under five months of age and cannot sit up on their own, the highest crib position is safe and convenient.
However, once you see them growing and becoming more mobile, you must adjust the height as per the recommended guidelines. Although the lowest setting might be uncomfortable and inconvenient for you, always remember that a little discomfort is completely worth your tot's safety.