"The color scheme of the room is perfectly girly, and portrays the softness and innocence you think of when you think of a newborn or a little girl." – Mom, Tara Dobkins
Open the doors to Baby Isabella's nursery and, you will understand exactly what mom Tara Dobkins meant when she said that she wanted her baby girl's nursery to portray the softness and innocence of a newborn child. This girl nursery, done up almost entirely in soft pinks, radiates sweetness and tenderness through and through.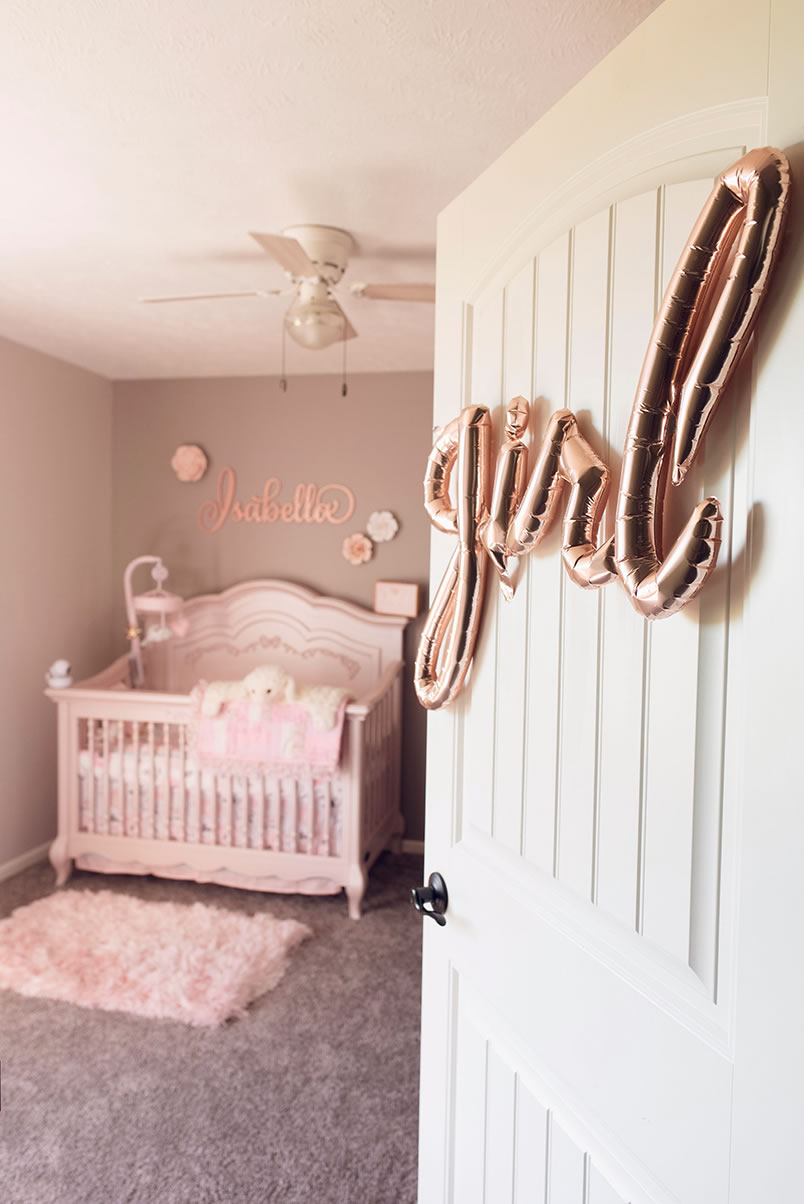 "My absolute favorite piece of the nursery is definitely the crib! I remember when my mom and I were looking online at designer baby nurseries and came across Evolur for the first time. Once I saw that pearly blush pink Aurora crib, my mind was made up. The whole layout and look of the room was put together around the princess look of the crib," confessed Tara
Spoken like a true Aurora lover! Our Aurora 5-in-1 Convertible Crib has inspired many a dream nursery but we still love to hear, over and over again, how the Aurora proves to be the spark for moms to design the most gorgeous nurseries for their little princesses. Paired with the complementary Aurora storage pieces, these nurseries start to look like something out of a fairy tale.
Tara kept her baby girl's nursery layout simple with the Aurora 5-in-1 Convertible Crib in Blush Pink (Pearl Finish) placed against the far wall, opposite the door. The Aurora Double Dresser is kept on the right side wall with the rocker/recliner placed in between the crib and the dresser. The nursery is sprinkled with lovely accents, thoughtfully and sparingly. A beautiful Isabella name sign hangs right over the nursery along with paper wall flowers in delicate pink. The wall above the Double Dresser is decorated with pretty pink frames along with more of the pink paper flowers. Tara and her husband redesigned the closet space to create a storage solution that was not only practical but also seemed like part of the decor.
Tara calls Isabella's nursery "an absolute dream" and we can see why. We completely see Tara's dream of a beautiful home, a beautiful family and a beautiful space for her girl to grow in come true. We see a space where countless memories will be made. Memories of first smiles and giggles, of bedtime stories and special hugs from mommy and daddy. It will be the space that will carry all of Isabella's memories as she thrives and grows in this beautiful nursery that is truly an oasis of love and peace.
If you are looking to design an all-out girly nursery, you have got to read mom Tara Dobkin's Q & A on how she went about putting Baby Isabella's nursery together.
What was your inspiration for the nursery design and décor?
We wanted the nursery to have a very soft and girly feel that will make our baby girl feel like a princess as she grows up.
What drew you to évolur over other nursery brands?
Evolur has a very luxurious and designer look that we loved from the moment we first came across it. It had a quality look that most other nursery brands didn't have. Knowing so many others who have chosen cheaper cribs or dressers that they then replaced when outgrown, we wanted furniture that was going to really last. We chose Evolur for its quality and design.
Did the room pose any design challenges?
The biggest design challenge we faced in the room was with the closet. The closet looked very typical with only one shelf for storage up high and one long rod. We really wanted a closet space that didn't necessarily need doors to look complete, but that would be a part of the room to show off. We also wanted to have more room for storage. After looking on Pinterest at other closet nursery designs, we came up with the perfect solution for ours, and my husband purchased the supplies (the wood rod, white cube shelving and second white shelf) from Menards and customized the space.
What accessories did you choose and why?
We chose a lot of our accessories from Hobby Lobby, from the signs to the shelving to the ornate frames that were actually purchased white and then painted blush pink to fit the room. My goal was that no matter what direction you looked at in the room, what corner or space, I wanted it to feel like it's own special piece.
Have you thought of how you will use the nursery pieces down the road and can you tell us?
The nursery was designed with our daughter's growth in mind. It was important that the crib be one that was going to last her into her older years and be convertible. We plan to purchase the matching pieces to convert her crib into a toddler bed and then later into a full bed. We also plan to complete the look of her room with the nightstand and possibly the hutch for the dresser in the coming years.
Something interesting that happened before, during or after the pregnancy?
My husband and I will have been married 5 years this year. Since we've been together, we've always planned to have children, but knew we wanted to wait until we were ready not only financially and had a few good vacations behind us, but also had our dream home that we'd bring our baby home to. We purchased our first house just before we were married and ever since then we were on the hunt for a bigger and better house. We came back from a 2 week trip to Italy last August and there it was, our dream house finally on the market. Our realtor walked us through the house and said 'Picture yourselves living here..'. When we came to the room that is now our daughter's nursery, which was also at the time a little girl's room when we walked through the house, we could see exactly what we wanted our life to be like. We acted fast and by November we were moving in. Funny how it worked, because we had also decided at the beginning of the year that we wanted to start trying for our first baby by the beginning of 2018. After settling into our new house, of course, our baby girl's room was the only room left empty, and we needed to fill it. We found out we were pregnant on February 23rd, and even though everyone believed we would have a boy because we wanted a girl, we just knew we were having the little girl we'd both dreamed of.
What one word comes to mind when you step into the nursery?
Dream. The nursery is an absolute dream.
Elements Of The Nursery:
Crib & Dresser: Evolur from Buy Buy Baby
Bedding set: Levtex from Babies R Us (also available on Amazon)
Lamb Playmat over crib: Bornino from baby shop in Germany
Pink quilt over crib: Handmade by relative
Mobile: Koala Baby from Babies R Us
Pink owl plush in crib: Bearington Baby
Isabella name sign: Timeless Notions on Etsy
Paper wall flowers: Hobby Lobby
White circle shelf: Hobby Lobby
Once upon a time sign: Hobby Lobby
Pink ornate frames: Hobby Lobby (purchased white and painted to match room colors)
Pink fuzzy rug: Target
Brown recliner/rocker: Lazyboy
Changing pad & covers: Amazon
Pink saying pillow: Hobby Lobby
Moon sign & cloud hooks: Hobby Lobby
Pink heart hook: Hobby Lobby
Owl bib hanging by closet: Bearington Baby
Hot air balloon decoration: Handmade