Confused about whether you should buy a pack n play for your little one or not? This article will take you through the pros and cons of a pack 'n play to help you make a choice. We've also expanded in detail about a pack and play age limit, setting up, safety guidelines, and answered some FAQs about the same.
Pack 'n Play: What's the Big Deal?
While some parents recommend purchasing a pack n play as a long-term alternative to a bassinet, others simply opt for it as a safe playmat for their toddlers. Whatever the reason may be, pack 'n plays are quite popular in the market and a nursery essential for many, putting most new parents in the confusion – whether they need it or not.
As there are endless questions, multiple opinions and many factors surrounding this choice, it can be hard to make a decision without some insights. So, if you are preparing for your baby and are puzzled about purchasing a pack n play, here is some information that you need to consider before coming to a conclusion.
What is a Pack n Play?
A Pack n Play is a playard backed by a sturdy frame and thick mesh walls to serve as playing as well as a sleeping area for your newborn until they reach toddlerhood. While the use of bassinets is limited for babies of just two to three months of age and until the time they begin to roll over, pack n plays have high walls keeping your baby safe even if they are as tall as 35 inches.
Portable and lightweight, pack n plays provide plenty of room to babies for sleeping peacefully and playing safely without the risks of them climbing out – of course if you follow all the recommended safety guidelines.
Highly breathable and equipped with a mattress pad, most high-quality pack and plays offer complete visibility. While many high-end pack n plays also come with additional features such as removable bassinets, diaper changing stations, storage pockets, etc., some can either sit directly on the floor while others sit slightly above the ground.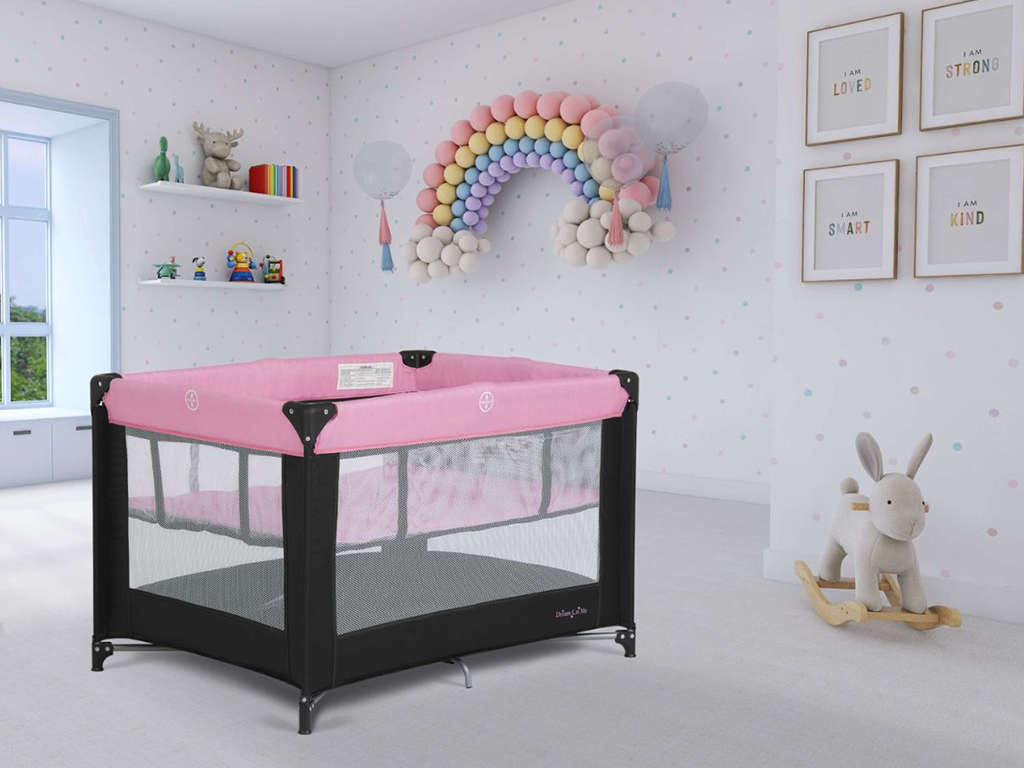 Product featured: Dream On Me Zazzy Portable Playard with Bassinet
What is a Playard?
A playard is usually just another name for a pack 'n play as it can be used as a wide playing area for babies. The main purpose of a playard is to ensure the baby plays in a safe zone and there is no cluttering of toys everywhere in and around the room.
Playards are also compared to playpens but generally, playpens are made of plastic, come with a free-standing baby gate and don't usually come with a mattress pad or floor mat. Some premium playards have multi-functionality and serve as a crib, napper, diaper changing station, and are also equipped with rocking mechanism, music, soft lights, mobile, etc.
What is a Pack n Play Used For?
The use of pack n play is not limited to just one or two purposes just like a co-sleeper or bassinet. Hence, here are four ways you could use them as:
1. Bassinet
Since babies outgrow their bassinets real quick, pack n plays are better sleep options as they can be used for toddlers too – without worrying about them falling off or climbing out.
2. Travel Crib
Babies who are habitual of sleeping in pack n plays easily get comfortable while travelling as their sleep environment doesn't change. Moreover, a pack n play is more portable and lightweight as compared to a travel crib.
3. Play Space
Life with toddlers isn't easy as you can see their toys everywhere. A pack n play ensures your bub plays in his comfy space without creating much mess.
4. Safety Zone
While playing, the bigger issue than cluttering toys is your child's safety as babies can reach even the most unimaginable corners of the home while playing. So, a pack n play ensures that your little angel is safe and secure in a playful environment without any risks of hurting themselves.
Do I Need a Pack n Play?
Whether or not you need a pack n play is completely your choice based on your lifestyle, preferences, requirement, budget, and space availability. However, a pack n play is sure to add more convenience to your life if you purchase it.
How to Set Up a Pack n Play?
Setting up a pack n play is super easy and you need to do is follow the instructions provided in the manual. However, here are some general assembly instructions:
Take the pack n play out of its storage bag and keep its mattress pad aside.
Lay the pack n play on the floor ensuring its wheels are at the bottom.
Pull apart the four sturdy legs compactly folded and ensure you hear a double clicking sound.
Make sure to cross-check all the ends to ensure the pack n play is properly set up.
Press down on the centre to flatten the fabric and secure everything in place.
Once set up, place the mattress pad and tuck it into the bottom with the velcro tabs given.
Voila! The pack n play is ready to use!
If you want to disassemble the playard, you can simply push the legs towards the center and securely keep it back in its storage bag.
Best Pack n Play Options to Consider in 2023
If you want to purchase the best pack n play for your little one, here are our top three recommendations:
1. Dream On Me Zodiak Portable Playard
The Dream On Me Zodiak Portable Playard is a classic choice amongst parents looking for a basic pack n play with on-point sturdiness and durability. Designed to set up or fold down quickly, this mesh-sided pack n play comes with a padded bottom and carrying tote bag.
Primary Features:
Easy to assemble and disassemble without any tools
Available in trendy designs and colors to match any nursery theme
Easy to clean and dry
Intended for children under 36″ in height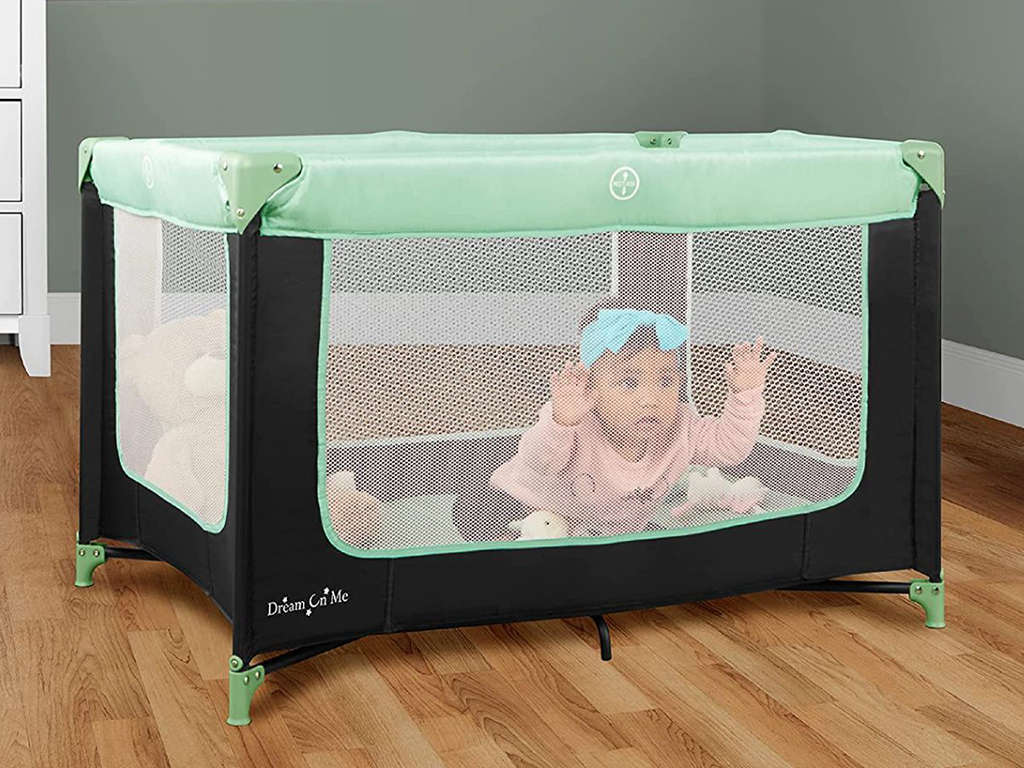 Product featured: Dream On Me Zodiak Portable Playard
2. Dream On Me Onyx Playpen
The Dream On Me Onyx Playpen is an ultra-light and portable pack n play that can be set up and taken down in seconds. Featuring a stylish hexagon shape, this playard can be used with a canopy as well and comes with a storage bag.
Primary Features:
Lightweight, setup and folding in seconds.
Thick padded floor and clear mesh walls for fresh airflow and visibility.
Meets ASTM F406-17 standard.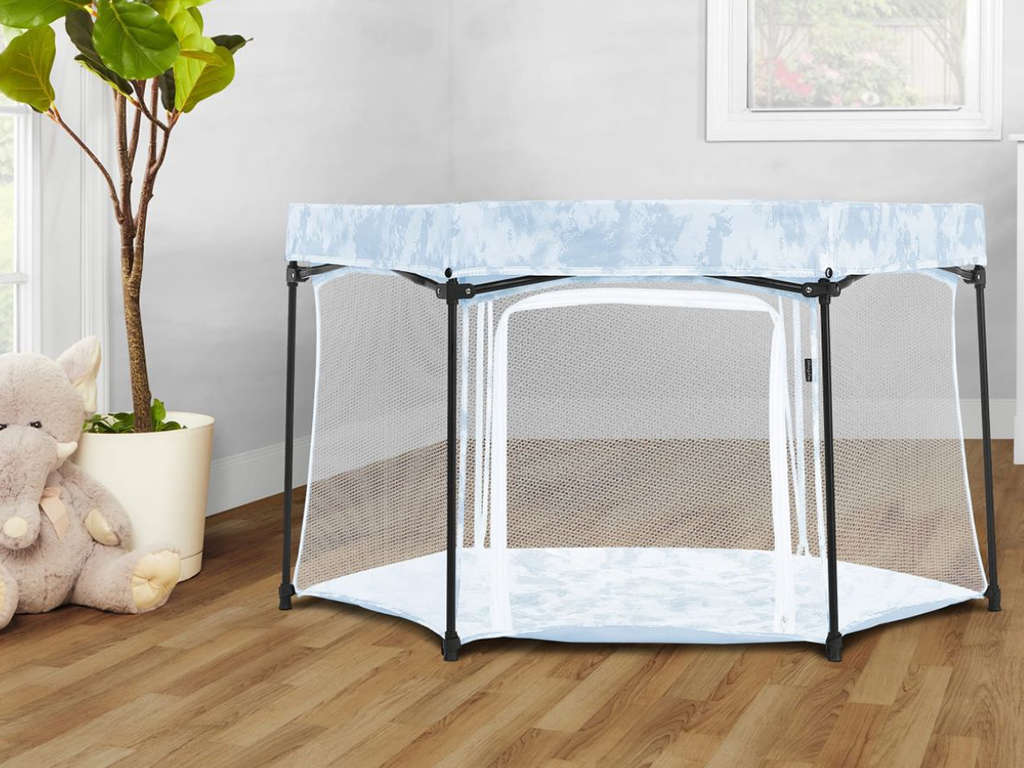 Product featured: Dream On Me Onyx Playpen
3. Dream On Me Travel Light Playard
The Dream On Me Travel Light Playard is a bestseller and a top choice amongst travel-savvy parents. Ultra-light and super fast to set up or take down, this playard is backed with a built-in base plate to keep the frame standing firmly on the floor.
Primary Features:
See-through mesh sides
Lightweight yet highly sturdy for travelling.
Easy to assemble, disassemble and carry while traveling.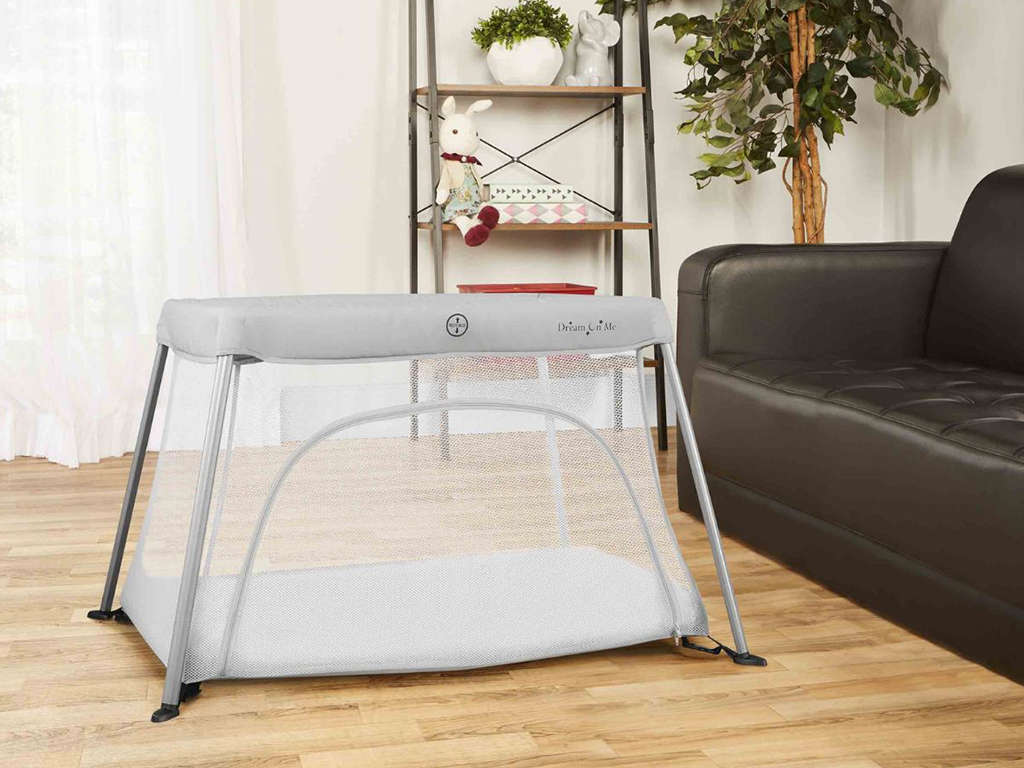 Product featured: Dream On Me Travel Light Playard
Frequently Asked Questions
Here are our answers to some of the most commonly asked questions about the pack and play age limit, safety guidelines, usage, etc.
What is the point of a pack and play?
A pack and play is a playard that you can use for your newborn until toddlerhood as a bed, playing zone, diaper changing station, and more.
Should I buy a crib or pack n play?
A pack and play can be used instead of a crib if you purchase it from a certified brand that doesn't compromise with quality and safety standards.
Is a pack n play safe for sleeping?
Yes. If you purchase one of the best pack n plays from a good brand and positive verified customer reviews, it is completely safe for your baby to sleep in.
What can I do with an old pack n play?
If you are not planning for another baby, you can either donate your used pack n play or upcycle it as a:
Toy storage basket
Pet bed
Ball pit
Portable crib for visiting guests
Wrapping Up
A pack n play is not just a great sleep accessory or a travel buddy but also a safe spot for your baby to play independently and explore things around them. It is one of those versatile baby gears that offer multi-functionality while ensuring your baby's safety at all times.
However, it is not essential and you must not burden yourself to buy it if you think you have some budget constraints or space unavailability. Every parent and child has different needs and you must pick the sleep option (or any product for your child) that you think will be a great addition to your life.