Looking for some hands-free moment from your little bundle of joy to do the dishes, go to the loo or enjoy your personal space? Frazzled from soothing your fussy baby for hours but tired of hoping for a miracle and calming them down? It might be the right time to bring home the best baby swing to put them down to rest – safely and comfortably.
Newborns Sleeping in Swings: Much More Than Just Calming Them
Although your newborn would always want to cuddle with you, there will be times when you would want to put them down in a baby swing for a few minutes and give your arms the much-needed break.
According to many pediatricians and child development experts, the reason why a swing can instantly calm your crying baby is that the gentle vibration and swinging motions mimic their experience while in the womb, thus helping them fall asleep fast.
Moreover, swinging your baby supports their motor and cognitive development while helping them develop their balance and learn rhythm, spatial awareness & muscle control. A baby swing is no short of a miracle for new parents who are still learning to calm colicky infants and finicky toddlers.
However, with countless types of baby swings in the market, generally equipped with multiple features and motions, finding the best baby swing can be intimidating. Hence, this detailed guide will help you pick the best swing that'll soothe and entertain your bub while you relax for a bit.
Different Types of Baby Swings
Your baby's swing will probably be their first gear for developing their motor skill development before they move on to a toddler scooter, tricycle or more. However, baby swings are not limited to just one particular model or type.
Before you head out to find the ideal one, you must know that baby swings are broadly classified into two categories – for infants and toddlers.
Generally, baby swings can be used right after birth until your baby is about 12 months old. Some baby swings also have specific age and weight limits.
On the other hand, toddler swings are intended to be used for babies older than 6 months up to 2 years. Also known as sit up baby swings, these swings are mostly of the hanging type.
Varying in their features, pricing, age or weight range, and usability, here are the different types of swings you can consider for your little one.
1. Full-Sized Baby Swings
Loaded with almost all the features you could ask for, full-size baby swings are perfect for parents who don't have any space availability issues. These standard swings are roomy, loaded with more swinging motions and speed, and are more durable.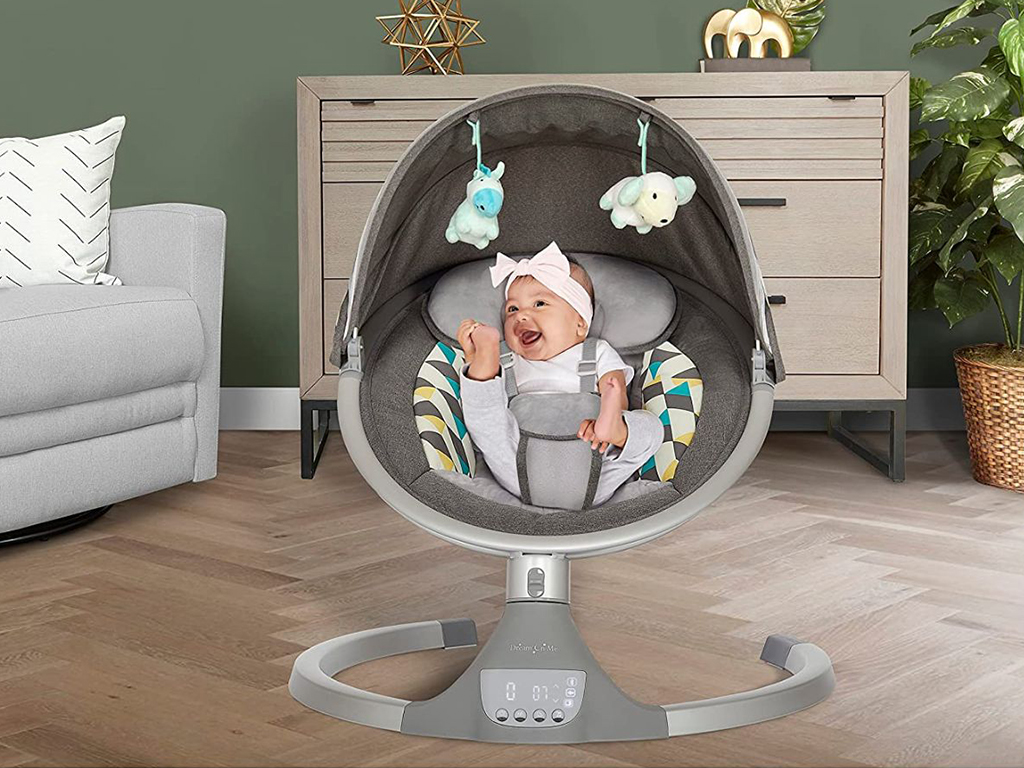 Product featured: Dream On Me Zazu Swing
2. Portable Baby Swings
Perfect for traveling parents, portable swings are simple, lightweight, and easy to fold & carry around. Unlike full-size swings, these swings offer limited motions and functions but can be generally used for newborns to 1-year-olds.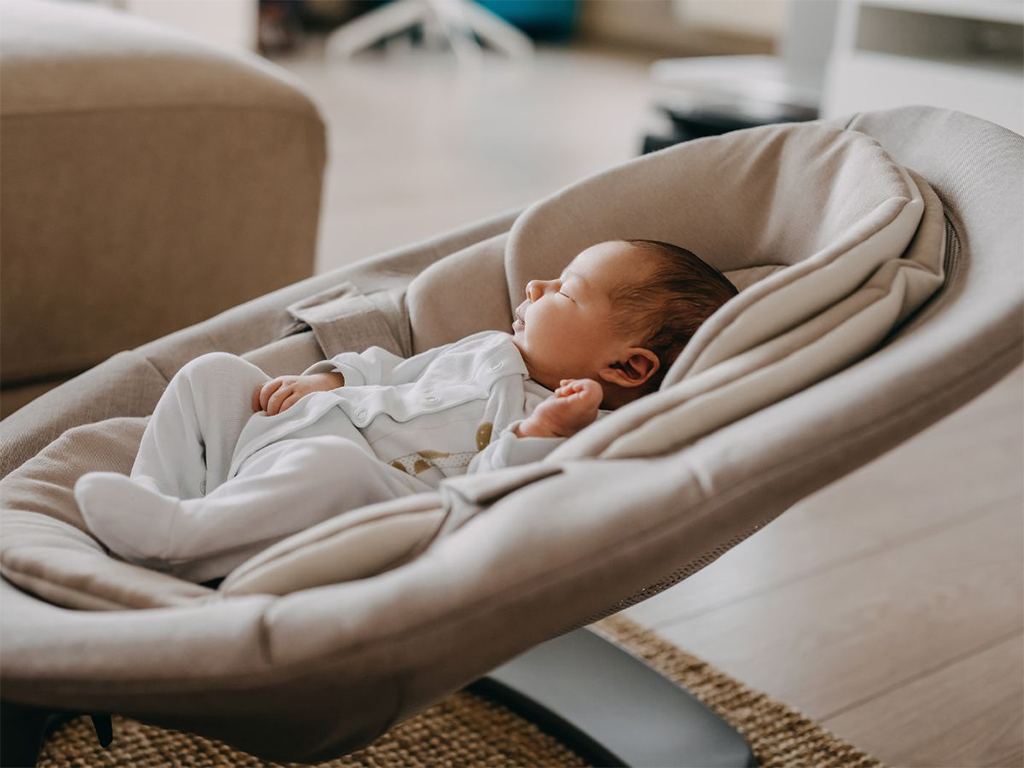 3. Glider Swings
These swings are probably the most common ones after full-size swings. Very easy to move around, glider swings are designed for infants to gently glide them back and forth horizontally – just like mother's arms.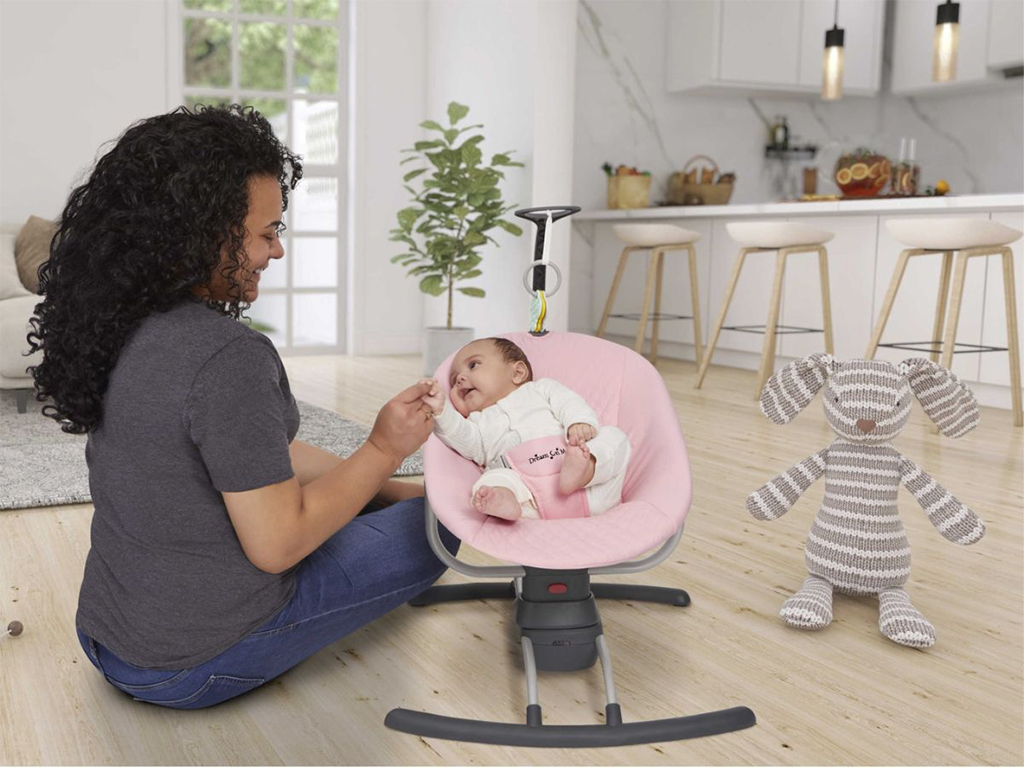 4. Bouncer Swings
As the name suggests, the main attraction of a bouncer swing is to add some bouncy motions to calm and entertain your baby. Usually, bouncers have angled seats with a stationary frame and safety harness belt to bounce your baby in up-and-down motion with varying speeds.
Mostly, bouncers are meant for infants who cannot sit unassisted and usually serve up to eight or nine months. The main aim of bouncers is to encourage self playtime while your bub explores various legs and arm movements.
5. Rocker Swings
Rocker swings are just like the standard full-sized swings but offer a dual motion for babies without occupying double space. Think of a rocker like an adults' rocking chair that is equipped with slightly curvy bands at the bottom to let you rock the chair in an arc motion. Baby rocker swings work the same way, usually without any motorized component. They can rock gently as well as swing your baby to entertain them or tire them to sleep.
Product featured: Image Sway 2 in 1 Cradling Swing & Rocker
6. Cradle Swings
Made using a soft padded seat, cradle swings offer a motherly cuddle to put infants to sleep. If you are specifically looking for a swing that can help you put your baby to sleep, cradle swings are sure to help you the most. Cradle swings are often equipped with rotating mobiles, soft sounds, and lights to soothe your baby to sleep and entertain them once they are awake.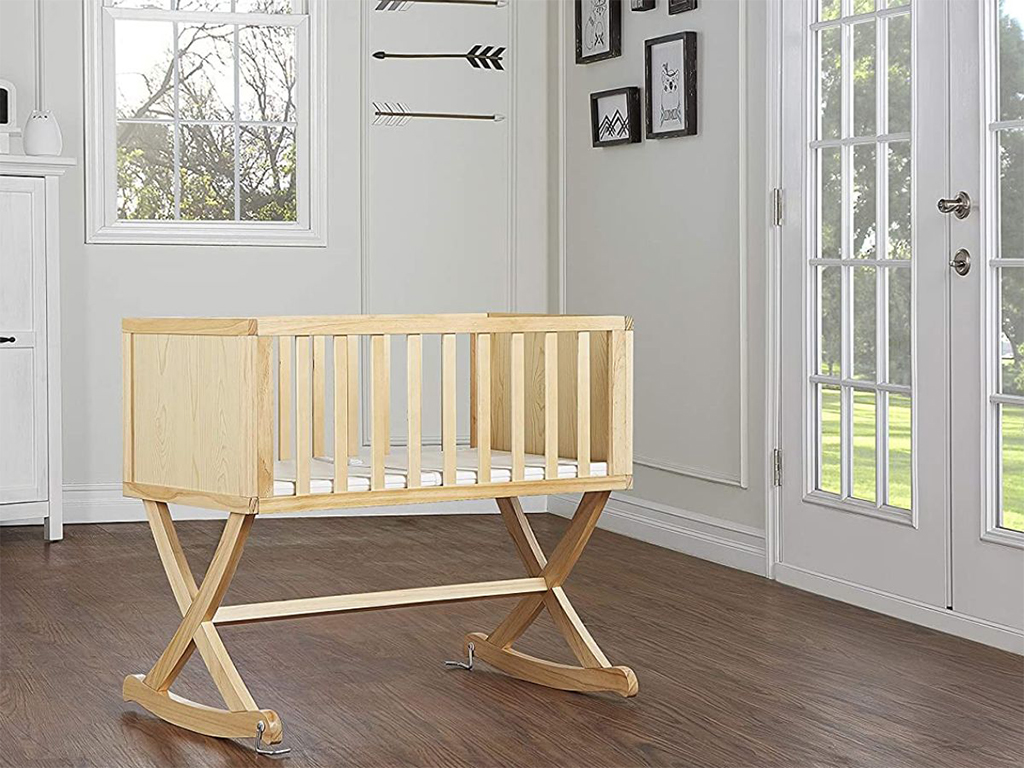 Product featured: Dream On Me Luna/Haven Cradle
7. Combination Baby Swings
As specified by their name, combination baby swings are multi-functional, versatile swings that can also be used as a glider, bouncer, rocker, or cradle. More convenient to use as per the baby's mood, these swings are usually expensive but save a lot of space.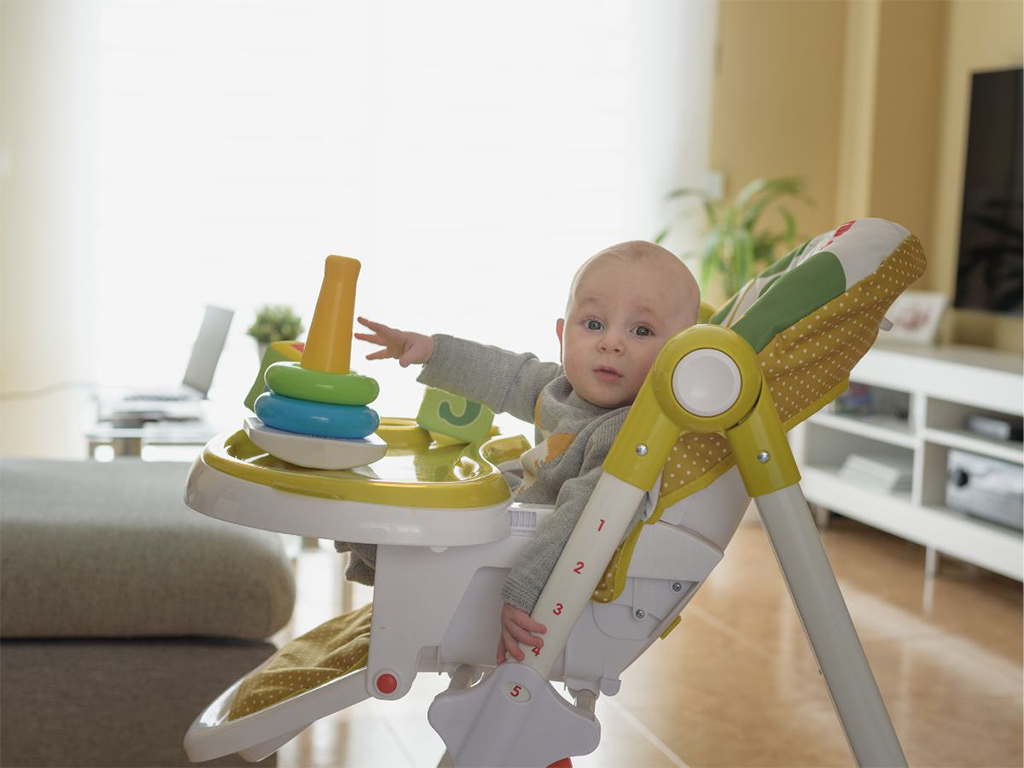 8. Outdoor Baby Swings
Also widely known as hanging swings, outdoor baby swings are perfect for toddlers who can support their whole body including the head and neck. These swings are equipped with more safety features and sturdy ropes to suspend from strong ceiling anchor points.
What to Choose Between Baby Swing, Rockers & Bouncers?
Standard swings tend to be bulkier and usually more expensive than bouncers and rockers, making most parents confused about what to choose between swings vs bouncer vs rocker.
Although pricier, a full-sized swing offers a large range of swinging motions and is packed with multiple features. While bouncers are fun, they are small, offer limited motions and are more specific to entertainment purposes.
On the other hand, rockers can accommodate both swinging and rocking mechanisms. However, they are generally more compact and babies outgrow them pretty soon.
So, if you are confused about choosing between a bouncer vs rocker, we recommend considering a rocker for both putting your baby to sleep and giving them fun. But if you are confused between choosing a baby swing, rocker and bouncer, a swing offers more versatility and long-term use.
Things to Consider When Buying a Baby Swing – Checklist
Here's what to research and watch for while purchasing a baby swing.
1. Consider Your Space
Even if it is meant for an infant, a swing can be quite large and occupy plenty of space in your room. It is hence better to measure your space before you buy a swing.
2. Build Quality
Anything you buy for your bub needs to be sturdy enough to accommodate them safely but with swings, the build quality matters even more. After all, you will leave your baby inside – rocking and swinging in different motions.
3. Comfort
Since swings are padded to provide enough comfort to your baby, consider choosing a model that allows you to remove the layers of padding as your baby grows. This is because once your baby starts getting older, a lot of padding will occupy too much room in the seat, giving your bub a little space to sit comfortably.
4. Safety
Check the swing's minimum and maximum weight limit and use it appropriately.
Ensure that the swing is equipped with a wider base, is properly assembled and doesn't fold up or tip over unexpectedly.
Make sure the swing is free of any sharp edges or corners.
If the swing features a toy attachment dangling over the baby's head, make sure it cannot be pulled off by them.
Most importantly, ensure that the swing base has pads underneath to make it non-slippery.
5. Motions & Swing Speeds
If your budget allows, prioritize picking up a swing that has more variable vibrations so that your baby can enjoy various motions as per their mood.
6. Seat Recline
Infant swings have reclined seats to let your bub lie flat until they can't hold their head up on their own whereas a sit up baby swing is perfect for older babies and toddlers who can support their head and neck. It is hence better to consider a model that allows you to adjust the seat recline as your baby grows.
7. Safety Harness Belt
Whether the swing's seat is adjustable or it is a sit up baby swing meant for babies older than 6 months, choose a model that has a three or five-point safety harness to prevent your little one from slipping out of the upright seat.
8. Portability
If you are more inclined towards portability within the home or for travel purposes, look for models that are easier to carry or fold.
9. Ease of Assembly & Usage
Moreover, choose a model that is easy to assemble and use without any hassles.
10. Power Source
Some baby swings are manual while others use some power source to run, such as batteries or electricity. While battery run swings are more portable, they require timely battery charging and replacements. Electric swings are more convenient but less portable.
11. Budget
It is not necessary to pay a premium price to get high-quality items with all the specifications you need. You can buy the best and safe swing with many value-added features even with budget-friendly and medium-ranged swings. All you need is to look for the bestselling models by some of the major brands. However, you should not compromise your baby's safety just to save a few bucks.
12. Additional Features
Furthermore, extra features like light projectors, motorized mobile, hanging rattles or charms, music and soothing sounds, and even connection to an MP3 source to let you play whatever music you want can turn your swing into invaluable baby gear to keep your little bundle of joy happy and occupied.
13. Safety Regulations
Last but not least, if you are buying a new baby swing or listing it on your baby registry, make sure it meets the safety regulations as set forth by the Juvenile Products Manufacturers Association (JPMA) and the U.S. Consumer Product Safety Commission (CPSC). If you are using an old swing, always check that the model hasn't been recalled on the official websites of JPMA and CPSC.
How to Safely Use a Baby Swing? – Safety Tips
Although not a baby nursery essential, a baby swing is an ideal part of your baby's gear that can keep them occupied if they are crying, need some fun time or when you need to accomplish an important task. Even if you have got the best swing accommodating all the required safety features, following some safety tips during usage is equally important.
Here are some crucial safety precautions that you must bear in mind while using the swing:
Once your baby falls asleep inside the swing, move them to the crib as soon as possible. Do not let them sleep for hours in the swing.
Most doctors recommend not to leave your baby to sleep in the swing because if their neck is unstable, their head can flop forward thus obstructing their airway and causing positional asphyxiation. This can cause suffocation risks and even SIDS.
Do not let your baby sleep in the swing for too long as their still-soft skull can get flattened if they are left sleeping in the same position. The American Academy of Pediatrics (AAP) recommends moving your little one from the swing to their bassinet or crib straight away if they fall asleep but a catnap under your supervision might be fine.
Furthermore, you should limit the time your baby spends inside the swing to let them learn to play and explore other ways to develop fine motor skills and stronger muscles.
Don't lift or carry the swing with your baby inside as the toy bar or the frame are not meant for handling the swing. They can become loose and snap off thus injuring your child.
Even if the swing has a carrying handle, never carry your baby while they are inside.
Place the swing in a safe place – well away from hazards like a window or monitor cords, heaters, etc.
Keep the swing in the same room as you are so that your baby is not left unsupervised. The American Academy of Pediatrics (AAP) recommends co-sleeping with the baby in the same room for up to 6 months to a year – without sharing a bed.
Discontinue using the swing if the baby exceeds the specified recommended weight, age and height limit mentioned in the manufacturer's instruction manual.
Always use all the safety equipment provided with the swing. Do not leave your child unbuckled or else your baby could slip out and injure themselves.
As soon as you purchase a new swing, register it on the manufacturer's official website to be notified in case the model is recalled or to easily find replacement parts if required.
Does Your Baby Hate the Swing? – Helpful Tips
While most babies enjoy swinging, it is completely fine if yours doesn't. Here are some effective tips you can consider if your baby hates being put inside their swing. We bet they are going to love their swing once they accept it and get in the habit of spending some time in it.
Put the swing in the same sleep spot where your baby sleeps currently.
Many babies do not like being laid down in a new sleep location.
Swaddle your baby while loosely swaddling the legs and buckling the baby with the safety harness provided to make them feel more secure in the swing.
Use a pacifier to let your baby calm down and offer temporary distraction.
While ensuring utmost safety, use the swing on the highest speed setting available to let the baby feel more tired and sleepy through consistent motions.
Best Baby Swings to Consider in 2023 to Relax Your Sore Arms
Looking for the best baby swing to purchase for your little bundle of joy? Here are the three bestselling swings by Dream On Me you must consider:
1. Dream On Me Zazu Cradling Swing
Designed to offer some quality hands-free time to parents without compromising the baby's comfort or coziness right from birth until six months, the Zazu Cradling Swing is compact and a completely fun space to lounge in. Safe and equipped with five swinging speeds, this swing comes with a removable canopy with two soft toys and a mosquito net.
Moreover, it features a USB cable plugin just like high-tech swings and also allows you to connect your phone using Bluetooth connectivity and play your favourite melodies without breaking the bank. The swing can be operated via the remote control provided and is an award winner at the 2020 National Parenting Products Award.
Features:
Available in two paste color combinations
5-point harness
Anti-skid base
Washable seat pad
Meets all applicable CPSC and ASTM standards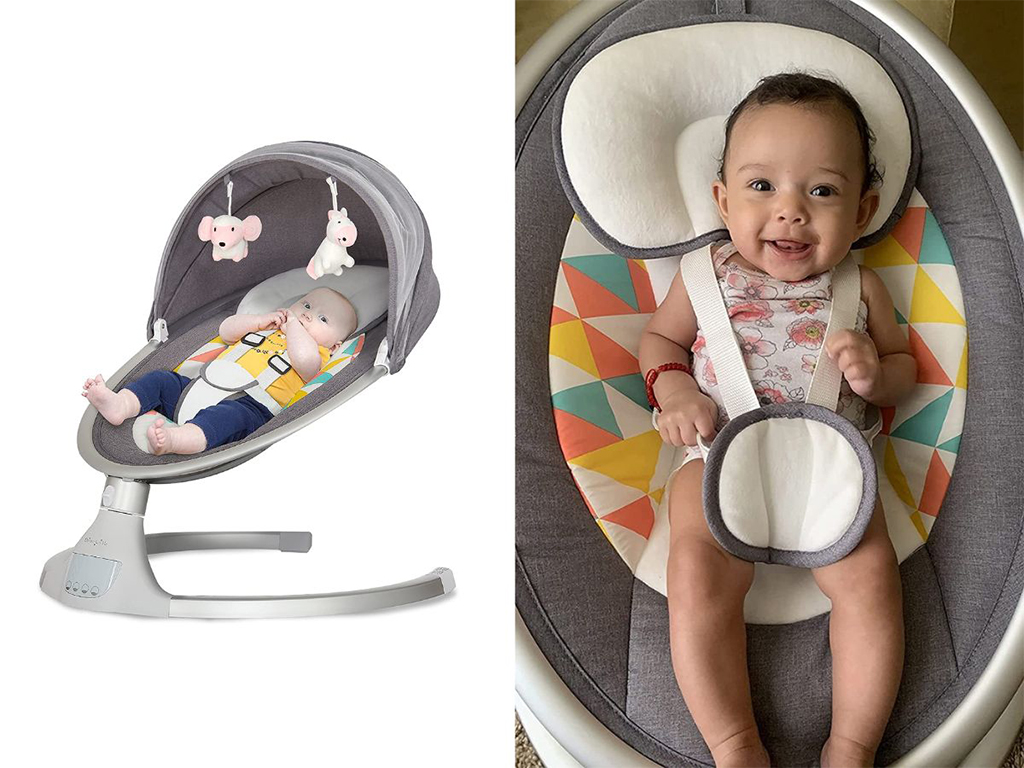 Product featured: Dream On Me Zazu Cradling Swing
2. Dream On Me Sway 2 in 1 Cradling Swing and Rocker
If you are intrigued by the dual features offered by a rocking swing, the Dream On Me Sway 2 in 1 Cradling Swing and Rocker is sure to impress you. This swing offers gentle calming swing motions and soothing music to comfort your restless infant in seconds. Moreover, it can be converted into a stationary seat with its secure locking system.
Features:
Sturdy and safe frame
5 point safety harness
Control panel to let you choose the preferred swing speed, time, music and volume
Three adjustable seat positions
Padded seat
Battery operated
Meets all applicable CPSC and ASTM standards
Product featured: Dream On Me Sway 2 in 1 Cradling Swing and Rocker
3. Dream On Me Rock with me Rocker
If you are looking for a compact, portable infant rocker, the Dream On Me Rock with me Rocker is a great choice. Designed to provide soothing bouncing motions to your bub for happy naps, this rocker offers a safe and cozy nap environment while ensuring your baby's comfort and safety.
Features:
Deep seat with adjustable 3-point safety harness
Multi-position backrest
Reclines to the folded position
2-in-1 stationary and rocking mode
Folds flat for easy storage
Hanging toy bar with 2 toys included
20 lbs weight limit
Meets all applicable CPSC and ASTM standards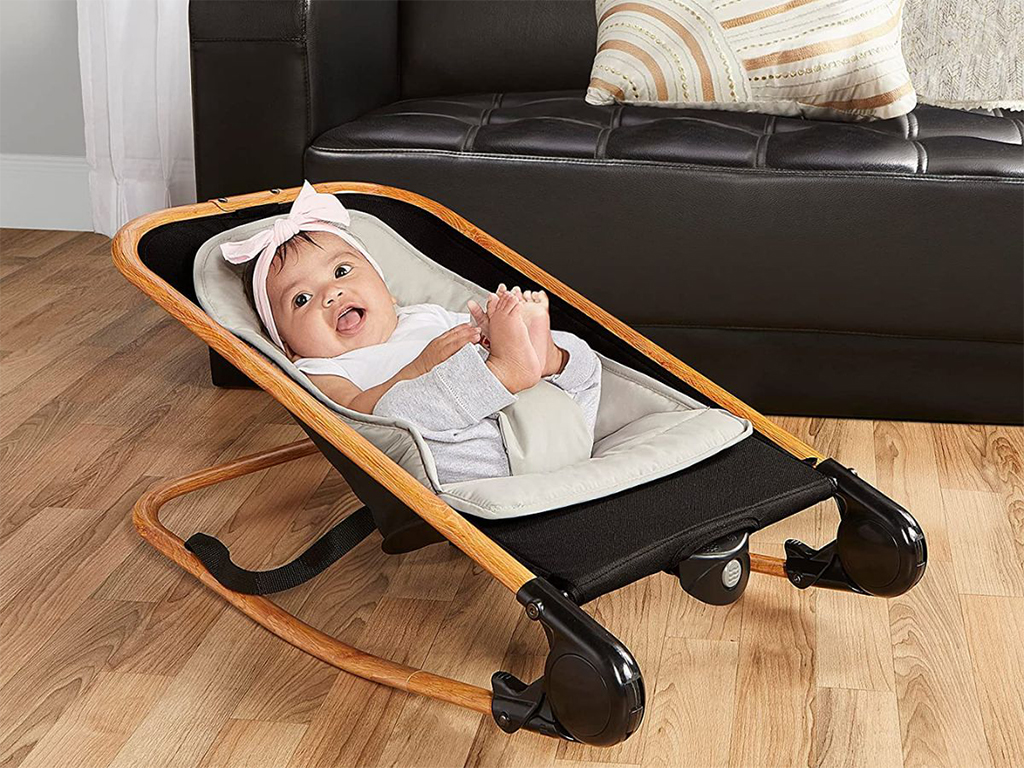 Product featured: Dream On Me Rock with me Rocker
Frequently Asked Questions About Purchasing the Best Baby Swing
Here are our answers to some of the most commonly asked questions if you want to buy a recline or sit up baby swing.
How old does a baby have to be to swing?
While most swings can be used right from birth, you should cross-check the manufacturer's instructions for the recommended age, weight and height. If you are looking for a swing for an older baby or a toddler, you should look for a sit up baby swing as it can let your baby sit in an upright position easily and comfortably.
Are swings OK for newborns?
Yes. Swings are completely fine to be used for newborns and most of the baby swings are actually limited to be used for infants up to 9 months of age. You can consider a sit up baby swing for an older baby until two years of age.
Is a baby swing or bouncer better for baby?
If you are confused about choosing between a baby swing or bouncer, the choice is all yours depending upon your budget and preferred features. However, a baby swing offers more versatility than a bouncer and is more recommended to lull babies to sleep. On the other hand, a bouncer must be used for older babies and toddlers who can support their head and neck. Most importantly, a bouncer is designed to entertain the baby instead of putting them to sleep fast.
How long can a baby sleep in a swing?
According to most pediatricians, newborns sleeping in swings for long hours is not recommended and unsafe as babies with an unstable neck can flop forward thus obstructing their airway and suffocating themselves. Moreover, their still-soft skill can get flattened when they sleep in the swing for a long time.
Do I need both a bouncer and a swing?
Baby swings and bouncers are both baby gears that are intended to entertain and lull your baby to sleep. Choosing one of them or buying both depends on your budget, preferences, and availability of space. However, swings can be used with infants whereas bouncers are meant to be used once your tot has a stable neck. You can consider a convertible model that offers multiple functionalities as per your requirement.
When can a baby sit in a swing?
According to the American Academy of Pediatrics (AAP), infants under four months of age should be seated in the swing in the most reclined position possible. This helps avoid them from slipping off, slumping over, and suffocating. Once your baby grows and has a stable neck and head, you can recline the seat to more than a 50-degree angle and use the shoulder straps provided for safety from falling out. A sit up baby swing or convertible swing should be bought for older babies.
Wrapping Up
Although a baby swing can be of great help to calm your baby down and put them to sleep fast, always remember it is not intended to be an alternative to the crib. As soon as your baby is drowsy or asleep, you must move them to the crib immediately.
Moreover, you must supervise your baby inside the swing and follow all the safety guidelines. Though most baby swings are meant for infants until they are six to nine months old, it is recommended to retire them once your baby is able to sit unassisted or climb out.