Close your eyes and imagine a beautiful countryside with a meadow filled with flowers. The sun streams through the branches of the trees filling the meadow with warmth. You spread a blanket and sit down for a picnic with your little girl who is playing with your hair. You pick a dandelion and blow it gently. Her eyes fill with wonder at the fluffy bits that float in the air and she smiles a smile that just melts your heart.
Open your eyes for this is exactly what baby Mia's shabby chic nursery feels like. A beautiful spring day filled with sweet, tender moments. Mom Ashley Sagastume's shabby chic nursery, featuring the Evolur Julienne 5-in-1 Convertible Crib for her baby girl Mia Marie, is soft, feminine and filled with love. And what a pairing. The Evolur Julienne 5-in-1 Convertible Crib and a shabby chic nursery decor are a match made in heaven. Ashley kept the color scheme simple with grays and delicate purples and pinks. The Julienne crib is placed against a faux wooden wall that lends the room a comfortable warmth. A beautiful floral M initial placed on the wooden wall gives the room a fresh, garden feel. An equally sweet floral crib mobile, placed over the Julienne crib, adds to the allure.
We love a mom who boldly mixes and matches pieces from different nursery collections. Ashley picked a double dresser from the Evolur Napoli Nursery Collection and placed it on the wall adjacent to the crib. Owing to the limited space, Ashley kept decor accents to a minimum giving the nursery a bright and spacious feel. Pretty white flowers and a feathers decal on the wall above the Napoli Double Dresser adds a whimsical, wind-blowing-through-a-meadow feel.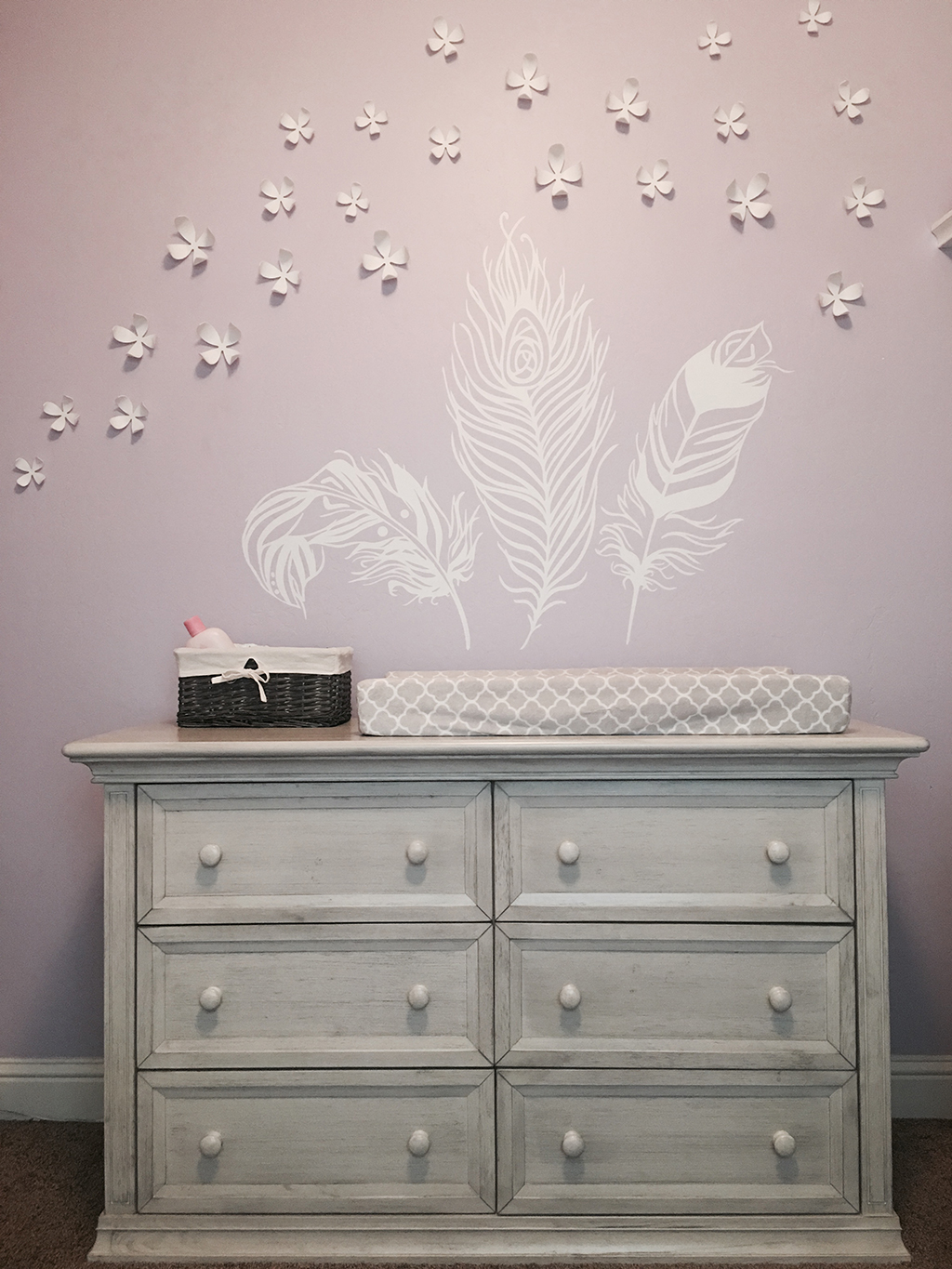 Ashley, we hope you have many warm, sunny and love-filled days with the your little sunshine. From everyone at Evolur, hugs and kisses to our sweetheart, Mia Marie!
If you are dreaming of a shabby-chic nursery for your little one, Ashley's Q & A on how she went about designing little Mia Marie's Julienne nursery just might provide the spark!
What was your inspiration for the nursery design and décor?
I wanted a soft and organic feel to her nursery that was also beautiful.
What drew you to évolur over other nursery brands?
As soon as I saw the Julienne crib, I was in love. There was no turning back at that point. The craftsmanship and beautiful details were incomparable to any other brand. The antique mist finish flows perfectly with her floral and feathers theme and compliments her wood wall nicely.
Did the room pose any design challenges?
Her room is very small, so we had to make the most of the space that we had!
Did you and your spouse agree on style, or did you blend styles and how?
When we found out that we were having a baby girl, he pretty much left the styling up to me.
What does this color scheme mean to you?
I've always loved purple and knew that I wanted to use it in her nursery. The grey provided a sense of serenity and calmness as well.
What accessories did you choose and why?
Anything that was floral or feathery, I was immediately drawn to. It just fit perfectly with the vision in my head.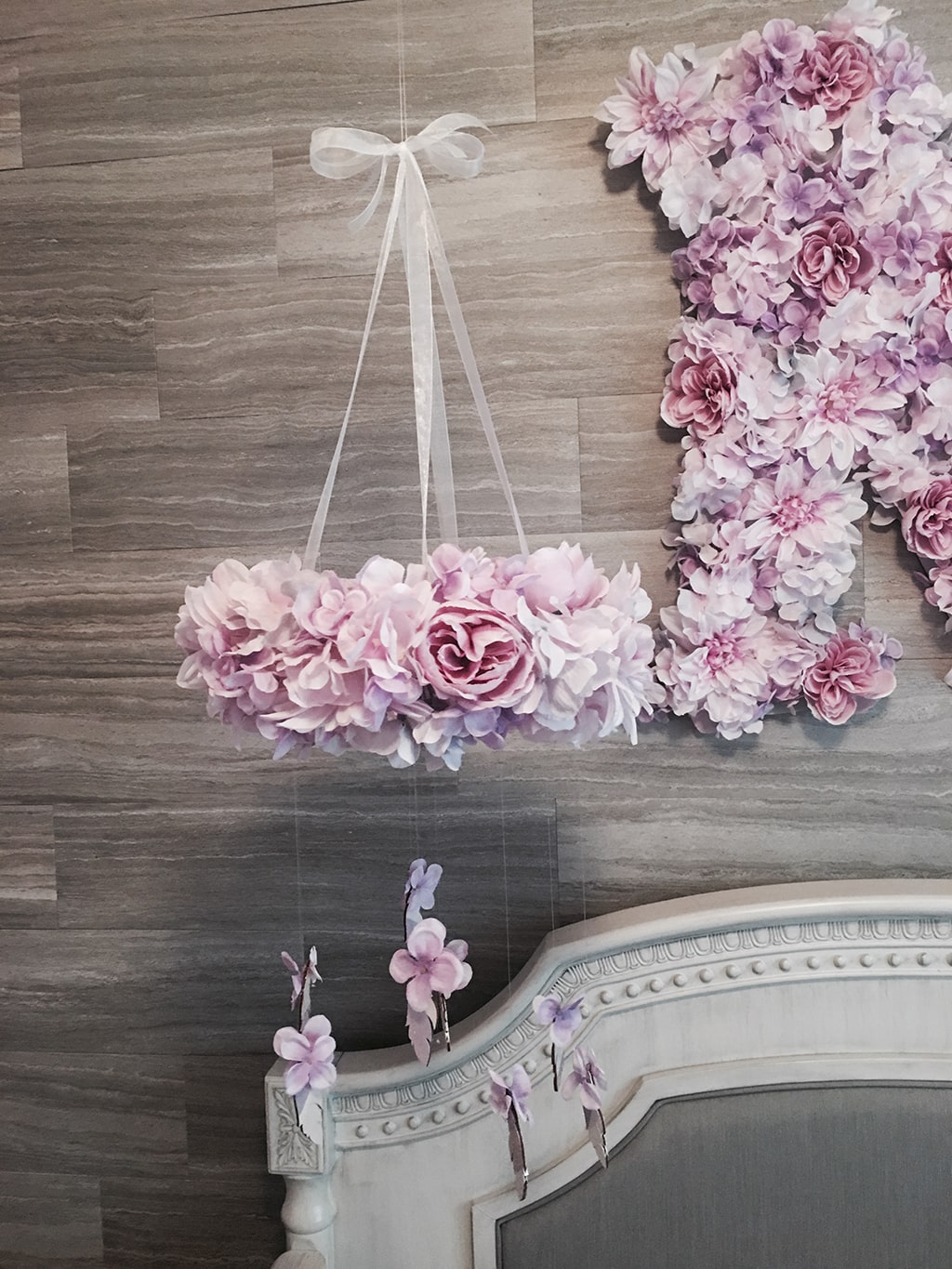 What is your favorite piece or design element in the nursery?
I, actually, am most obsessed with her crib! It is my favorite piece, hands down.
Have you thought of how you will use the nursery pieces down the road and can you tell us?
We are hoping to add the Julienne nightstands and the conversion kit for the crib. We would love to keep this set for her throughout her childhood.
What one word comes to mind when you step into the nursery?
Beautiful.
Elements of the nursery
Crib – The Julienne 5-in-1 Convertible Crib from Evolur
Dresser – The Napoli Double Dresser from Evolur
"Kiss Me Goodnight" sign – Hobby Lobby
White flowers on the wall – Bed Bath & Beyond
White feather decal – Etsy
Unicorn doll is – TJ Maxx
Faux wood tiles on wall – Lowe's