Part 2 of our coverage of Baby Caroline's bohemian nursery features an interview with mom and the free-spirit behind this creative space, Nicki Odom!
What was your inspiration for the nursery design and décor?
At first, I wanted to have a beautiful pineapple/beachy vibe as a theme for the nursery. But everyone is always calling me "flower child" and hippie at heart, so I thought it would be cute to go with a more, flower power, bohemian theme instead. It was also the theme of my baby shower and I am blessed to have wonderfully creative family and friends that made most of the decor that truly brought together this beautiful room.
What drew you to Dream On Me over other nursery brands?
We have the Violet 7 in 1 Convertible Crib and the Emily white changing table. I honestly found Dream On Me when searching for "different" and stylish baby cribs. I really liked the curvy detail of the Violet Convertible crib and love how it will transform into bigger beds as Caroline grows and will still look stylish for a little girls' room.
Did the room pose any design challenges?
Our current space is a two bedroom apartment. So we were faced with having a guest bed in the nursery for when my husband's parents come to visit. It was challenging because I had more ideas to expand the bohemian theme into that corner but I plan to keep with this theme as she grows and until she tells me she wants otherwise.
Did you and your spouse agree on style, or did you blend styles and how?
My husband was happy with whatever I chose. Before we found out what the sex of the baby was he had a little more of an opinion on a little boys' room, but with a girl, he knew there was no way I was going to listen to anyone else. I honestly would include him on decisions of placement of things, but in the end, his answer was always, "whatever you think honey." 🙂
What does this color scheme mean to you?
It reflects how I want to raise Caroline. Wild and free-spirited, girly and creative, all things I hope she will grow to become as an adult.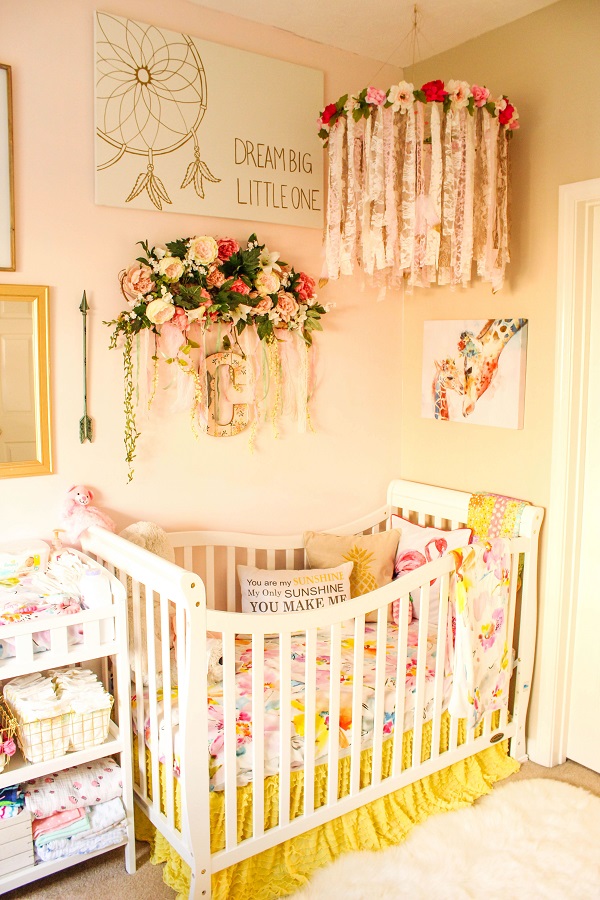 What accessories did you choose and why?
I chose items like the fluffy white rug, a pineapple lamp, mama and baby giraffe canvas because I wanted the room to have a lot of whimsy and fun things to look at for her. I envisioned Caroline laying and playing on the rug and being happy when she looked up at all of the fun decor in her room.
What is your favorite piece or design element in the nursery?
My favorite piece would probably be a tie between two items my close friends handmade for Caroline. First, the bohemian mobile that hangs over the bed was handmade by my friend Ashley. And the second would be the skull graphics canvas that was hand drawn and colored by my friend Leah. They are major pieces that really bring the room together as that bohemian, desert-like paradise I was hoping for!
Have you thought of how you will use the nursery pieces down the road and can you tell us?
I know that I will be able to keep her room with this theme for a while as she grows up, but I just love the theme so much that even if she decided she wanted to redecorate with something else I would use most of the decor in my office space. Some of it could definitely be used in a future playroom as well.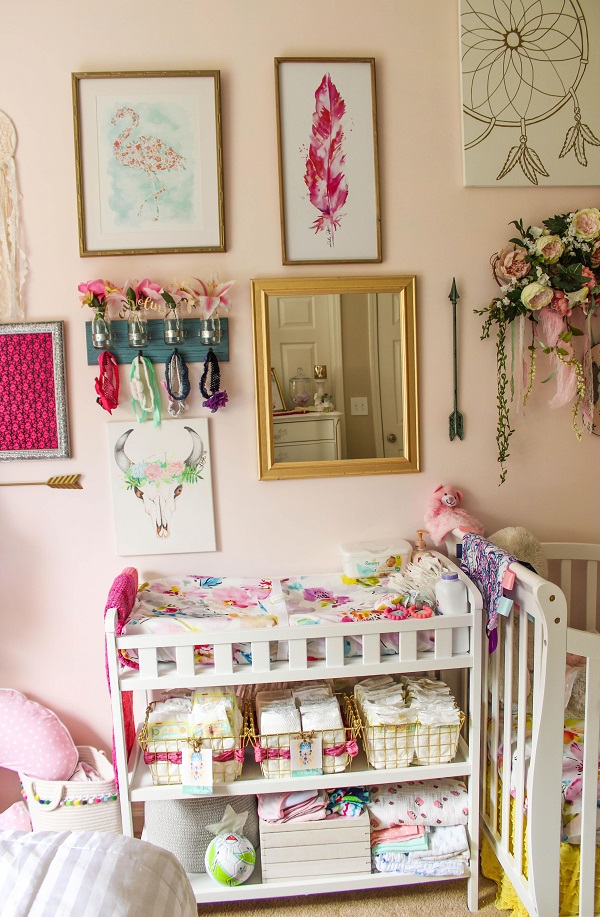 What one word comes to mind when you step into the nursery?
PINK! Usually, when people walk in they say, "How Darling! It's so pink!"