Pink and gray nurseries have been trending as a popular choice for a baby girl nursery through 2019 and we predict it to continue well into 2020 and beyond. A pink and gray color palette is a modern take on the traditional pink baby girl nursery. Gray tones lend a nursery a touch of class and sophistication while pink shades add a whimsical, girly girl feel to it. Together, gray and pink is a WINNING combination.
Of course, there are a multitude of ways you can design your pink and gray nursery. The color of the crib, the color palette of the walls and the decor accents you pick will decide whether the room looks modern, sophisticated, girly or glam.
Read on for ideas and inspiration that, we hope, will spark your imagination.
1. Making a gray crib the star of the nursery – A crib or nursery collection in gray is probably the most popular choice when deciding to go with a pink and gray color nursery theme. Sophisticated in an understated sort of way, gray cribs lend themselves to a variety of nursery themes and work well even as your child grows up. For all these reasons, the Aurora 5-in-1 Convertible Crib in Akoya Gray Pearl is one of our best selling cribs.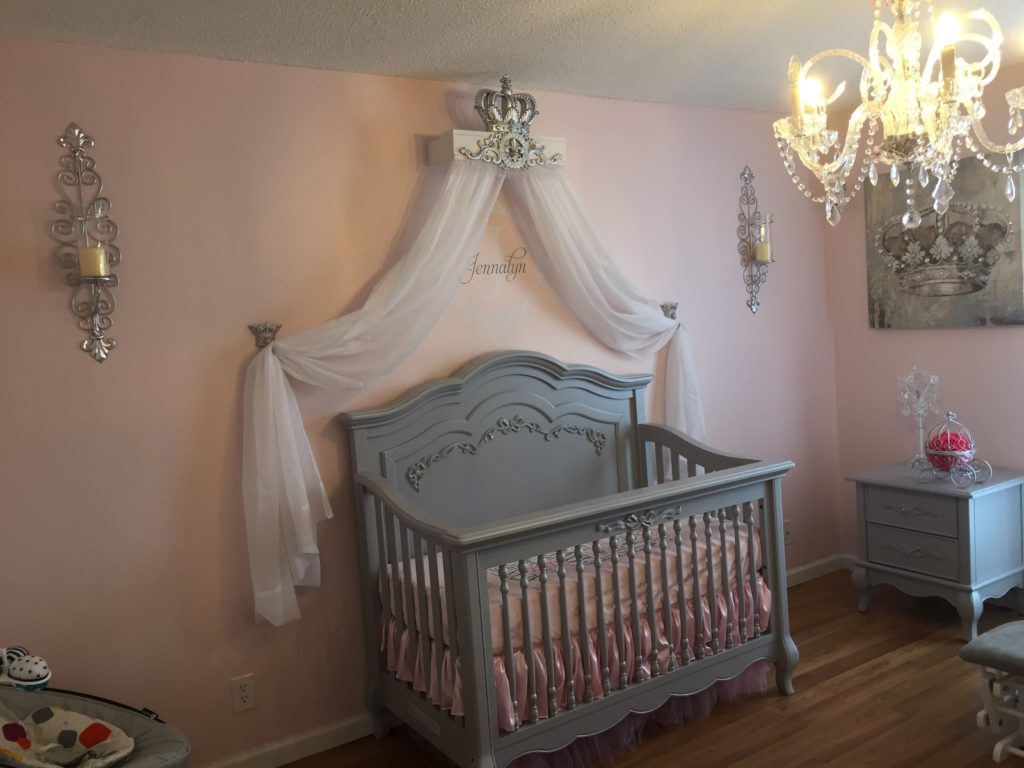 Now that you have decided to make your gray crib the center piece, there are umpteen ways you can do up the rest of the room. You could choose to color the walls pink and keep the rest of the decor accents in a neutral white or off white, much like what mom Nichole Kotarski did for her baby Charlotte's nursery.
While some parents choose pink for the walls, others go with a more neutral shade and introduce decor accents in pink. Featured below is a floral themed nursery with the French country inspired Julienne Nursery Collection in Antique Gray Mist.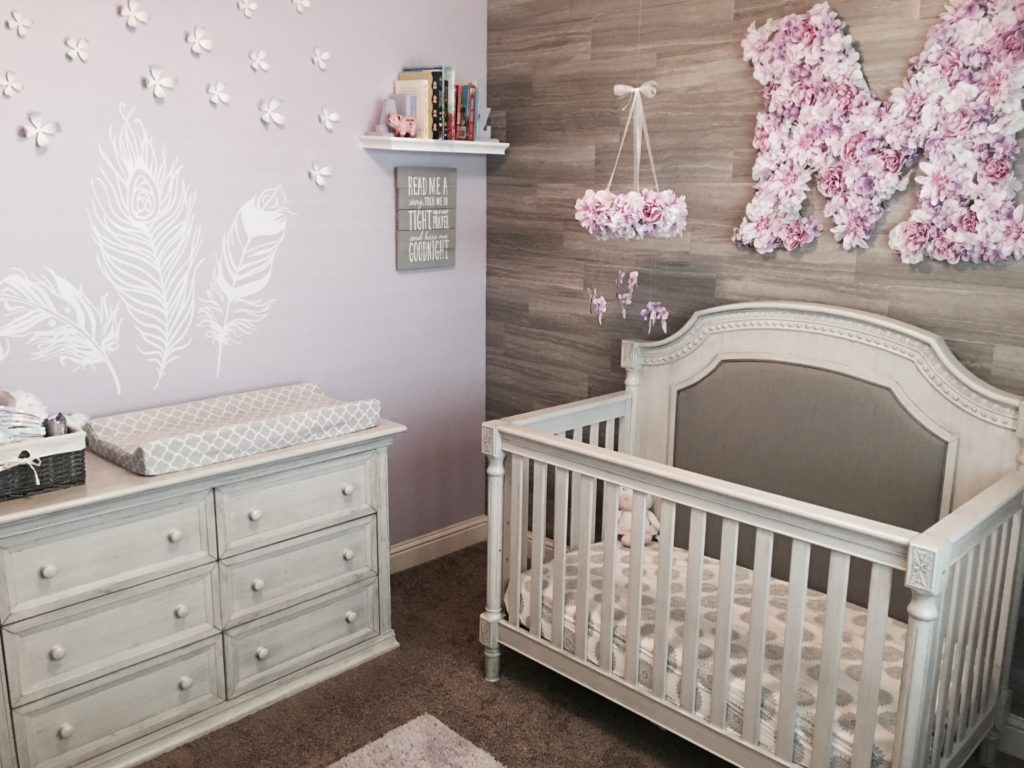 Or how about this chic nursery with the Santa Fe 5-in-1 Convertible Crib in Storm Gray and an attractive pink rug?
Still others decide to make gray the prime hue and use pink to add a burst of color to the room. This creates a dramatic effect and is perfect if you want the focus to fall on an accent wall.
If you are looking to create a calm and inviting nursery, then we suggest you draw inspiration from the wonderful space mom Tabatha McNally dreamt up for her baby girl Kaylee. She chose the handsome Santa Fe Nursery Collection in Storm Gray and decided to decorate the room in soft shades of gray and pink for an airy and calming feel.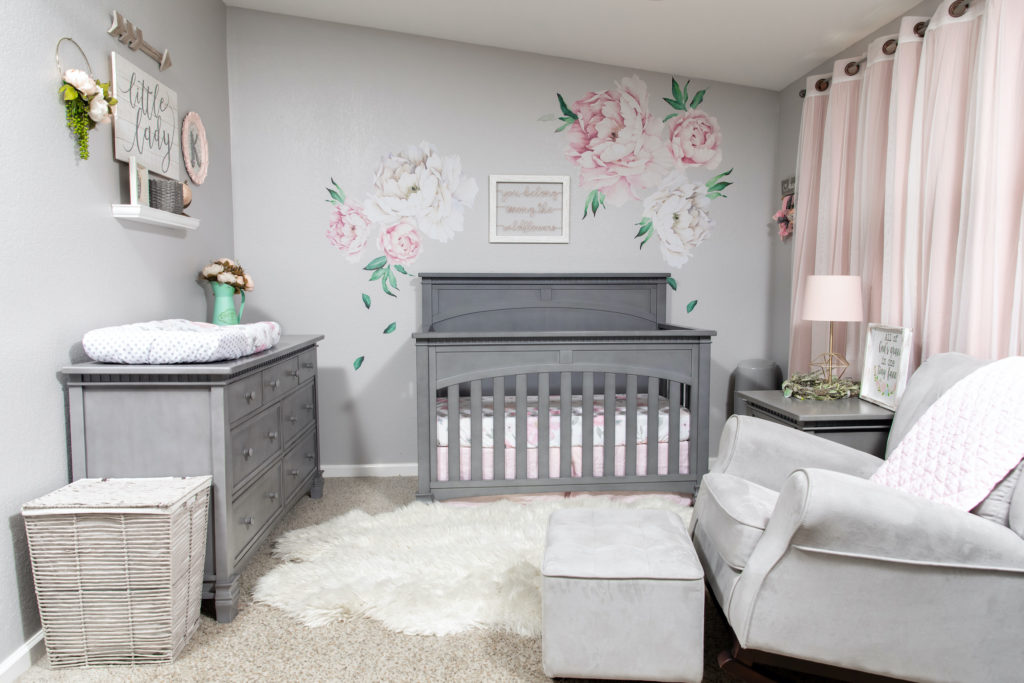 2. When modern white furniture is your choice – The crib is usually the focal point of any nursery and sets the stage for how that space turns out to be. So, if you are dreaming of a contemporary gray and pink themed nursery, then you would be wise to invest in a timeless white or off white crib or nursery collection.
Case in point, this gorgeous nursery featuring the Aurora 5-in-1 Convertible Crib in Ivory Lace with walls painted in a sophisticated gray and decor accents in a feminine pink.
Or how about covering your walls with the softest of pinks and introducing gray in the form of flowing curtains or a sleek glider. Take a look at what Evolur customer Carrie Jordan did with this almost meditative nursery featuring the Santa Fe 5-in-1 Convertible Crib in Antique Mist.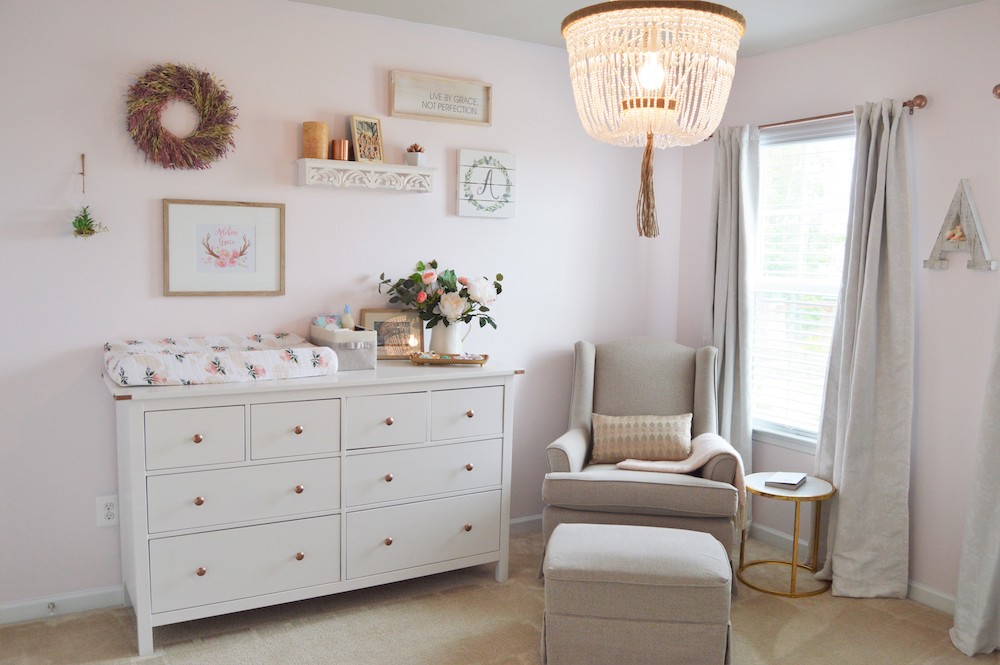 For a bolder look, you can pair a white or cream colored crib with a strong gray background. Combine this with decor accents in pink and gold and voila, you have a nursery that makes a statement!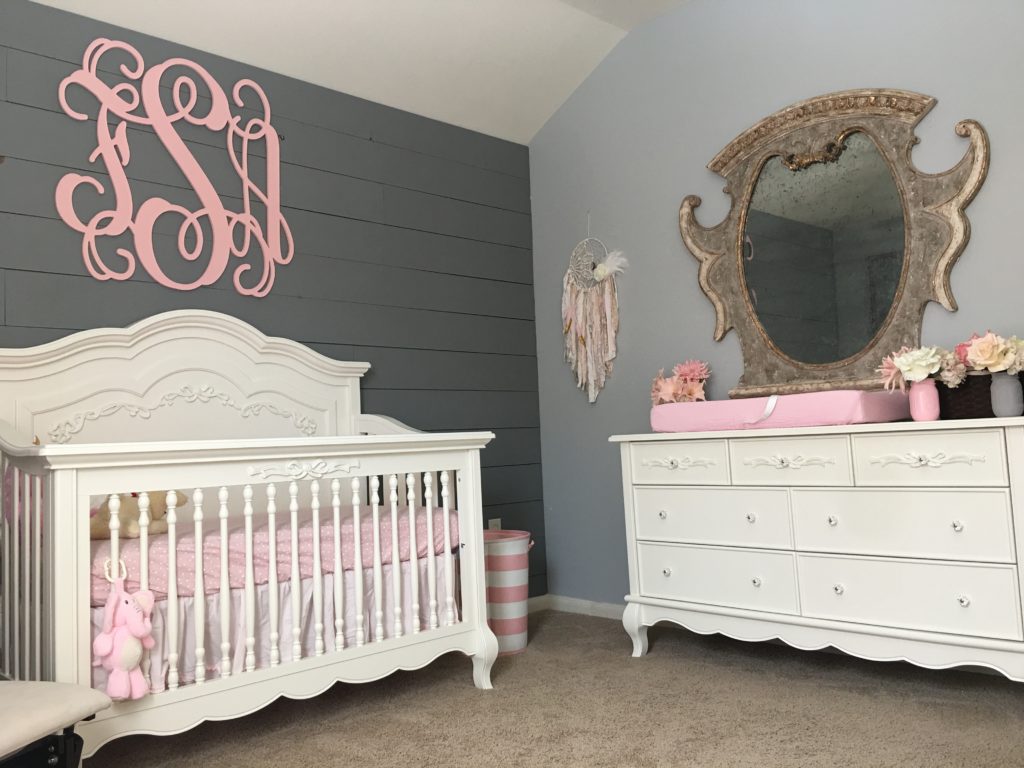 3. If you can't stop dreaming of a quintessential pink girly girl nursery -So, your baby girl is on her way and all you can think about is creating that perfectly pink princess nursery for her. Well, there is really just one nursery collection you need to consider for that – The Aurora in Blush Pink! Handcrafted ribbon bow scroll work, elegant spindle posts and a gorgeous form make it easy for you to bring your dreams of an enchanting wonderland for your little princess to life.
Take a look at baby Chloe's pink and gray Aurora nursery – utterly charming!
If you want your baby's nursery to look spacious and bright, especially if you have a small nursery, pick lighter shades of gray and pink.
A versatile color palette, a pink and gray nursery can be dressed up or down, depending on the vision you have for that special space. For an uber glamorous look, pair it with gold elements and chandeliers. A golden monogram, a full length mirror and a crystal chandelier will make your gray and pink nursery ready for royalty.
A gray and pink nursery is the perfect blend of sophistication and sweetness and allows you to get creative in a million different ways. So go on, dream big, dream sweet, dream soft, dream bold, but get that dream to life with Evolur's luxurious and expertly crafted cribs and nursery collections.
Happy designing, people!
For more ideas and inspiration, click here.